1 December 2016 Edition
Direct Provision in Ireland – Life and death in limbo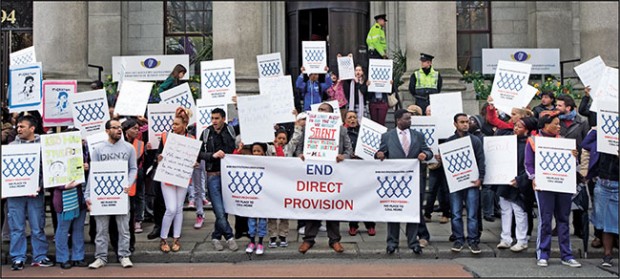 'I won't stand over a system of people living in limbo' – Labour Minister for Direct Provision Aodhán Ó Ríordán said the system was inhumane and made him ashamed to be Irish, but he did nothing to change it
A KOREAN WOMAN in her early 30s came to Ireland in February, seeking asylum for herself and her young child. They were given a small room to live in at the Kinsale Road Accommodation Centre in Cork. 
It was here that the mother and child lived and slept together in a cramped, single room, surrounded by bags of rubbish and awoken at night by the noise or wailing cries of neighbours. They shared communal showers with strangers and ate in a canteen at set times. 
The mother was told that she was prohibited from working in Ireland and therefore could not provide for herself or her child. They had no right to child maintenance, social welfare or rent allowance. They were granted a weekly allowance of €30 between them – an amount of money which was to supposed to cover all their expenses, including food and toiletries. 
She endured six torturous and isolated months of alienation until, it seems, she could take no more.
In August, gardaí were called to Kinsale Road. The young Korean mother, You Jung Han, had taken her own life. Her body was found by her son. He was six years old.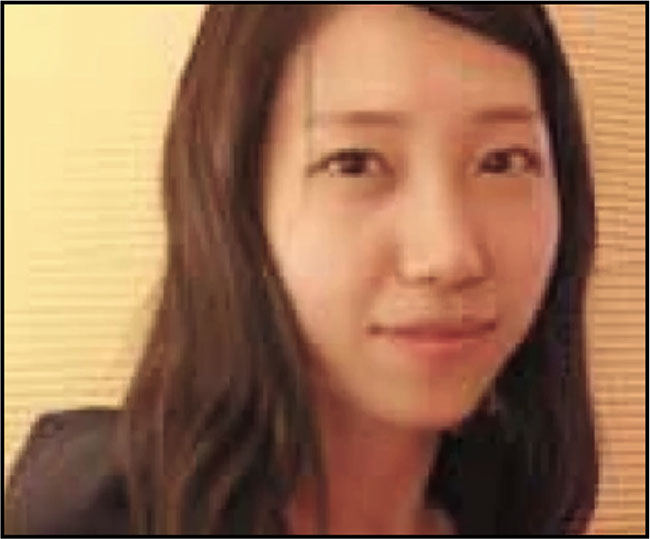 • Young mother You Jung Han driven to suicide
This is Direct Provision in Ireland in 2016.
Direct Provision was initially established in 1999 as a TEMPORARY living solution to asylum seekers seeking residency. Many people, however, are forced to live in limbo for up to 11 years in conditions that have been domestically and internationally described as a severe violation of human rights. 
Why is this happening? Why do consecutive governments continue to ignore dealing with Direct Provision?
Is its existence to deter other asylum seekers from coming to Ireland and to ensure existing asylum seekers do not establish links within Irish society?
In July of last year, the Fine Gael/Labour Government said as much. 
Tánaiste Frances Fitzgerald, in a written response to a Dáil Question, said that the state could alter the system but that it would cost almost twice the money, so therefore it wasn't feasible! She also argued that by improving the system you could create a "major pull factor" for other asylum seekers. Frances Fitzgerald is also Minister for Justice and Equality.
Yes, the Minister for Justice and Equaliy effectively tells the national parliament that when there is no cheaper alternative to giving people their human rights, you just decide not to.
The Irish Government is well aware of the substantial amount of critical evidence provided by a host of organisations in opposition to Direct Provision.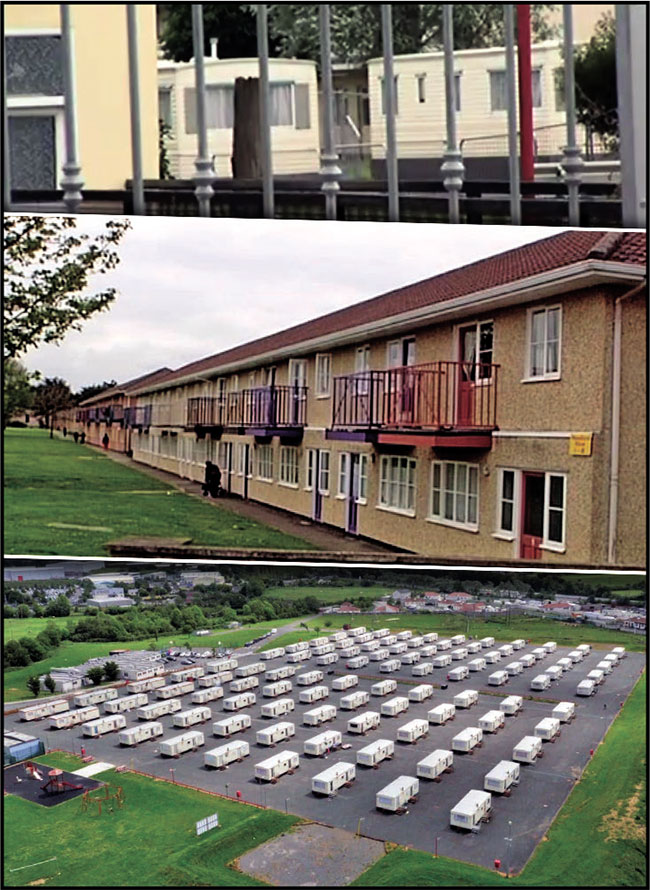 • Mosney and Lissywollen Direct Provision centres. Over half of those seeking residency have been living in 'temporary' accommodation for five years or longer
In May 2015, a Joint Oireachtas Committee on Public Service Oversight and Petitions report found the system to be "not fit for purpose". The committee cited the delay in processing applications as unacceptable. They found that of the 4,500 people in Direct Provision, over half had been living in 'temporary' accommodation for five years or longer.
The Health Information and Quality Authority ("independent authority set up to drive high-quality and safe care for people using our health and social care services in Ireland") submitted their own findings to the committee. HIQA declared that Direct Provision is of "grave concern" to the mental health of those living in such conditions. 
HIQA's findings were supported by an in-depth study carried out by The Irish Times, which presented submissions from people who had previously lived in such conditions. Individuals claimed that they had entered Direct Provision as a "normal person" and left "abnormal" with issues of anxiety and depression and therefore found it incredibly difficult to integrate into society.
The United Nations Committee on Economic, Social and Cultural Rights in June 2015 found Direct Provision to be a "severe violation of human rights". It said that Ireland was not doing near enough to grant asylum seekers refugee status. They found that Ireland was way below the average for granting refugees status. Between the years 2000 and 2014, Ireland's average approval rate was 4.22% – the EU average was 6.78%. Ireland rejected on average 37.7% of applicants, which meant that 43.9% of cases were not even dealt with per year.
Direct Provision has been in existence since 1999, during which time Fine Gael, Fianna Fáil, Labour, the Progressive Democrats and the Green Party have all sat at the Cabinet table and have chosen to do nothing meaningful to address the situation.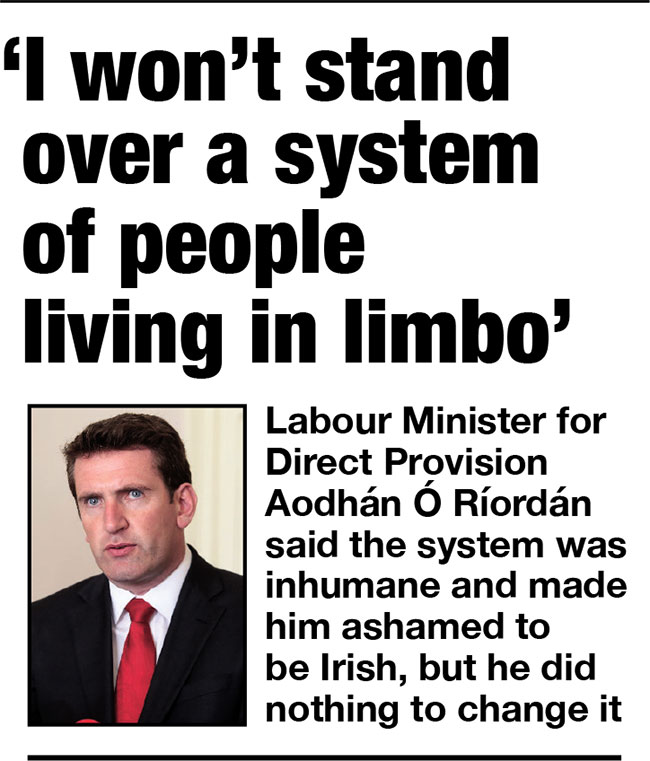 In 2014, then Minister for Equality Aodhán Ó Ríordáin TD visited a Direct Provision centre in Galway and was unequivocal in his criticism afterwards:
"I am ashamed to be Irish. This system is not humane. I won't stand over a system of people living in limbo." 
In February's general election, the Labour deputy lost his seat and his ministry. He's moved on and found a new home in the Seanad but the asylum seekers in that centre are still there.
So what could the Irish Government do to improve the situation? Here's three actions:
Speed up the application process of granting refugee status, including fast-tracking all applications that are five years outstanding;
Allow people in Direct Provision the right to work to integrate into society and earn a living to support themselves because €19 a week certainly does not do that;
Give young people in Direct Provision the right to apply for third-level education grants to vaildate a republic cherishing all children equally, not just those born here.