1 December 2016 Edition
'Lansdowne Road is a lame duck'
Framework for New Public Sector Pay Agreement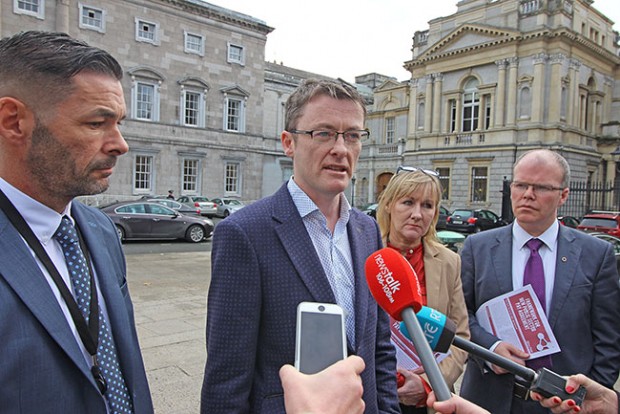 The full framework can be read at www.sinnfein.ie
"LANSDOWNE ROAD is a lame duck agreement," Sinn Féin Public Expenditure spokesperson David Cullinane said when he unveiled the party's Framework for New Public Sector Pay Agreement at Leinster House on 15 November.
Four key issues shape and inform Sinn Féin's approach to public pay policy, the document says – pay justice, equality, restoration and recognition.
"There is now a clear necessity for a new public pay agreement that is built upon fairness and pay certainty for public servants," David Cullinane said.
Launching the proposal with TDs Peadar Tóibín and Jonathan O'Brien, he emphasised that Sinn Féin is fully committed to fair pay and conditions.
"Without progressively addressing the primary grievances of public sector workers currently driving industrial unrest, any new agreement will be as fatally flawed as Lansdowne Road," the Waterford deputy said
Two key elements are:
» Equal pay for equal work
» A clear pathway to pay restoration
The issue of pay equality for post-2011 entrants is a fundamental one facing the public sector, Sinn Féin affirms.
"The Government has no plan to address this issue outside of divisive sectoral agreements with certain unions already within the Lansdowne Road Agreement. There is no commitment from the Government to allow for equal pay for equal work across the public sector.
"Given the rise in industrial action to date, it is not tenable that this process will only begin in two years' time, after the end of the Lansdowne Road Agreement in September 2018.
"Separate to this is the issue of pay restoration. Currently there is no roadmap in place for fair and timely restoration. The plan needs to be in place before Budget 2018 is announced in October 2017."
Financial Emergency Measures
Most (but not all) of the pay cuts occurred under the Financial Emergency Measures in the Public Interest (FEMPI) Acts 2009-2015. 
Collectively, public sector workers have had over €12billion taken from their pay on top of working an additional 15 million hours a year.
Public sector workers have suffered on average a 15% cut in pay. On top of this, new entrants from 1 January 2011 start on a pay scale that is on average 10% lower than the rest of the workforce.
The cuts in investment, recruitment and wages have meant that those who remain within the public sector are forced to compensate for reduced services with longer hours and fewer resources. 
FEMPI will have been in place for almost ten years by the time the Lansdowne Road Agreement comes to an end. The next public sector agreement should negotiate the fair and timely unwinding of the legislation and its removal from the statute books. 
Tackling equality
Any new pay agreement must set out a road-map for the unwinding of FEMPI legislation. It must tackle in a cogent and coherent way the inequality created by FEMPI.
It should be noted that, even under pay restoration, those on less than €30,000 would see little to no gains. Sinn Féin would argue for actual pay rises for this cohort of workers.
A commitment to equal pay for equal work should begin in 2017 with the restoration of certain allowances for post-2011 nurses, doctors, teachers and gardaí.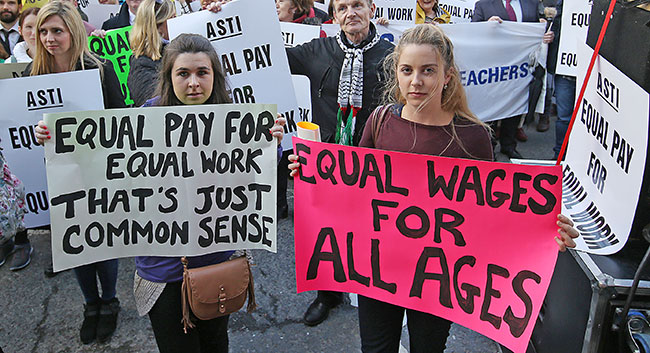 • Teachers agitate for equal pay for equal work
Pay equalisation for post-2011 entrants
Sinn Féin believes that the public sector needs to return to a single-tier pay system and that a new agreement should achieve equal pay for equal work. This should be listed as a priority for the next Budget. 
Sinn Féin is committed to shrinking the wage differential between the lowest and the highest earners in the public sector. 
We are also committed to addressing the gender pay gap across the economy, including within public sector employment.
Sinn Féin is also committed to the introduction of a living wage as a key measure to stem the tide of low-paid work, and believes that, as the largest employer in the state, the Government must lead the way. 
Pay increases for low to middle income workers
The fall in pay rates was greater in the public sector than in the private sector. This is despite media rhetoric stating the contrary. It is legitimate to expect that low pay is tackled as conditions improve.
A simple scrapping of FEMPI will not tackle this issue. For example, such a blanket pay restoration would give a person on €25,000 a 0.2% increase in gross pay while those on €185,000 would receive a 28.65% increase. 
"Those on low to middle incomes need a fair day's pay for a fair day's work. The details of this should be developed as part of any new pay agreement."
The full framework can be read at www.sinnfein.ie