1 December 2016 Edition
Sinn Féin launches major policy document on reconciliation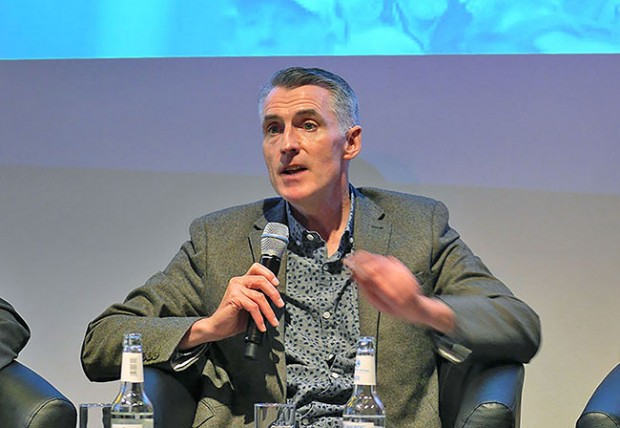 'Sinn Féin's primary national aim is to achieve a united Ireland – that is an Ireland that is at peace with itself in which our people can unite together to forge a new collective shared future' – Declan Kearney
DECLAN KEARNEY, Sinn Féin National Chairperson, has launched 'Towards an Agreed and Reconciled Future', a document that is an outworking of the 'Uncomfortable Conversations' initiative pioneered by Declan Kearney and An Phoblacht since 2012.
The event was taking place as An Phoblacht was going to press.
A series of articles in the paper and complementary engagements brought together a range of views, from a broad section of society - including many figures from the unionist community -  on how to advance reconciliation and healing. 
'Towards an Agreed and Reconciled Future' was endorsed at Sinn Féin's Ard Fheis in Dublin this year and provides a republican analysis of how reconciliation can help build a new, united and agreed Ireland. 
It also addresses the need to deal with the legacy of the past, ensuring the needs of victims of the conflict and their families are met, as well as ending division in the future. 
Sinn Féin has consistently stood with relatives of victims of the conflict to challenge the British Government over its failure to live up to its responsibilities over the legacy of the past. 
The launch was attended by a range of groups and individuals, including representatives of the "PUL" (Protestant/Unionist/Loyalist) community who have participated in the 'Uncomfortable Conversations' initiative in recent years. 
Declan Kearney said:
"Sinn Féin's primary national aim is to achieve a united Ireland – that is an Ireland that is at peace with itself in which our people can unite together to forge a new collective shared future. 
"Reconciliation and healing are central to bringing all of that about. 
"This policy document, 'Towards an Agreed and Reconciled Future', is our contribution towards national societal discussion which we believe is necessary to bring about healing in our time and on our island."
The policy document is intended to stimulate discussion on the issue of reconciliation and healing "in a sensible and mature manner". 
In recent years Sinn Féin has made huge strides towards reconciliation, including taking landmark initiatives such as meeting with the British royal family and attending ceremonies to remember the Irishmen who were killed in the First World War while serving with the British Army. 
There have been criticisms, however, that unionism has not engaged as wholeheartedly in reconciliation and Sinn Féin has called for political unionism to engage seriously in the reconciliation process. 
The Sinn Féin National Chairperson said that there is a need for unionists to show a public willingness to embrace reconciliation. 
"Twelve months on from the Fresh Start Agreement, political stability has been restored and Sinn Féin has met all of its commitments. 
"However, there is still no parity of esteem being demonstrated by sections of political unionism towards the Irish language. 
"We have also seen no reciprocation of the reconciliation initiatives taken by republicans from significant sections of political unionism and that must change. Reconciliation is not a one-way street; it requires effort from everyone."
He added:
"We have a British Government that is mocking the families of victims by refusing to lift its veto on so-called 'national security' and by withholding funds for legacy inquests. 
"These are fundamental equality and parity of esteem issues which must be addressed and that means that political unionism will have to step up to the plate and work with republicans to ensure we collectively build a better society."