1 December 2016 Edition
Storm over Lough Foyle
British minister's claim on Donegal/Derry estuary 'provocative'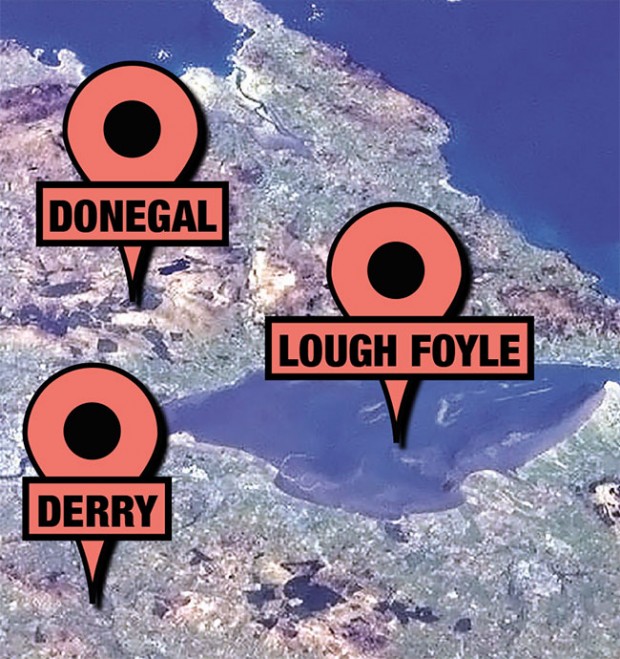 THE Irish Government is being pressed by Sinn Féin elected representatives, North and South, to challenge claims by British Secretary of State James Brokenshire that "the whole of Lough Foyle is within the UK".
Ownership of the estuary between Derry and Donegal has been claimed by Britain since its partition of Ireland in 1922.
Donegal Sinn Féin Senator Pádraig Mac Lochlainn described the British minister's statement – in response to a Parliamentary Question at Westminster – as "arrogant and provocative".
He called on the Foreign Affairs Minister Charlie Flanagan to challenge the British Government on ownership of Lough Foyle.
The Donegal deputy said:
"This is an arrogant and provocative pronouncement from James Brokenshire. Unfortunately, it is a repeat of previous pronouncements and, again and again, previous Irish governments have failed to sort it out.
"I am calling on the Minister for Foreign Affairs, Charlie Flanagan, to immediately challenge this assertion on behalf of the Irish people.
"I am also calling on Minister Flanagan to clarify what is the status of the negotiations between the two governments on the ownership of the lough."
• Pádraig Mac Lochlainn
Sinn Féin has repeatedly called for a resolution on ownership of the lough to be reached between the British and Irish governments to allow the lough to be used effectively for fisheries and for tourism.
A Loughs Agency report to a Stormont Assembly committee has warned the dispute could have major implications for safety and ecology.
Speaking from the Assembly's Agriculture, Environment & Rural Affairs Committee, Sinn Féin MLA Oliver McMullan said:
"There are fears of unregulated fishing in the lough and the damage that could do to the environment, including the threats posed by invasive species."
The Loughs Agency also warned that unregulated shellfish farming could impact on navigation "with potentially life-threatening consequences", Oliver McMullan said, adding:
"British Secretary of State James Brokenshire needs to engage with the Irish Government to resolve this dispute to ensure fishing in the lough is regulated and the environment protected."
• Oliver McMullan
The Department of Foreign Affairs said:
"Ireland has never accepted the UK's claim.
"Uncertainty concerning the extent to which each side exercises jurisdiction within Lough Foyle has created practical difficulties for the conduct of a number of activities there.
"This has included difficulty in creating a system for licensing of aquaculture by the Loughs Agency in accordance with the intentions of the two governments under the 1999 agreement establishing North/South implementation bodies.
"Following discussions in 2011 between the then Minister for Foreign Affairs and Trade and [the] British Foreign Secretary, both governments agreed to seek to address and resolve jurisdictional issues relating to both Lough Foyle and Carlingford Lough."
The Irish Government said subsequent meetings have been "complex".