1 December 2016 Edition
New politics needed, North and South
Editorial – Eagarfhocal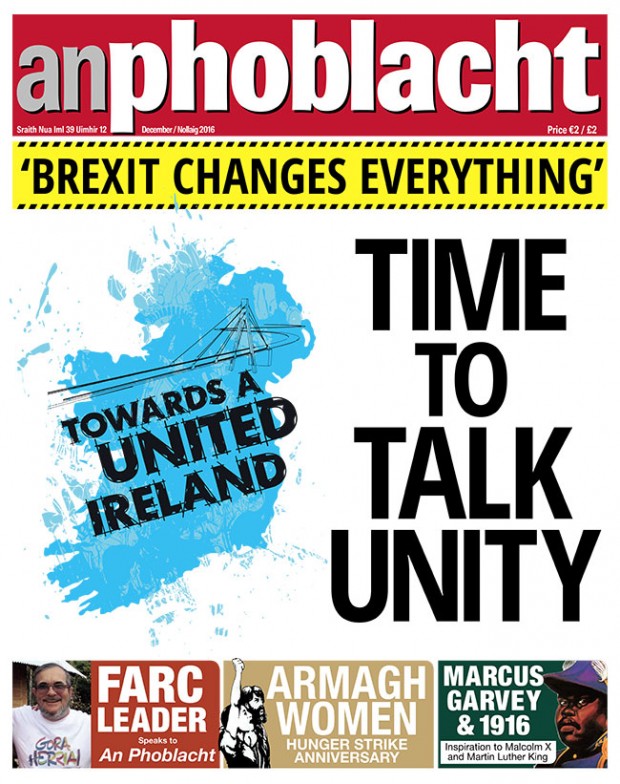 THE Fine Gael/Fianna Fáil partnership government with the cover of compliant Independents is the same old politics wrapped up in the emperor's clothes of new politics.
In advance of the Budget these parties had an opportunity to chart a new course – to build a fair economy, to reduce the cost of living, to invest in public services, to deliver tax fairness and to invest in our future.
Instead of seizing that opportunity, they gave tax breaks to the wealthiest in society. There was no 'new politics'. It was more of the same.
These parties agreed a joint Budget that failed to invest in housing, health, childcare, education and the Garda – services that are central to communities and citizens. 
Fine Gael and Fianna Fáil have acted together to block rent control, to stop the ending of water charges, and to prevent proper investigation of issues surrounding NAMA 
Their partnership has also failed on voting rights for the Diaspora and Irish citizens in the North, the Repeal of the Eighth Amendment, and the recognition of Traveller ethnicity. Yet they continue with the pretence of new politics 
Their response to Brexit has been to set aside the vote and rights of the people of the North and follow the lead of the English Tory Party.
Sinn Féin have demonstrated with their Alternative Dáil Budget what new politics must be. It must be about fairness, prosperity and investing in services. It is about giving workers and families a break. 
Sinn Féin's new discussion document, 'Towards Irish Unity'. This is not a rhetorical position. A united Ireland would be a new Ireland – a new start to politics, ending the injustice of partition; building a prosperous united economy and a new approach to public services, including an all-Ireland National Health Service free at the point of need. 
The document will also challenge republicans to think anew about Irish unity and what equality and inclusion means in practical terms to that section of the community who value the British identity. 
While Fine Gael and Fianna Fáil deliver much of the same under the guise of new politics, Sinn Féin are in the process of building a new inclusive, equal and prosperous Ireland . 
Brexit demonstrates that the relationship between Ireland and Britain is neither equal or just. Britain has yet to fully acknowledge its role in the conflict and come clean on their dirty war, including the bombings of Dublin and Monaghan. 
We now have an opportunity to build a new relationship of equal partners, to resolve the issue of the past and reunite the country. 
Irish unity is and must be on the table. Now is the time to talk about unity, to plan for unity, and to build for unity. 
Fine Gael and their Fianna Fáil partners lack political vision and political will. Sinn Féin has that political vision. Sinn Féin has that political will.