1 December 2016 Edition
A united Ireland makes economic sense
Professor Kurt Hubner from Vancouver University found that, within a short number of years, the economy of a reunified Ireland would be better than the existing two economies by approximately €35billion
PARTITION HAS BEEN an economic cul de sac for Ireland – North and South.
It's not just something that happened more than 90 years ago that we read about in history books or hear sung about in ballads; it is still having a negative impact on the economies on the island of Ireland today.
It has held back economic progress right across the island. Of that there can be no doubt.
The North now lags behind the South on all growth indices: average wages south of the Border are €37,000 but just €25,500 in the North; economic growth rates in the South are estimated at 3.6% for 2017 but at just over 1% in the North.
Along the Border region in particular the impact of partition was and is still keenly felt.
From Dundalk to Derry, areas have been cut off from their natural economic hinterlands and now rank among the most disadvantaged areas on the island.
Partition has also created a cycle of boom-and-bust in Border communities. Currency fluctuations and other factors have resulted in limited short-term gain for one side of the Border or the other but, ultimately, both sides have lost out on real growth.
We must end this cycle of boom and bust and the best way to do that is to remove the root cause: partition.
While even the most trenchant opponent of Irish unity would be hard pressed to deny the cost of partition, some still cling to the myth that Ireland cannot afford unity.
The reality, however, is the opposite. 
Ireland can no longer afford to be partitioned.
The North's economic potential is held back by British Government policies that are not designed with the interests of the North at heart. A prime example of this is the British Government's plan to drag the North out of the EU against the democratic wishes of the people.
A united Ireland with a single, all-Ireland economy would not only end this duplication, it would also address the economic uncertainty created by partition.
That would create an environment where business can thrive and grow.
Trade, particularly in Border areas, would no longer be subject to the whims and fluctuations of currency.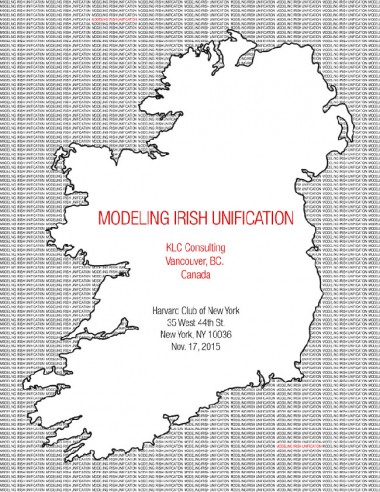 Marketing the island as a business destination is also difficult with two economies and tax systems. A reunited Ireland would be easier to promote on the global stage and, as a result, would act as a lever to attract inward investment.
Of course, as Irish republicans we would be expected to extol the benefits of Irish unity. For others, particularly those who do not hold strong ideological views, it is the bottom line that is important.
As previously reported in An Phoblacht, a recently published and peer-reviewed study, 'Modelling Irish Reunification', by Professor Kurt Hubner from Vancouver University, found that, within a short number of years, the economy of a reunified Ireland would be better than the existing two economies by approximately €35billion.
This is the latest in a series of serious and respected economic reports that has shown that Irish unity makes economic sense.
There is no doubt that the reunification of Ireland would ultimately be of benefit to the entire island.
It is time we began a serious discussion and dialogue about what that would mean, what it would look like, and how to bring it about.
No one has anything to fear from such a debate. If handled with political maturity and sensibility then it will help shape and improve the economic future of the entire island.
It's time to talk about unity.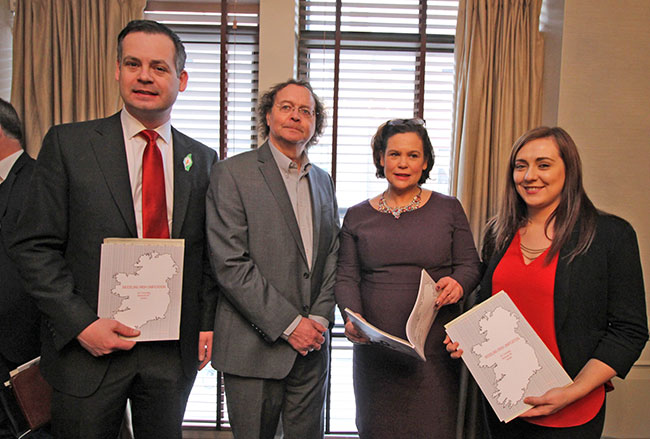 • Pearse Doherty TD, Mary Lou McDonald TD and Megan Fearon MLA with Dr Kurt Hubner (second left), who authored a report on the economic benefits of Irish reunification