1 November 2016 Edition
The spirit that makes Gaelic games special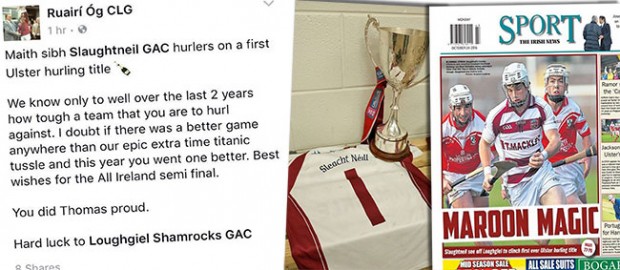 Tragedy hits every club and players all over the country will have played through and will play through testing times
PRIDE AND PASSION are two words that are often associated with GAA – and rightly so. On a daily basis, people across the island are taking part in, coaching or doing some form of administrative back-up duty for their club or county.
Sunday 24 September was no different. Thousands of people, club colours proudly displayed, and eager 'neutrals' had packed into the Athletic Grounds in Armagh with anticipation to watch the Ulster Senior Camogie and Hurling Finals.
The billing for both match-ups was Slaughtneil v Loughgiel, a fine achievement for both clubs and testament to the hard work and dedication to all involved at any level within them.
It is here that marks that Sunday as particularly poignant. It fell two days after Slaughtneil said goodbye to a stalwart of the club – Thomas Cassidy.
Thomas played an instrumental role in reviving hurling in the club, coaching under-age sides and guiding many throughout their playing careers.
Two of his sons, Éanna and Seán, featured in the successful hurlers; his three daughters – Aoife, Bróna and Eilís – all played an instrumental role in the Camogie Final, showing great character to earn a draw in a pulsating game.
Each of Thomas's children and indeed the two teams were the epitome of bravery. They displayed great pride and passion not only for the GAA and their club but also for Thomas, paying tribute to him in the most fitting way they knew how – by playing.
On a hugely emotional day for Slaughtneil, the years of hard work by Thomas and everyone throughout the club paid off as The Emmets became the first Derry side to ever claim the Ulster crown
After the game, Slaughtneil captain Chrissy McKaigue paid tribute to Thomas, saying: 
"He was the main driver of this dream. His spirit today lived in all of us."
I have no doubt that everyone in the crowd was thinking of Thomas Cassidy but perhaps in their minds they were also thinking of other loved ones and members who were missing from the historical day.
Tragedy hits every club and players all over the country will have played through and will play through testing times.
In the past few weeks, Magilligan banished 28 years of hurt when they claimed their first-ever Derry Championship title.
The club's triumph comes less than a year after the death of Steven Deeney. The 33-year-old collapsed and died during a training session in January 2015.
He was described as the "heart and soul of the club" and undoubtedly he was not far from the minds of his teammates and fans.
Their triumph and Slaughtneil's is the stuff of fairytales and no one would begrudge either side their day. That's why they serve as inspiration, albeit somewhat sadly, to us all.
This is what makes the GAA special.