1 November 2016 Edition
Flames not Flowers
Ní saoirse go saoirse na mBan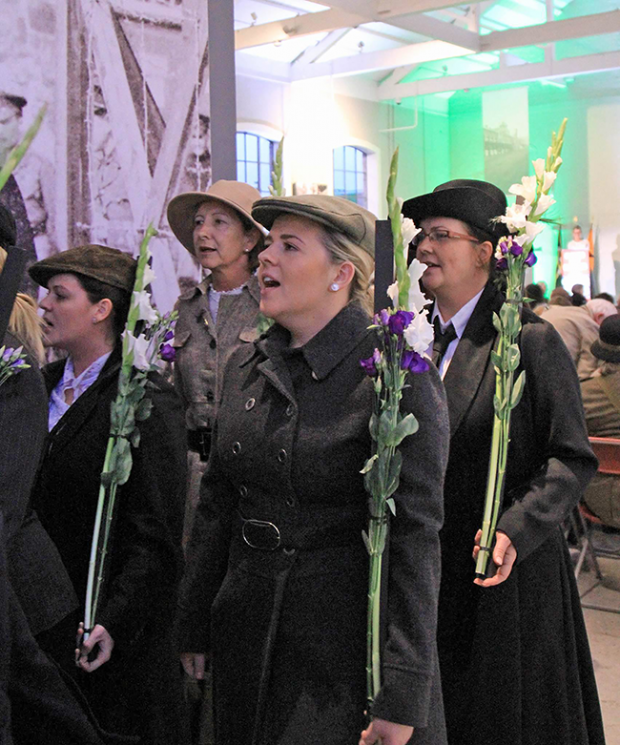 'As republicans we did what we had to do to resist the British and unionist governments' attempts to criminalise us, our community and the republican struggle'
Women in the Rising

ON 2 April 1914, Cumann na mBan was founded in Wynn's Hotel in Dublin City Centre at a meeting led by Agnes O'Farrelly. Cumann na mBan's purpose was to work in conjunction with the recently-formed Irish Volunteers.
The involvement of women in the fight for freedom in 1916 was a culmination of many factors – notably their involvement in most nationalist, socialist and feminist movements in existence from the late 19th and early 20th centuries. During the Rising of 1916, women rose in rebellion within two organisations, the Irish Citizen Army and Cumann na mBan.
On 23 April 1916, the Military Council of the Irish Republican Brotherhood completed its plans for the 1916 Easter Rising. Cumann na mBan was included with the Irish Volunteers and the Irish Citizen Army into "The Army of the Irish Republic". By the end of 24 April 1916, women were involved at rebel strongholds throughout the city.  
Celebrating the 77 women republicans imprisoned at Richmond Barracks in Dublin after the 1916 Rising and those 'Unmanageable Revolutionaries' who followed in their footsteps
RICHMOND BARRACKS in Dublin is a place of huge historical significance for Irish republicans, a place where 77 women patriots were imprisoned  in the aftermath of the 1916 Rising, Sinn Féin deputy leader Mary Lou McDonald TD told a special event there for women republicans and ex-prisoners on Saturday 15 October.
"Women have always been considered the most 'Unmanageable of Revolutionaries'," the Dublin deputy said. "They have been amongst the bravest of republican Volunteers over the years and in the decades that followed.
"Tonight we acknowledge all of our sisters. Their unified individual and collective contribution to the republican struggle will never be forgotten."
ONE of the special guest speakers was Mary Doyle, who took part in the 1980 Hunger Strike as a POW in Armagh Gaol. Mary was released in 1983 and has been involved in republican activism since then.
Síle Darragh, who was the IRA O/C in Armagh Gaol during the hunger strike in 1980 and until her release in 1981, was another ex-POW appearing at the event. She is now Political Administrator in the office of Sinn Féin Chairperson Declan Kearney.
This is Síle's address to comrades at 'Flames Not Flowers'.
• Former POWs Mary Doyle and Síle Darragh
"I'm not sure why I was asked to speak at this event, especially as Mary has covered the history of the protests in Armagh Gaol. 
"There's not a lot that I could add to what she said and I don't want to tell you my personal experiences because my story is nothing special.
"There are dozens of women in this room who have led much more exceptional lives than me. 
"There are women here who could tell stories that would make your hair stand on end. There are women here who have shown bravery that would be considered well above the call of duty in any other walk of life. And there are women here who have quietly lived their lives and never told anybody of the things they did to further republicanism.
"Any of you are as qualified to speak here today as I am because, regardless of the protests in Armagh, we protesting prisoners were nothing special. We were republicans, first and foremost, and as republicans we did what we had to do to resist the British and unionist governments' attempts to criminalise us, our community and the republican struggle.
"From Margaret Skinnider, to Constance Markievicz, to Marie Moore and Mairéad Farrell, we were what we were; we are what we are. 
"It's as simple as that.
"But the irony is that people who are so quick to condemn us for taking the positions we did have never once considered what inspired so many Irish women, young and old, to make the decisions we did during these last 40 troubled years. 
"You can be certain that not one of us woke up one morning and decided on a whim to become actively involved in struggle. 
"There are always reasons and circumstances behind what people do. And we need as much today to consider those journeys as much as the journeys of the women who were imprisoned here in 1916.
•  Circumstances and history shaped all of us and in every phase of the republican struggle women have taken risks
"Circumstances and history shaped all of us. That's undeniable.
"Through the decades, republican women have always been to the forefront in demanding rights: in the suffragette movement, the labour movements, the Gaelic League, and many other organisations – much as republican women today are still deeply involved in organisations working to better people's lives.
"In every phase of the republican struggle, women have taken risks. From their involvement in the 1950s 'Border Campaign' – including those who filled their aprons with stones and filled in the craters in roads that the British Army had blown up – to those who broke the Falls Curfew and carried guns and ammunition out under their coats, in prams and in shopping bags. 
"Women confronted raiding parties and hindered British Army snatch-squads. And very many were militarily active, were imprisoned, forced to go on the run, and many lost their lives.
"Most of us here know women who lifted sleeping children from their beds to let a weary Volunteer get a few hours' sleep. We all know a house where there was always an extra spud in the pot in case someone needed a bite to eat. We know many who sat up all night watching for raiding parties, and rattled bin-lids to warn of their approach. 
"And we know many who lost their loved ones, and their own lives, to plastic, rubber and live bullets; on active service for the IRA, and to loyalist and British state murder squads.
"We all know women who walked the streets wrapped in blankets, in bare feet, in rain and snow, to highlight the plight of the prisoners in the H-Blocks and Armagh; who smuggled 'comms', love letters, and much more into and out of the prisons; who marched in their hundreds to the steps of Stormont when Sinn Féin were locked out of talks, demanding their rights and representation.
"There are women here who travelled every week, for years, to visit loved ones imprisoned in this state, in the Six Counties and in England, most times with young children in tow. The hardship of prisoners' families is sometimes forgotten and overlooked, and imprisonment impacted on thousands upon thousands of people, not just the prisoners themselves.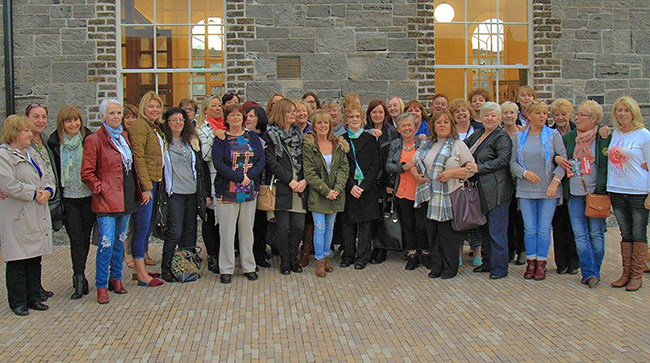 • Some of the women at the event
"Brave republican women stood as Sinn Féin candidates when, in local councils throughout the Six Counties, they were vilified and subjected to the vilest of sectarian abuse and threats of death.
"Today, republican women are elected throughout the 32 counties of Ireland – MEPs, TDs, senators, MLAs and councillors.
"Unbowed, unbroken, proud and undaunted Irish women.
"Through all the decades, republican women played their parts willingly. 
"In April 1916, Cumann na mBan Volunteer Rose McNamara said: 
" "The men gave each of us their small arms, to do as we like with, thinking we were going to go home. But we were not going to leave the men we were with all the week to their fate. We decided to go along with them, and be with them to the end, whatever our fate might be."
"That sums up the attitude of republican women for me. It would be easy to go home. 
"But we never take the easy roads, do we?
"And the struggle hasn't ended. The circumstances and methods may have changed but we still aspire to our republican goal. Our supporters, those who flock to the ballot boxes in their thousands to return Sinn Féin elected representatives, also aspire to that goal – a democratic republic that cherishes all of the children of the nation equally.
"I'm an exponent of people telling their stories – whether written or recorded – because too much of our history is being lost, and others are writing a history that tells nothing of the times we lived through. 
"When Margaret Skinnider released her recollection of the Easter Rising to an audience in New York, she said:
" "When the revolt of a people that feels itself oppressed is successful, it is written down in history as a revolution – as in this country in 1776. When it fails, it is called an insurrection – as in Ireland in 1916. Those who conquer usually write the history of the conquest."
"And this has been the case throughout the decades of our troubled past. Even to the present day, those who perceive themselves as the conquerors are the most vociferous in revising our collective history.
"Thousands throughout this country have amazing, heroic and sometimes horrific stories to tell. 
"I think we have a duty to future generations to tell those stories.
"Finally, I'd just want to remind people that the 28th of this month marks the 40th anniversary of the assassination of Sinn Féin Vice-President Máire Drumm. And to end with a quote from that indomitable woman:
"We must take no steps backwards, our steps must be onward; for if we don't, the martyrs that died for you, for me, for this country, will haunt us forever." "