1 November 2016 Edition
Windsor Park's new dawn opens under a cloud
LEAVING Paralympians Jason Smyth and Michael McKillop out of the highly-publicised "Lap of Legends" celebration at the refurbished Windsor Park seems like a rerun of the past at the "National Football Stadium" and the home of Linfield FC. Many nationalists had hoped a new chapter might be opened with the event ahead of the World Cup qualifier against San Marino.
Smyth and McKillop competed for Ireland in three Paralympic Games, including this year at Rio. Between them, they have amassed nine gold medals. 
They are angry at being snubbed by the Irish Football Association (IFA) despite being from Eglington in County Derry and Glengormley, respectively – and especially as it emerged that Paralympian swimmer Bethany Firth, who represented Britain ("Team GB") in Rio, was invited.
In a tweet to deputy First Minister Martin McGuinness (who attended the grand reopening on 8 October), Jason Smyth – who as a devout Mormon is neither Catholic or Protestant – said: 
"Only in NI does the colours you wear matter more than what you achieve." 
It was a clear reference to what he believed to be a political snub to himself and McKillop because they had competed for Ireland.
Olympic boxers Paddy Barnes and Michael Conlan, who competed for Ireland at the Rio games, were also excluded from the Lap of Legends, despite being from Belfast.
At a time when the North's soccer authorities are endeavouring to shake off the sectarian history of the ground and present Windsor Park as a national ,stadium in a new light, where everyone is welcome, this is not a good start.
Not helping the uphill battle faced by the Irish Football Association is the blithe dismissal of criticism by unionist politicians such as DUP Communities Minister Paul Givan. "I have no doubt whatsoever that the IFA had absolutely no intention of causing offence to anybody," he said. "We shouldn't allow this to overshadow what was a very successful occasion."
This is the Communities Minister who sparked a controversy by posing for picture lighting an Orange Order bonfire on Eleventh Night.
Givan's refusal to face up to the casual contempt for the notion of parity of esteem or respecting nationalist aspirations runs through the Establishment sports and media world in the North.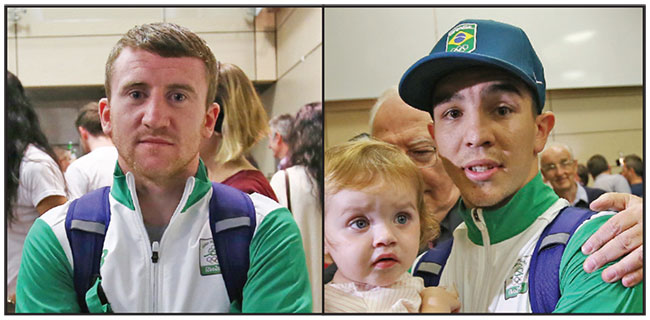 • Paddy Barnes and Michael Conlan, who competed for Ireland at the Rio games, were also excluded from the Lap of Legends, despite being from Belfast
A glaring example of this came on 9 October 2015 at Windsor Park with the third goal against Greece to lead 3-0 and guarantee qualification for the European Championships.
As the stadium erupted, the BBC commentary team joined in and laughed as they described how the whole ground was jumping up and down and everyone was "doing the bouncy".
The "bouncy" – when people all jump up and down on the spot – is said to have originated in Scotland with the notorious fascist Billy Fullerton and his infamous "Billy Boys", whose reputation for sectarian violence included jumping up and down on the heads of their victims.
The "bouncy" is said to mimic this violence and in later years it transferred to the North with the killing of Portadown Catholic Robert Hamill, beaten to death in 1997 when a gang of loyalists jumped repeatedly on his head.
The action is invariably carried out to the sectarian chant: "If ye cannae do the bouncy, you're a Tim."
In March 2013, in the wake of Belfast City Council's vote to bring its protocol on flying the Union flag more into line with local authorities in England, Linfield supporters flew Union flags during their match in Dublin against Shamrock Rovers and provoked clashes with gardaí.
Pickets were organised to stop Cliftonville fans attending games at Crusaders' Seaview venue in February 2013. 
In December 2013, a bus carrying Cliftonville fans was attacked after a game at Ards during which they were subjected to constant sectarian abuse.
I do wish it was otherwise but it seems that, in reality, the 'new' Windsor Park -– with its history, its trappings of Britishness and its underlying sectarianism – will remain a cold house for nationalists until and unless the suits in charge address these issues.
Sadly, given their exclusion of those Olympians who represented 'Team Ireland', it seems they have a long way to go to convince grassroots sports fans such as me.