1 November 2016 Edition
Inspirational festival combines music, drama, art and feminist politics
Éigse na mBan – Ennis, County Clare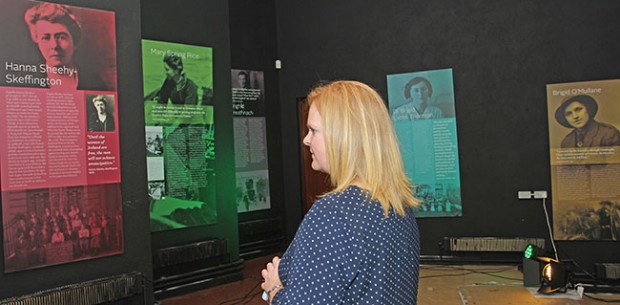 'ÉIGSE NA mBAN,' in Ennis, County Clare, over the two days of 8 and 9 October, was a politically provocative and innovative activist weekend. 
'Silence and Voice: The Festival of Feminisms' used dance, song, poetry, drama and discussion to highlight and address issues relating to women in all walks of life – from politics to health to domestic life.
It was created by a group of women from County Clare who are part of the Clare Women's Network, a feminist community-based organisation in Ennis linked to the National Collective of Community-Based Women's Networks.
It also explored how women were silenced in the years since the revolutionary period from 1916 through partition and up to the present day. It looked at the traumatic effect on women of "being silenced" by patriarchy, poverty, the Catholic Church, neo-liberalism and the austerity policies pushed by the state since the economic crash of 2008.
In this centenary year of the Easter Rising of 1916, Éigse na mBan, inspired by the women of 1916, wanted to discuss what it was like for women as founders of the state, how women contributed to Ireland's development as a republic, and how those women too were silenced.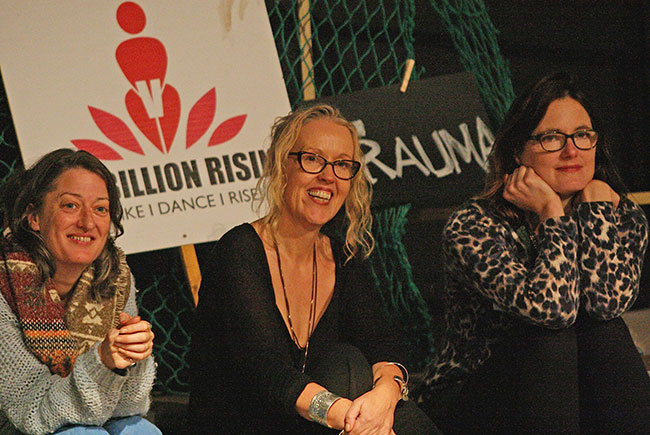 • laine Dalton (middle) one of the organisers, with women who performed in some of the festival's dramas
The organisers' Mission Statement said:
"We wanted to marry all of these different issues and wanted to mark the historical contribution which the women of Ireland made to its independence.
"Simultaneously, we wanted to explore how, 100 years later, on the centenary of the Irish state, women still are silenced and how the current silencing is presenting itself, through a whole variety of different structures internationally and locally."
While the main focus of the programme was the conditions of women in the 26 Counties, organisers recognised that partition has affected women in the North differently from those in the South and they invited Belfast-based psychotherapist Bríd Keenan to address the reality of life for Northern women.
The overall objective was to "inform, engage and encourage women to share their stories in order to ensure learning from the silencing of women, recognise the strength of our female ancestors and in 2016 address and eradicate once and for all the 'herstorical' silencing of women in Ireland . . .
"Inspired by the women of 1916, the women of 2016 speak."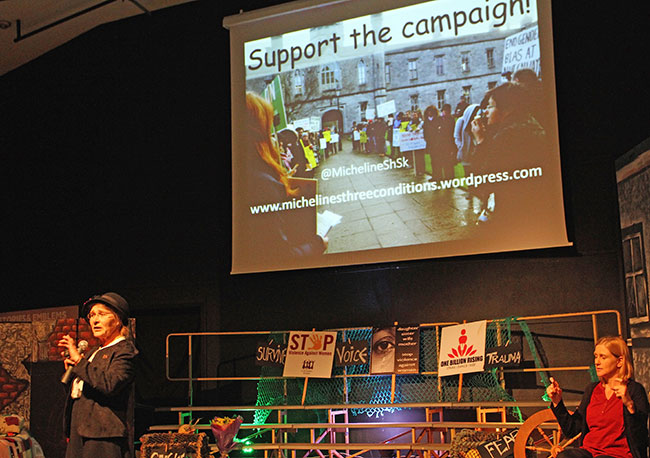 • Micheline Sheehy-Skeffington talks about her grandparents, Hannah and Francis, and about her fight for equality in Galway University
• • •  • • •  • • •  • • •  • • •  • • •
THE OLD ADAGE attributed to the American revolutionary Emma Goldman "If I can't dance I don't want to be part of your revolution" was at the heart of the Éigse na mBan festival held in Ennis over the weekend of 8 & 9 October when dance, singing, poetry and drama was used not just for entertainment but also to make serious political points.
Upwards of 150 women (and a number of men such as myself) travelled to the County Clare town from Limerick, Waterford, Galway and even further afield for two days of serious political discussion, debate and conversation around issues affecting women's lives in today's Ireland. There was a special focus on the way women are silenced by the political and social systems, North and South.
Organisers Clare Women's Network were determined to ensure that what the participants faced was not a 'dry conference' so the two days were heavily balanced towards festival rather than seminar. Art, song, dance and performance replaced political statements with flip-charts and power-point presentations consigned to the dustbin of history (at least here in Clare).
• Marcella O'Sullivan (right)
In one of the most moving yet powerful examples of dance being used to complement real-life action, Marcella O'Sullivan told the story of her brother, Paul, diagnosed as being autistic with sensory and environmental overloads, and the harrowing existence he and others faced while in a residential care home in Cork run by the Health Service Executive.
The Ennis woman fought for 10 years to have her brother, who had only known life in residential care and lock-up institutions from the age of 8, removed from the secure unit he was held in and where his only treatment was medication.
Marcella became Paul's voice and fought against the indifference of the state, an attitude reflected by a Minister for Education who told Marcella: "I know it's hard but accept the situation and move on."
The situation Marcella was told to accept included, in 2010 and 2011, when things got very serious: head gashes, epileptic seizures, rapid changes in medication, medication not given when he was coming out for weekends, blows to his face and not being told of incidents, 22 staples to his head, and 18 teeth extracted.
"One staff member said to me that Paul would be killed in there if something wasn't done," Marcella recalled. "No one has been held accountable for any incidents and reports didn't reflect the truth of what had happened."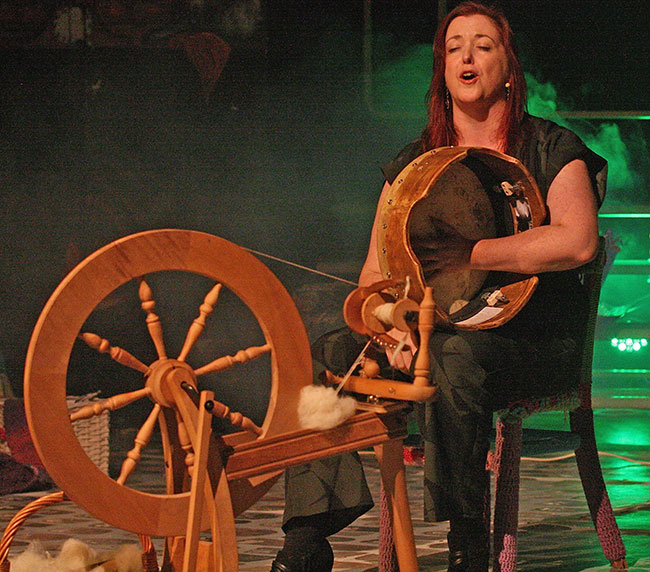 • Nóirín Lynch sings 'Fenian Women Blues'
After years of neglect and ill-treatment, including medical failures, Paul finally left institutional care to learn the skills of personal hygiene, laundry, cooking, cleaning, and paying bills. He is becoming integrated into his community and meeting new friends. He has a passport, a travel pass and a bank account – all in his own name as an independent individual.
Marcella was Paul's voice and she made sure she was heard.
With the campaign to repeal the Eighth Amendment very much in the political spotlight, the issue of women's reproductive health generated much debate.
Artist Martina Hynan (whose portraits of Jennifer Crean, Bimbo Onanuga, Tania McCabe, Nora Hyland, Sally Rowlette, Evelyn Flanagan, Dhara Kivlehan and Savita Halappanavar, adorned the walls of Dánlann an Chláir, where the festival was held) described the work of the Elephant Collective and its campaign in support of the families of the women who died while in maternal care.
The news that inquests in cases of maternal deaths are not mandatory shocked many of those in the theatre.
Martina explained that the Elephant Collective takes its name from the actions of elephants that gather round a cow when she is giving birth, to protect her and the calf. "Like the elephants, we want to provide better protection for Irish mothers when they are giving birth in hospital," she said.
To lend weight to her contribution, a woman sat beside a bed covered in a huge quilt, with a border of 400 elephants, made of squares knitted by student midwives as a way of reliving their stress related to maternal deaths. As word of the project spread, the organisers were inundated with over 100 squares, each representing a story linked to maternal death.
The bed, sitting prominently, was a stark reminder of the loss suffered by so many families.
Feminist activist Siobhán Madden took centre stage on Sunday morning to address 'Silence, Memory, Knowledge & Transformation'. Drawing on Nuala Ní Dhomhnaill's poetry and the image of a mermaid forced onto dry land as a metaphor, she focused on the potential for transformation through story-telling and feminist community education.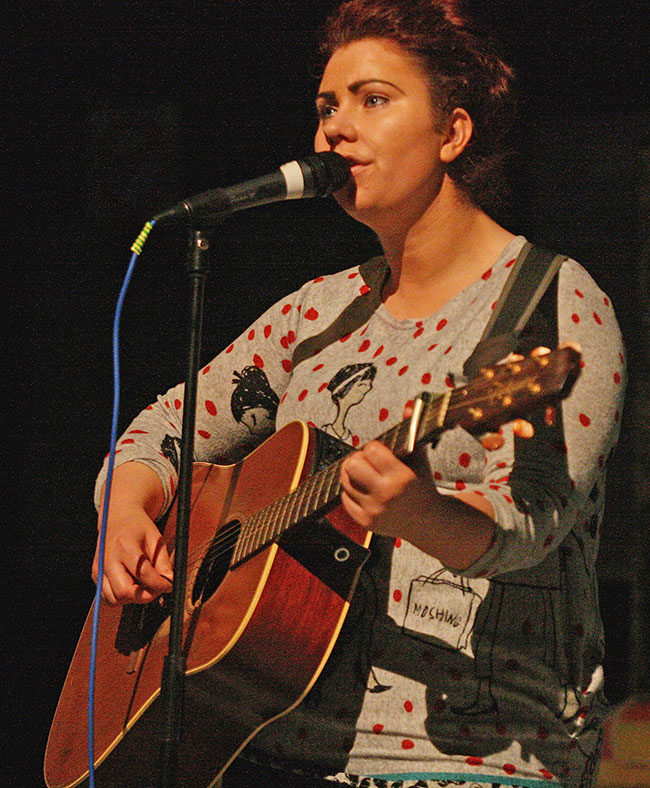 • Mary Keenan performs
Siobhán's delivery was entertaining and instructive as she delved into Ní Dhomhnaill's imagery while at the same time highlighting the need for social change. 
Obstacles to change were brought to the fore by Dr Micheline Sheehy Skeffington.
The academic from NUI Galway recounted stories of how the principles and feminism of her grand-parents, Francis and Hannah, brought them to the fore of activism in the years leading up to 1916 and how it influenced her own life and activism. This led to her confronting the sexism and gender discrimination in the Galway university that saw her refused promotion. Eventually after five years, she won her case in 2014. This in turn inspired five other women academics to challenge the bias that is ingrained in the power structures of third-level education.
That education and knowledge can open people's minds and empower them, giving them a belief in themselves, was a cornerstone of the Éigse na mBan festival.
When I checked my Irish/English dictionary (the seminal Tómas De Bhaldraithe version) for the exact meaning of Éigse it translates as "an assembly of learned men, sages and poets"!
The word has a new interpretation after the Clare assembly – learned women, sages, poets, singers and dancers.
Inspired by the women of 1916, the women of 2016 do speak. We should all listen.