1 November 2016 Edition
European report takes a look at who owns Ireland's news outlets
The 'Perfect Storm' threatening media plurality in Ireland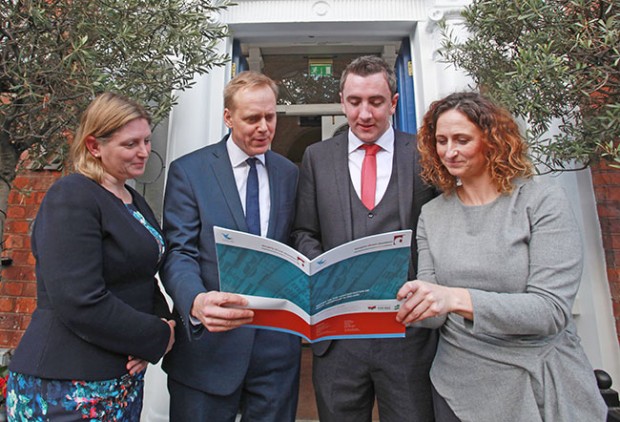 'Everyone in Government was saying tackling media ownership could not be done but I wouldn't take no for an answer' – Lynn Boylan MEP
URGENT ACTION is needed to address "grave concerns about the high concentration of media ownership in the Irish market, and in particular regarding the position of Independent News & Media and Mr Denis O'Brien". That is part of the conclusion of a European report on Ireland's media landscape commissioned by Dublin MEP Lynn Boylan and her group in the European Parliament, European United Left/Nordic Green Left (GUE/NGL).
"As someone who thought about a career in journalism when I left school, I have a lot of respect for journalists and their role in holding power to account and seeking truth," Lynn Boylan tells An Phoblacht on why she decided to commission the Report on the Concentration of Media Ownership in Ireland.
"When an EU Commission report in March showed Ireland as 'high risk' in terms of media plurality, it prompted me to take action. Everyone in Government was saying tackling media ownership could not be done but I wouldn't take no for an answer."
Lynn and GUE/NGL commissioned top lawyers from Britain and Ireland: Gavin Booth and Darragh Mackin (Young Lawyer of the Year Winner 2016) of Belfast-based KRW Law, and Caoilfhionn Gallagher and Jonathan Price of the prestigious Doughty Street Chambers in Britain. (Doughty Street members include Amal Clooney, Louis Blom-Cooper, Helena Kennedy and Keir Starmer, now Jeremy Corbyn's Shadow Secretary of State for Exiting the European Union.)
They looked at EU Competition Law, the Irish Constitution and the Charter of Fundamental Rights into what can be done to tackle the lack of media plurality.
Billionaire businessman Denis O'Brien is the largest shareholder of Independent News & Media (INM), which publishes the Irish Independent, Sunday Independent, Sunday World, Sunday Life and The Herald evening newspaper as well as owning 50% of the Irish Daily Star and the Belfast Telegraph. 
INM also owns 13 regional papers and has recently announced its proposed takeover of the Celtic Media Group – adding a further seven regional titles. 
It operates a print plant in Newry and is one of two main wholesalers and distributors of newspapers and magazines in Ireland via its subsidiary company, Newspread.  
Its holdings encompass NewsTalk, Today FM, 98FM, Spin1038, Spin South West and TXFM. Communicorp suffered a blow in 2007 when its attempt to buy Dublin's FM104 was rejected by the Competition Authority who believed it would give O'Brien an "undue" share of the radio market in the capital.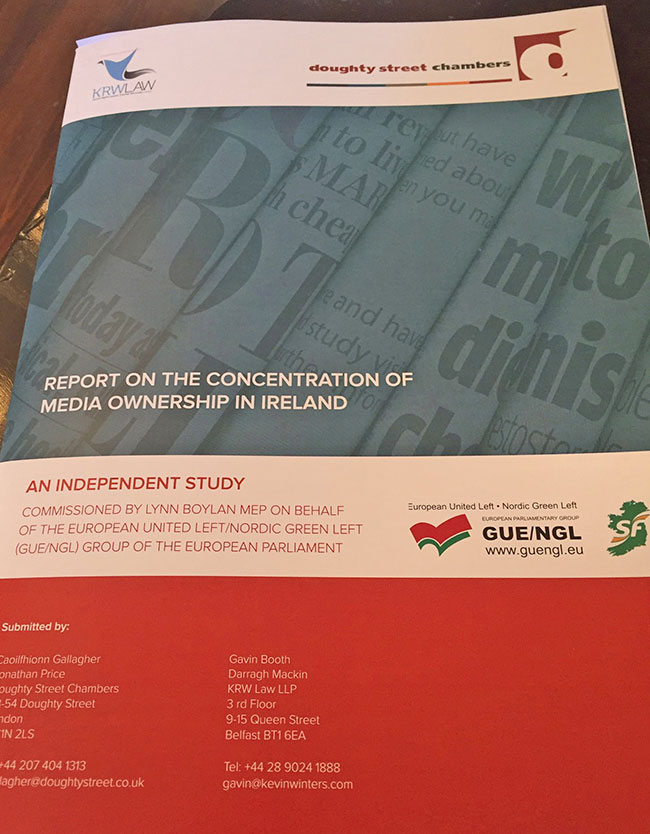 The state argues that while it can block such expansion under competition law, it cannot act retrospectively.
Gavin Booth tells An Phoblacht that it is important to remember that media pluralism also encapsulates other aspects, including the variety of sources and viewpoints available to listeners:
"While Ireland has plenty of local and regional radio stations, we note that the Communicorp-owned NewsTalk supplies the news to Ireland's 31-strong independent radio network."
Lynn Boylan adds:
"So even if they don't own the radio stations, they are literally supplying the news."
The report says it is "alarming" that Ireland has "one of the most concentrated media markets of any democracy".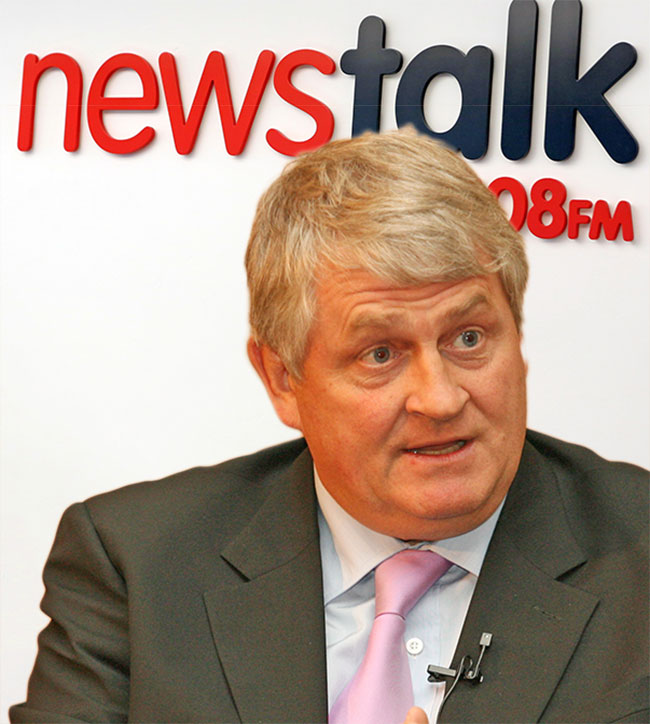 • Denis O'Brien – The Communicorp-owned NewsTalk supplies news to the entirety of Ireland's 31-strong 'independent' radio network
This is a finding which Lynn Boylan says she found "absolutely shocking".
"We were aware that there was a problem," she says, "but to find out Ireland is one of the worst is pretty disturbing."
The report states: 
"We conclude that there are extremely grave concerns about the high concentration of media ownership in the Irish market, and in particular regarding the position of INM and Mr Denis O'Brien. 
"Accumulation of communicative power within the news markets is at endemic levels and so Ireland has one of the most concentrated media markets of any democracy. This feature – alarming in itself – must be viewed alongside the other gravely concerning aspects of the Irish media landscape which we have highlighted: sustained and regular threats of legal action by Mr O'Brien to media organisations and journalists who are engaged in newsgathering or reporting about his activities, and the 'chilling effect' of the current defamation laws.
"This is a toxic combination for freedom of expression and media plurality."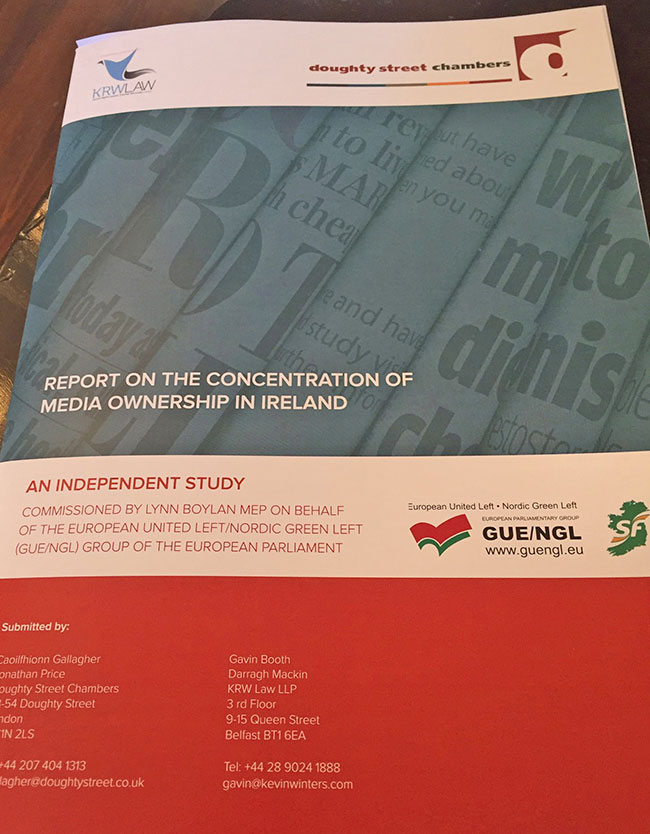 The report is also highly critical of "serious shortcomings in the defamation framework" of the state, noting unusually high jury awards which are completely at odds with much of the rest of Europe. NewsBrands Ireland, whose management committee includes representatives of each of Ireland's mainstream newspaper publishers (including INM), has warned that the defamation situation means many newspapers "do not take the risk of publishing potentially controversial material given the possibility of high damages awards and the unpredictability for publishers, who cannot reliably ascertain their potential liability pre-publication".
These factors contribute to creating "a perfect storm which threatens news plurality and undermines the media's ability to perform its watchdog function", the report says, adding:
"This report concludes that there are very grave concerns about the situation in Ireland, and the threats to diversity, plurality and freedom of expression.  
"We strongly recommend that these concerns be addressed as a matter of urgency and be seen to be addressed.  
"It is imperative that safeguards are considered to ensure journalistic and editorial autonomy, to protect and promote plurality in the Irish media market, and to address the ability of powerful media proprietors such as Mr O'Brien to dictate news agendas and stifle newsgathering and reporting concerning their business interests."
Dublin MEP Lynn Boylan accuses the majority of politicians of balking at the idea of 'picking a fight with the media':
"This report is the first step and it clearly sets out that there are no legal barriers to remedying this imbalance. Obviously, the devil is in the detail. We don't deny it would be difficult. One of the very concrete proposals is a multi-disciplinary commission – as supported by the National Union of Journalists.
"We need to work with all politicians who share our concerns. No politician should be afraid of a proper, robust media – if you've nothing to hide then you shouldn't be afraid of those who seek to find out the truth."
Lynn says the failure to deal with media ownership in a retrospective manner means that all that has happened is the cementing of the position of one individual while setting up barriers to others who wish to challenge him.
She also calls on Communications Minister Denis Naughten to "be the politician who is courageous enough to take on the thorny issue of media ownership once and for all and deliver the fourth pillar of democracy that Ireland deserves".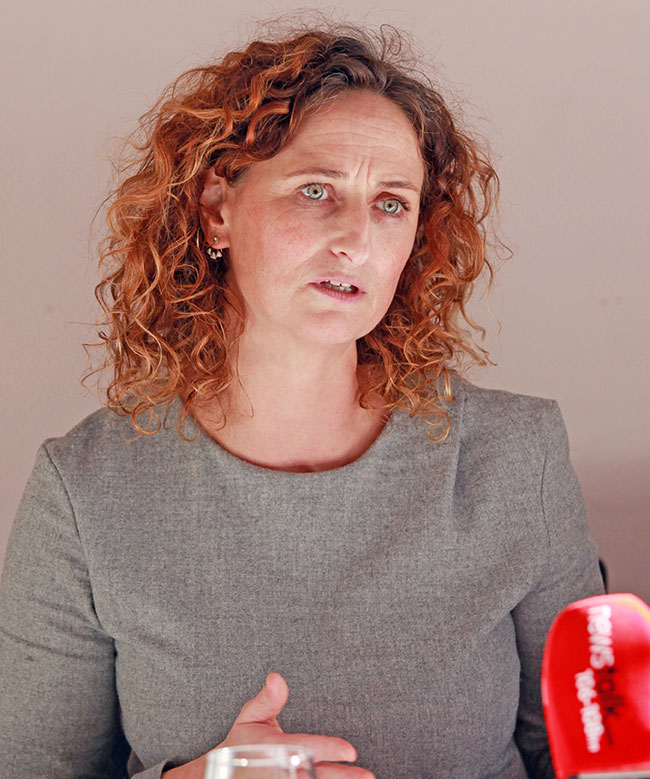 • Dublin MEP Lynn Boylan