3 October 2016 Edition
The Return of Frankenstein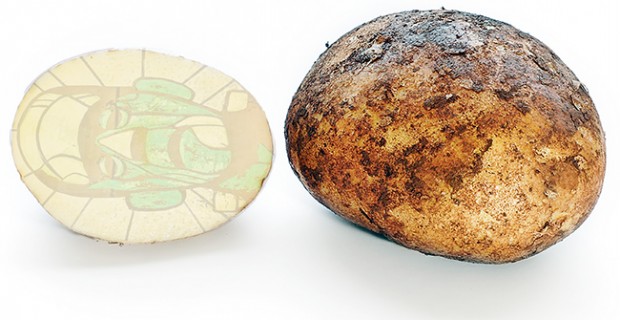 Reaction to the proposed Bayer-Monsanto merger has been strongest in America and Germany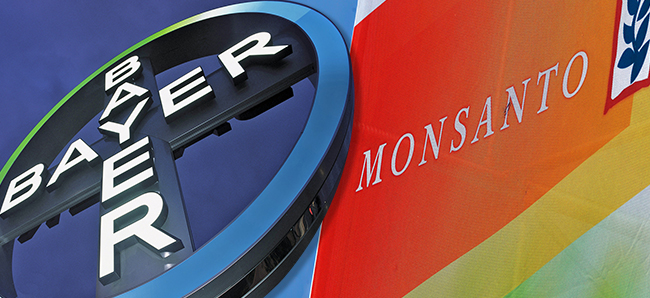 • Corporate giants Bayer and Monsanto are pooling their agro-chemical resources, to the dismay of environmentalists
A CURIOUS SILENCE greeted the news on 15 September that two of the world's largest chemical giants, Bayer AG of Germany and Monsanto of the USA, are to integrate their "chemistry, biological and data science technology platforms" in a bid to feed the ten billion people expected to need this expertise to deliver abundant crops in 2050.
The reaction to the proposed merger (Bayer has acquired all of Monsanto's shares at an unusually high premium) has been strongest in America and Germany. Adrian Bebb of Friends of the Earth Europe called it "a marriage made in Hell".
Everyone opposed to the deal agrees that it will be bad news for bees and biodiversity – also for the EU which, it is claimed, will not be able to withstand lobbying and political pressure from this new GMO Frankenstein. German group Campact said the merger would give the new corporate too much power over the food supply.
In Ireland, the reaction was muted. None of the 'greens' had anything to say that I can see and the social injustice groups also seemed silent. Only Fergal Anderson of Food Sovereignty Ireland responded and he repeated what was being heard in America and Germany. 
"This move to further consolidate an already consolidated area is bad news for farmers, consumers and the environment," he said.
"The reality is that the kind of corporate, industrial agriculture promoted by these corporations turns farmers into producers of cheap raw materials and subjects them to global forces which don't relate to their local ecosystems or communities."
In America, as separate companies, Bayer and Monsanto already have a lock on food production. The majority of corn and soy seeds are genetically engineered by Monsanto, primarily to allow the use of its glyphosate herbicide, which Monsanto claims increases yield. Most corn seeds are coated with a pesticide manufactured by Bayer to make sure of that yield. The concern now is that a similar arrangement for other crops will become de rigueur in Europe, especially in countries such as Ireland, where Bayer is a major player in crop science education. 
It is this that concerns Fergal Anderson more than anything. 
"The only way to meet these challenges and confront the kind of unholy union that the Bayern-Monsanto deal represents is to engage all citizens, not just farmers, in a conversation about what kind of food system we want to support and what kind of legacy we want to leave to future generations.
"It must be the people, not the corporations, who define our future.
"The only socially acceptable form of farming is one which is embedded in the communities and ecosystems where it occurs. Farming should be undertaken within the environmental limits of a place and not depend on imported GM soya to sustain an export dumping market which undercuts small producers in other parts of the world. 
"We need to move towards building quality and not quantity in agricultural production, build strong movements to protect people's food sovereignty, and develop international links based on solidarity, not competition with other farming communities."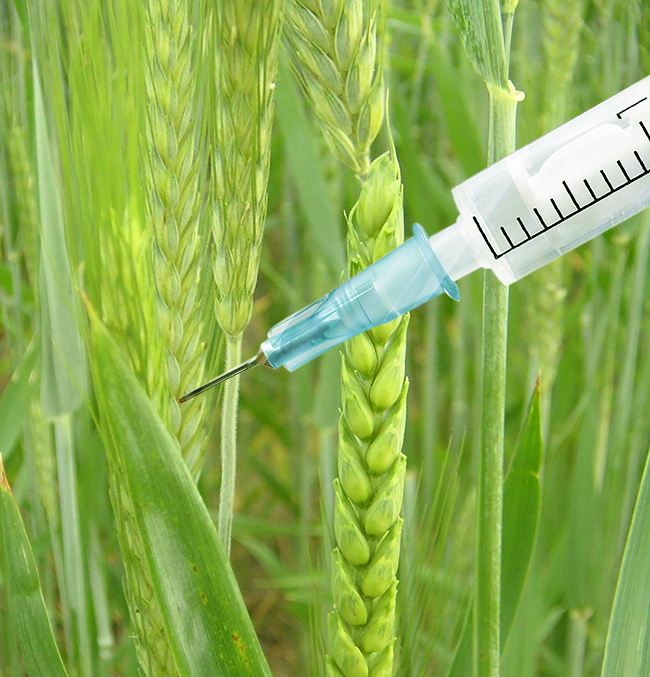 • Monsanto make most of their money from genetically-engineered seeds
Jan Pehrke, whose Coalition Against Bayer Dangers (CBG) opposed the merger, said the two giants employ ruthless business models:
"They damage the health of farmers and consumers, they destroy the global climate and biodiversity, and they jeopardise the basis of life and nutrition for all future generations." 
The greater danger, one that is already being realised in Ireland, is that Bayer-Monsanto will dictate the future of farming, which Bayer admit is their aim. Farmers will plant their seeds and use their pesticides globally. And no one will be able to stop Bayer-Monsanto because they will, in the words of one environmentalist, "use unprecedented resources to squeeze competitors, spin science, buy credibility and bully regulators".
Pehrke expects the EU ban on neonicotinoids (pesticides that have been implicated in the decline of pollinator populations) to be among the first order of business for the new corporation. 
Bayer accused the US Environmental Protection Agency of over-estimating the harm caused to bees by one of its pesticides. Bee colonies in the US were halved in 2015 and pesticides have been blamed for the loss. 
"The company is very concerned about honey bee health, but we do not think that further restricting certain uses of neonicotinoids will make any meaningful contribution to improving the situation," Bayer's Utz Klages said.
In January, the US Centre for Food Safety issued a legal challenge against the US Environmental Protection Agency for allowing the planting of neonicotinoid-coated seeds without environmental impact assessments. The case will be heard in California on 3 November.
"Bayer's buy-out of Monsanto," said the senior food and farming campaigner at Friends of the Earth Europe, "threatens to further lock in industrialised agriculture at the expense of nature, farmers and the wider public.
"While public support for local and greener food continues to boom, this mega corporation will be doing its best to force damaging pesticides and GM seeds into our countryside."
• Bayer admit it is their aim to dictate the future of farming
Bob Young, Chief Economist with the American Farm Bureau Federation, said farmers are interested in how these deals would affect agricultural innovation and hinted that the merger was a sign that control of farming and food was passing out of the hands of national regulators.
 "This deal between Monsanto and Bayer comes close on the heels of the proposed Dow-DuPont merger," he said.
"Farm Bureau believes the [US] Department of Justice should undertake a close review of the overall business climate that has encouraged these combinations rather than evaluating them in isolation. 
"Consumers must continue to have fair access to the best technologies and innovation."
Bayer and Monsanto insist that opposition to their activities has always been historically misplaced. Monsanto's Brandon Mitchener said the agro-chemical industry attracts criticism from people opposed to agricultural innovation. 
Dubliner Liam Condon, head of Bayer's Crop Science Division, prefers the word "solutions" and was clear about the intentions of Bayer-Monsanto.
"We will have the ability to offer farmers a broader variety of seeds and crop protection products, and by using Bayer and Monsanto's sales forces and infrastructure we can reach farmers in more places with more products and services.
"The combined company plans to provide growers with integrated solutions based on the smart combination and optimised usage of products, agronomic advice through digital agriculture solutions. In the future we plan to develop integrated systems based on technologies optimally designed to work together.
"We already have a blueprint for how our combined and complementary product portfolio of solutions will be advantageous for farmers.
"These all result in significant and lasting benefits for farmers: from improved sourcing and increased convenience in the short-term, to improved yield with optimised inputs in the mid- to long-term. And, importantly, they support farming in a more efficient and sustainable manner.
"Together, Bayer and Monsanto will have the capabilities and resources to offer farmers truly integrated solutions by combining three areas of expertise: seeds and traits, crop protection (including biologics), and digital farming."
Yield is the mantra coming from Bayer-Monsanto. 
"Ten billion people require a solution. Bayer's answer is sustainable agriculture."
Bayer, who employ 116,800 worldwide, make most of their money from pesticides. Monsanto, who employ a more modest 22,500, make theirs from genetically-engineered seeds. Bayer is valued at €70.4billion, Monsanto at €47billion.
Both Bayer and Monsanto have bad reputations. 
As IG Farben, the conglomerate of German chemical companies formed in 1925, Bayer commissioned the Zyklon-B gas used in the death camps. Monsanto, before it was embroiled in the GMO controversy, manufactured Agent Orange, the defoliant sprayed on the jungle during the U.S. war in Vietnam.
• Borage, gradually being eradicated from the countryside, is one of the wild plants bees depend on for their survival
It is this mania for money that really scares those who believe that food sovereignty is being given, carte blanche, to the corporates. The European Forum on Food Sovereignty, which celebrates its 20th anniversary this month, met in Cluj-Napoca to discuss (among many issues) the threat Bayer-Monsanto now poses to agriculture and food production in Europe.
Others are more concerned about the power that Bayer, in particular, has over the next generation of farmers, not least in Ireland, where it operates bio-science, crop protection and environmental science units. 
It is an integral aspect of Bayer's public profile.
"We believe in engaging in a constructive, forward-looking dialogue about the opportunities of modern agriculture and food production," said Beth Roden, Head of Communications at Bayer's Crop Science Division. 
"We commit to help the next generation of young thought leaders learn and grow themselves as we strive to drive a sustainable intensification of agriculture.
"A new generation of scientists and business leaders have to carry on this essential work. And we looking forward to cultivating this learning."
Dubliner Condon, CEO of Bayer CropScience, is succinct about this. 
"To help secure the future of food, we want to engage the leaders of the future. That is why we want to inspire young people to learn about food and farming with an 'Agricultural Education Programme'."
It is no wonder there is silence about this merger. No one really expects any resistance. This new monster will be all-consuming.