3 October 2016 Edition
Time will see more people open their minds
UNCOMFORTABLE CONVERSATIONS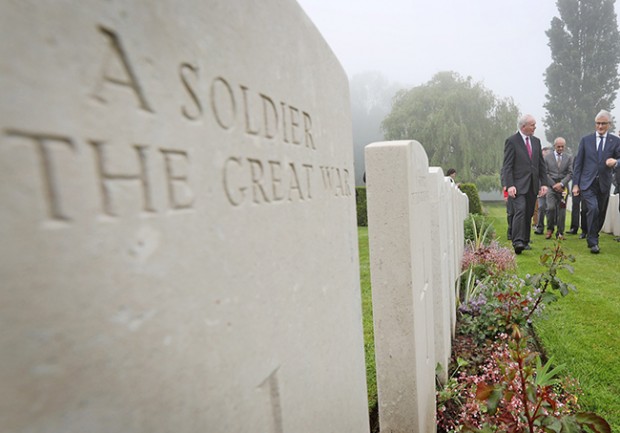 A Protestant acquaintance once told ex-Hunger Striker Laurence McKeown that some unionists won't engage with republicans because they are afraid that they might actually get to like them
AS Sinn Féin continues with the pursuit of 'Uncomfortable Conversations' on the issue of reconciliation, there is a sense of frustration from some within the broad republican family at the lack of – or maybe better to say, absence – of any reciprocation or even acknowledgement from political unionism of the efforts republicans see themselves as making.
For many republicans, seeing their leaders meeting with the British queen or touring the battlefields of World War One strikes them as hugely significant gestures. Almost all understand the politics of what is being done and the need for it to be done but for many these things still sit uncomfortably. Uncomfortable conversations are not just with those of other beliefs, faiths and political persuasions – they are happening with republican friends and comrades too.
But back to the 'no reciprocation' cry we hear from within our ranks.
It reflects a sense of a lack of quid pro quo – that because we are making big gestures then unionism should surely do the same in pursuit of the common goal of reconciliation.
And yet there is scant evidence that they will.
Should we be surprised? Or are we being naive?
This thought struck me as I recalled a discussion with a group of progressive church people when the 'no reciprocation' issue was raised. We complained that unionism had not made any effort to congratulate Martin on his meetings with Queen Elizabeth. One of the assembled clergy hit the nail squarely on the head: "Why do they not congratulate him? Easy – because they don't like it."
And there is the nub of the matter. Seeing republicans reaching out does not give unionism a warm glow – it gives them a cold chill.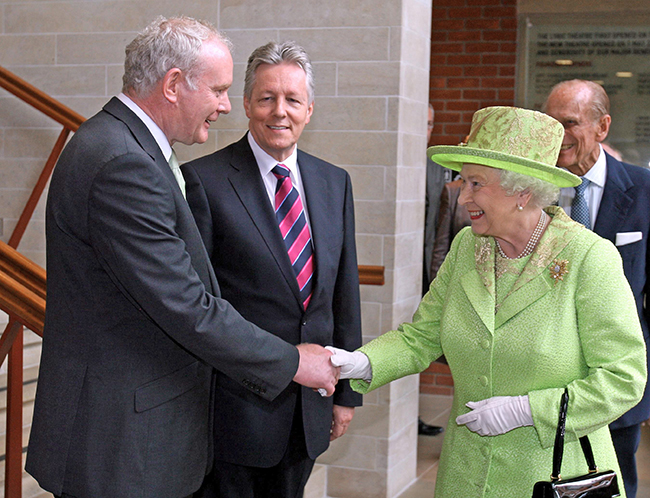 "Her Majesty" – "their majesty" – is shaking hands with the type of person many of them can barely bring themselves to acknowledge in the corridors, lifts and canteen of a supposedly power-sharing institution such as Stormont.
I was reminded of this conversation as I read a recent Irish Times interview with republican ex-prisoner Laurence McKeown:
"He [McKeown] says that a Protestant acquaintance once told him that some unionists won't engage with republicans because "they are afraid that they might actually get to like them".
McKeown continued:
"I have said to unionists – some of whom still won't even shake hands with Gerry Adams or Martin McGuinness – 'And yet the person you give so-called loyalty to, the Queen, she comes over, meets Martin McGuinness, looks him straight in the eye, smiles, puts her hand out and says, 'Hallo, Martin'.'
"It's almost as if she is saying, 'Look, watch me. This is how you do it.'
"It is common courtesy and humanity. Martin is not going to become a monarchist. She is not going to become an Irish republican, but at least they are saying, 'I respect where you are coming from'.
"It amazes me sometimes that people are so afraid of meeting the other. To me it says more about their own insecurity."
So, given all of that, what are republicans to do? 
Do we slow down until others catch up? 
Do we give up on reconciliation as a waste of time and effort?
Absolutely not. 
Some of our leadership figures have recently described the pursuit of reconciliation as an imperative. And it absolutely is. We are striving to build a new country and to do that we must become friends with our neighbours on this island.
They may take to this at varying speeds but it is incremental. As time progresses, more and more will involve themselves in dialogue and the naysayers will gradually see their numbers reduced.
We must be patient and we must stay focused. 
We know where are we are going and what we must do.
From a Presbyterian background in north Belfast, Seán Oliver has been a Sinn Féin activist since the later 1980s. He has held a range of roles at both local and national level in the party and is currently involved in the 'Uncomfortable Conversations' initiative.
Editor's Note: Guest writers in the Uncomfortable Conversations series use their own terminology and do not always reflect the house style of An Phoblacht.