3 October 2016 Edition
One-way streets and cul-de-sacs
UNCOMFORTABLE CONVERSATIONS
Up to now, I've seen scant reciprocation for anything republicans have done on reconciliation and outreach
FOR the past few years, a number of Sinn Féin members have been involved in what has become known as 'Uncomfortable Conversations' – outreach and dialogue with members of the unionist community alongside outreach to other sectors of society, including politicians and members of church and civic society, mainly here in the North. 
This has been coupled with initiatives for reconciliation at the highest political levels from within the party, including Gerry Adams, Declan Kearney, Mary Lou McDonald, Martin McGuinness and other senior party figures.
While not centrally involved in any of this, as a republican I accept the need to have such interactions and to reach out – both on a human and on a political level – to Irish unionism, and to try to heal the divisions of the past. 
But I can't help feeling that, up to now, this has all been one-way traffic. 
Unionism seems to have no problem pocketing all aspects of republican outreach while continuing to deny any responsibility for anything that has happened in the past or what is happening today.
This ranges from the attitudes of their Orange Order brethren forcing unwanted Orange marches through and past Catholic/nationalist communities (and the seething sectarianism of many of the associated loyalist bandsmen) to blatantly racist attacks on the Irish-language community. And it extends to the denigration of republican dead from the 1916 Rising to now. 
I've met with people from the unionist community in different capacities over a number of years, and in different areas of work and life – from ex-combatants to church people, and from business people to the ordinary person on the street. Many are just like the people I meet in my own and the wider republican/nationalist community – decent, hardworking, caring people. But then there are those within unionism who seemingly enjoy being both controversial and confrontational. 
There seems to be a consistent mantra from many strands of unionism to republicans of "What are you going to do?" It's as if republicans are singularly responsible for anything and everything that has happened, and continues to happen, in these Six Counties since partition and the practices of the 'Orange State'.
In my small part of east Belfast (the Short Strand/Ballymacarrett) pogroms against the nationalist community were always a way of life. 
The sectarian attacks, burning of homes, citizens shot and beaten to death, are there in black and white in the history books. It would be undeniable and unacceptable in any other society. Unfortunately, our history is but a microcosm of the story of this state, and the sectarianism visited on my community didn't suddenly end in the 1920s.
On 27 June 1970, following a loyalist 'Mini Twelfth' parade, we were subjected to a sustained armed attack by loyalist paramilitaries. In an attempt to burn down St Matthew's Church, the church sexton's house was set alight with his wife and children inside it. A number of Catholic families were burned out of their homes in Bryson Street, Austin Street, Duke Street and throughout east Belfast.
No unionist voices were raised in condemnation.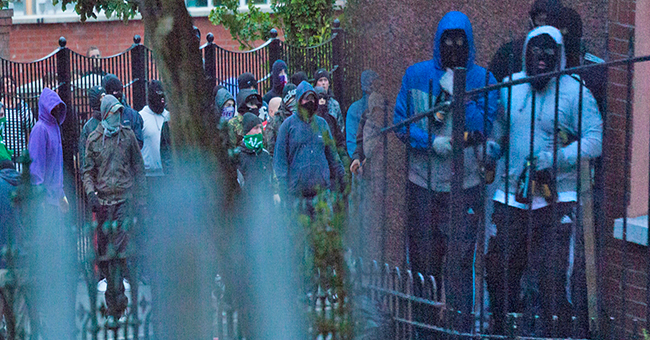 • Attacks on the Short Strand often occur with no condemnation from unionism
In 2002, a ferocious, sustained and vicious eight-month-long siege ensued against our community. Pickets were placed outside the doctor's surgery and chemist on the Newtownards Road, denying access to people from our area. Catholic students were driven out of a further education college in Tower Street. A funeral taking place in St Matthew's Church was attacked. Signs were erected on the Newtownards, Ravenhill, Castlereagh and Albertbridge Roads stating "No Fenians on our road".
No unionist voices condemned any of that.
In 2011, at the height of the 'flag protests', we were subjected to nightly marches past the area and attacks on an almost daily basis.
I heard no words of condemnation from unionism.
In the midst of all of this, I and other republicans were on the streets trying to make our neighbours safe while keeping our young people away from the interfaces and stop them from being drawn into reacting to the sectarian hatred being hurled at them and their community. 
We faced down armed, so-called 'republican' groupings who came into the area intent on fomenting sectarian strife through attempts to engage in armed conflict with the PSNI, with no regard whatsoever for the consequences my community faced from their reckless actions.
I heard no public words of support for Sinn Féin's work on the ground from members of the unionist community.
Up to now, I've seen scant reciprocation for anything republicans have done on reconciliation and outreach from mainstream political unionism
Maybe it's time for us to start asking the leaders of unionism: "What are you going to do?"
Síle Darragh was the IRA O/C in Armagh Gaol during the hunger strike in 1980 and until her release in 1981. She is now Political Administrator in the office of Sinn Féin Chairperson Declan Kearney.
Editor's Note: Guest writers in the Uncomfortable Conversations series use their own terminology and do not always reflect the house style of An Phoblacht.