3 October 2016 Edition
Máire Drumm – A formidable force
28 October 1976: Sinn Féin Vice-President shot dead in her Belfast hospital bed by unionist gunmen dressed as doctors
Breaking the "Lower Falls Curfew" in 1970, Máire led the 'pram invasion' of women as they filled their prams with food and medicines for families imprisoned in their homes
MÁIRE DRUMM might be best known to younger generations for the way in which she died but it is more important to remember how she lived – as a leader of women, a leader of men, a revolutionary, a wife, a mother and a grandmother. She was a formidable force.
Máire was born Máire McAteer on 22 October 1919 in the townland of Killean in south Armagh, just past where the Carrickdale Hotel is now and not far from where the Edentubber Martyrs met their end. She was a pupil at Our Lady's school in Newry before going to Liverpool to look for work in 1939 and then on to Dublin the following year, where she worked as a shop assistant. It was at this time that she joined Sinn Féin.
Two years later, in 1942, Máire moved to Belfast, where she became involved with the Camogie Association of Ireland, a sport that was dear to her heart for the rest of her life. Although still in her early 20s, she went on to become the Antrim Secretary and later Chairperson of the Ulster Council of the Camogie Association and All-Ireland Vice-Chair. Máire had a great love of Irish culture and was involved in the McAleer School of Irish Dancing, even going so far as to hold Irish classes for local people in her own home.
Máire had great empathy for the republican prisoners and was very involved with the Green Cross and the National Graves Association. It's just as well she was fond of POWs, because it was when she went to visit her former camogie teacher in jail that she met the love of her life, IRA Volunteer Jimmy Drumm. Jimmy was in Crumlin Road Gaol, having a visit with his mother, when Máire came to visit her teacher. They met in the visiting room. Jimmy wasted no time and introduced himself. He asked who she was there to see, then asked to have a visit arranged with her. They were engaged before Jimmy was released.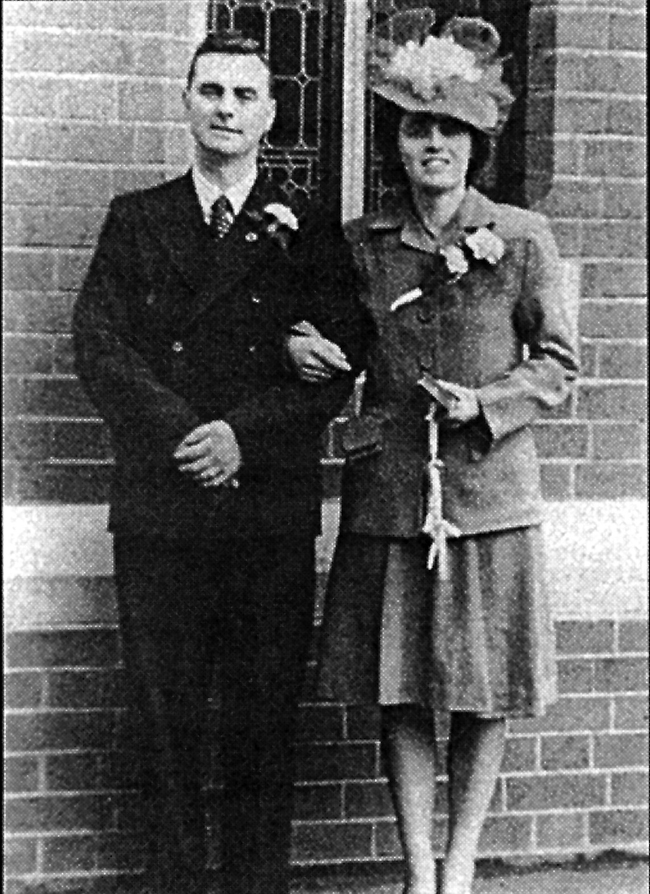 • Jimmy and Máire Drumm on their wedding day, 16 July 1946
Máire and Jimmy were married in 1946 and settled in Andersonstown in west Belfast, where they had five children. It must have been hard on Máire as Jimmy was interned again from 1957 to 1961. Jimmy holds the dubious honour of "Most Interned Man in Ireland", so Máire basically reared their five children and reared them well. 
Even with all this on her plate it didn't stop Máire in 1958 leading a protest to Crumlin Road Gaol after the men's letters and parcels were stopped. In those days they didn't have crèches, so babies were usually brought along in the huge, carriage-type prams. The women rushed the gates, using the prams to clear the way. Although the mothers were batoned by the prison warders, they got inside and delivered the letters and parcels. As always, Máire led from the front.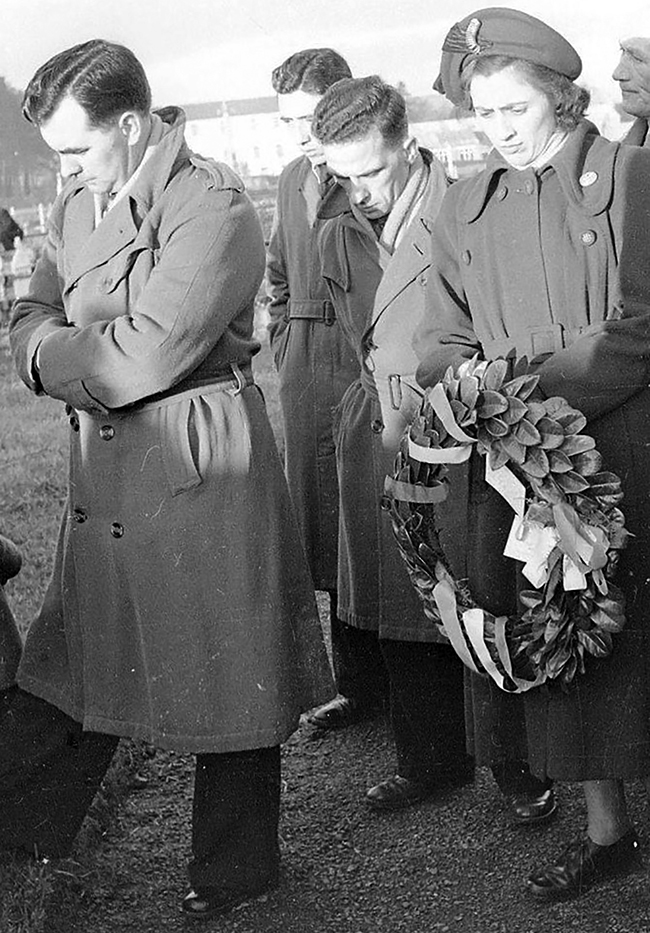 • Máire at the 10th Anniversary of the death of IRA Volunteer Tom Williams, September 1952
The unionist sectarian pogroms of 1969 were a testing time for everyone, not least the Drumm family. Máire was actively involved in trying to rehouse those who had been burned out of their homes.
Her eldest son, Seamus, tells of how there was a field across from their house in Andersonstown that was filled with caravans and people who had nowhere else to live. He recalls how they would come into the house to watch the TV, "so you could never get to watch what you wanted", he says with a smile. 
And it wasn't just the telly that was shared.
"You would go to the bathroom and there would be a queue of people that you didn't recognise, but that was normal in our house with my mother. She even had a rota system for the families to have a bath. In those days you didn't have instant hot water so it was basically one family per night had baths."
He adds:
"If I ever dared to complain I would be told that at least we had a home and how lucky we were. My mother taught me and all of us the practice of being a socialist, not just the theory of it. Our house was an open house for those who needed it and I am very proud of my mother for that."
Breaking the "Lower Falls Curfew" in 1970, Máire led the 'pram invasion' of women as they filled their prams with food and medicines and headed to the lower Falls, picking up more and more women along the way. They defied the armed British soldiers and pulled the barbed wire apart with their bare hands to deliver the supplies to families imprisoned in their homes.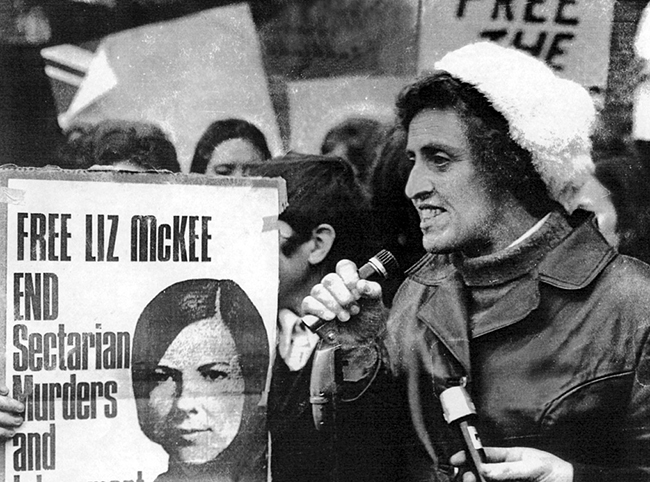 • Protest against the internment of Liz McKee in 1973
On 7 January 1973, Máire led 500 women and girls to the Busy Bee in Andersonstown in protest against the internment of Liz McKee, the first female internee. At one stage during the internment campaign, Máire organised a planeload of wives and mothers of internees to fly to England to protest outside Downing Street.
Maíre Drumm was a living example of the slogan "A woman's place is in the revolution".
In August 1975, she displayed her oratorical skills as she addressed a mass anti-internment rally in Dunville Park:
"On 9th August 1971, we had a Republican Army; after the 9th August we had what was more important – we had a risen people.
"[Stormont Prime Minister] Faulkner with internment used it rather crudely: he grabbed everyone, opened Long Kesh and pushed them in. [Taoiseach] Cosgrave does it differently: he takes republicans to court and locks them up."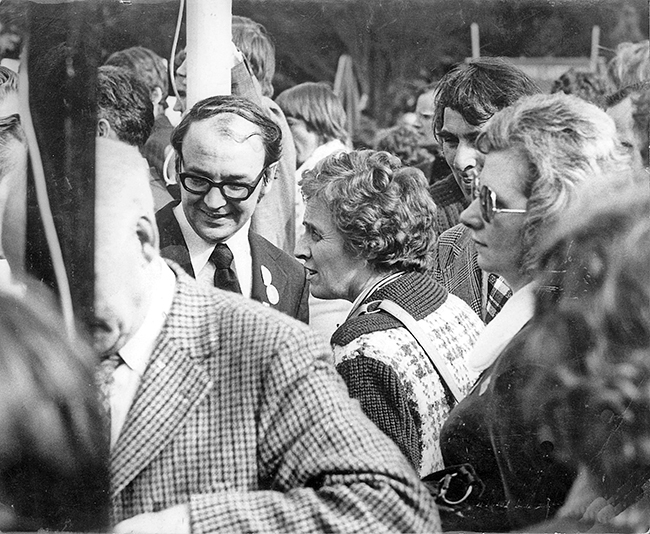 • At the annual Wolfe Tone commemoration in Bodenstown, June 1974
Máire was no stranger to arrest and detention. Sinn Féin in the early 1970s was being reorganised and Máire, who was emerging as a very gifted and natural leader was elected as Vice-President and this identified her as a leader via the media in the days long before Facebook, Twitter, YouTube or social media of any kind.
In February 1971, Maire was sentenced to six months for inciting people to join the IRA at a meeting in Turf Lodge the previous July.
While she was locked up, the British Government brought the same charges against her again, claiming she had promoted the objectives of the IRA at a meeting in Derry. She got another six months in jail.
In November 1972, Máire appeared at the Special Court in Dublin, charged with inciting people to possess arms at Navan and of being a member of the IRA. She refused to recognise the court and was sentenced to 22 days.
In August 1976 she was arrested at her home and charged with taking part in an anti-internment rally. She retorted that the previous Saturday's British-backed 'peace rally' was illegal as the organisers could not have given the required statutory five days' notice. The authorities had to admit the 'peace rally' was in fact illegal and, rather than prosecute the organisers, they released Máire.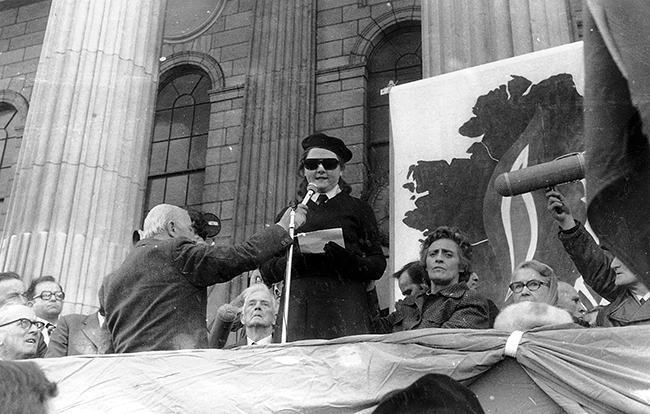 • At the banned Easter commemoration in Dublin in 1976, shortly before her death
Throughout all these campaigns and periods of imprisonment, it's important to remember that Máire was a mother to five children. She reared them, fed them, clothed them and did the 'ordinary' things like getting them off to school and making them their dinner. 
The last speech given by Máire was in her home area of south Armagh, in Cullyhanna in September 1976.
"What is peace? The kind that the Republican Movement has been fighting for is peace with justice. Peace that our people can live, peace that our people can work and have houses, and that our people can walk free through the streets of their own towns, their own cities and their own country. 
"It will be the peace that will be restored to the nation after 800 years when British imperialism leaves our shores."
Máire was then admitted to the Mater Hospital in Belfast for cataract surgery. It was while she was recovering from the operation that unionist gunmen entered her room and murdered her as she lay defenceless. Máire was a huge threat to the British Establishment as a vocal, fearless leader of the resistance. That's why they killed her.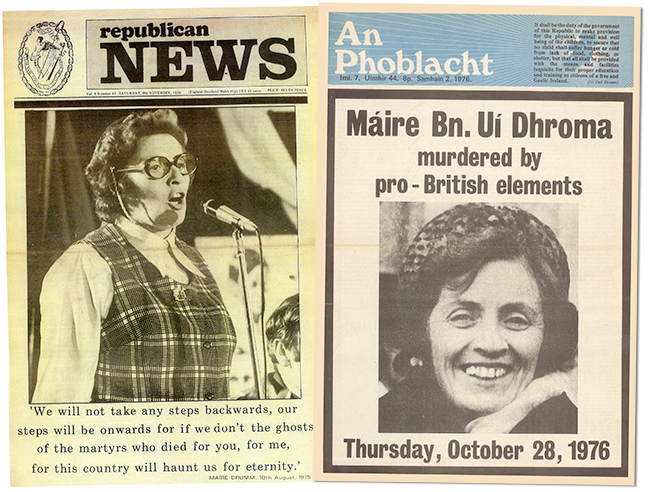 She was years ahead of her time regarding women's rights and the equality of women. She has inspired new generations of women, as Constance Markievicz did before her and Mairéad Farrell has done after her.
In north Louth, a Sinn Féin cumann has recently been set up bearing her name, just down the road from where she was born. The Maíre Drumm Sinn Féin Cumann will proudly carry on her work towards the Republic. Her eldest son, Séamus, is a member. He says: 
"I am so very proud to be a member of the Maíre Drumm Cumann. It has been 40 years since she passed and I know that she will never be forgotten.
"Ten years ago we unveiled a plaque to her just below her home place in Killean and now the work we do in the north Louth area will carry my mother's name and that means a lot to me."