3 October 2016 Edition
The fight for workers' rights is central to the fight for a better economy

ONE of the key consequences of the economic crisis (but one that had no direct  relation to the financial problems confronting the state) was the depreciation of workers' rights in terms of pay and conditions of employment.
Employers took advantage of the financial pressure on workers to reduce wages but, more importantly, to make employment less secure: zero-hours contracts, uncertain hours, and false sub-contracts for the employers to avoid holiday or sick pay.
And the Government of the day – in which the Labour Party played a central role – made no move to protect workers' rights, instead using the economic crisis as a cover for a direct worsening of employment conditions.
The excuse was the argument that the state's coffers were bare and that we had to pay our way out of the crisis. But, in simplest terms, it made no difference to the state's finances if workers were guaranteed their traditional protections.
Labour are now prancing around, raising issues of workers' rights but pointedly ignoring their role in Government and refusing to apologise for it or acknowledge that it was wrong.
Of course the avowedly pro-capitalist parties saw nothing wrong with this, though they now pretend to be concerned and open to suggestions as to how to improve matters.
But this is all talk.
When Sinn Féin TD Louise O'Reilly raised these issues in the Dáil she was met with a barrage of abuse from Fine Gael and Fianna Fáil, united to defend employers' 'rights' to exploit their workforce.
This stance shows not only the contempt that the Establishment parties have for workers but a shallow short-sightedness as to the economic and political impact of this assault.
Let us take, for example, the situation of teachers, traditionally a lower-middle-class bastion of moderate conservatism. It is recognised on all sides that one of the key achievements was the fact that we had a well-educated workforce.
Even in emigration, young Irish men and women are no longer at the bottom of the pile, and their qualifications and skills are well-recognised. These same skills and qualifications are the building blocks of any sustainable economic situation for the future.
But teaching, notwithstanding its crucial importance for the economic future of the country, has been made one of the most precarious occupations in the state.
A newly-qualified teacher can expect at best a series of one-year contracts in different locations – different so that they will not build up the automatic entitlement to a full-time contract after three years of full employment in one job.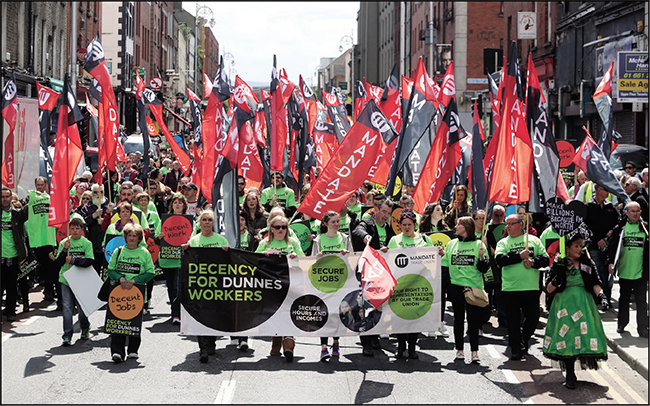 • Dunnes workers won widespread public support for their fightback against attacks on their conditions
Even worse, young teachers are frequently being offered half-hours or less, the point being that if they work less than 18 teaching hours week they are not entitled to pension or holiday entitlements.
This saves money for school managers and for the Department of Education (which is driving this process) but leaves the teachers with no job security and with significantly deflated wages.
Of course, one of the consequences of that is that they cannot get a mortgage to buy somewhere to live and are forced into the grasping hands of the business landlords whom both Fine Gael and Fianna Fáil protect.
No one in their right mind would aim to enter the teaching profession with such insecurity and poor remuneration.
The consequence of that in the long run will be that teaching will become a last resort for those who can't find anything else and then the standard of education must inevitably fall with a deleterious impact on the economy.
But such is the commitment of Fine Gael and Fianna Fáil to keeping workers in a dependent position (and such was the commitment of Labour too when it was in government) that this impact is just ignored.
Instead, Fianna Fáil offer ignorant jibes about workers' rights in the North, oppose defending workers' rights in the South, and go so far as to lie blatantly that their refusal to back workers' rights is publicly  exposed by the trade union movement.
This issue is a central one for the economy because it clearly acts as a brake on improving the conditions and purchasing power of workers and that, in turn, slows consumer spending in the economy.
Socially and politically, the Irish Establishment is not on its own. This assault on workers' rights is a direct consequence of EU regulations and policies.
In France, the assault has been met by a series of popular demonstrations and strikes.
What will we in Ireland do to protect ourselves?