3 October 2016 Edition
St Enda's and the Hermitage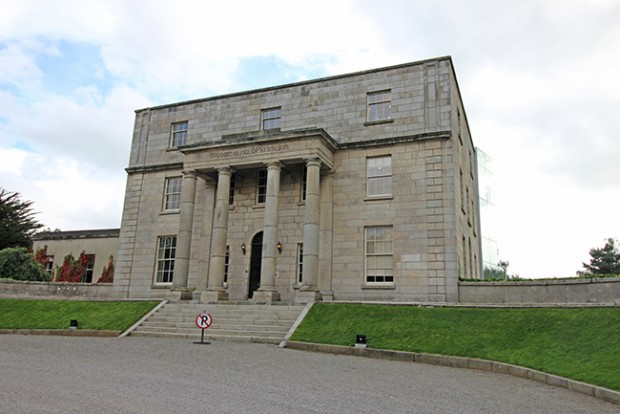 NESTLED in the foothills of Dublin's Kilmashogue Mountains, in the village of Rathfarnham, sits 'The Hermitage', a grand 18th century house and gardens with a history deeply intertwined with Ireland's freedom struggle. In the late 1790s, as the finishing touches were being placed on the house which would become home and practice to dentist Edward Hudson, a short distance away the British military was embarking on a construction project of its own. 
Despite the defeat of most of the United Irishmen forces following the Battle of Vinegar Hill, the Wicklow Mountains remained a hotbed of Irish rebel resistance. Michael Dwyer, known as "The Wicklow Chief", and his forces struck repeatedly against isolated British garrisons, local loyalists and allied yeomanry before melting away in a formidable guerrilla campaign that caused deep concern in Britain and tied down thousands of troops. Other rebel leaders (such as Joseph Holt) had taken an amnesty offer from the British. Dwyer's men included many Irishmen who had deserted from the British Army. They faced execution for treason if they were captured or surrendered, and therefore formed the strong backbone of his fighters.
British military leaders sitting in Dublin Castle were said to stare out in trepidation at the mountains overlooking the capital, which they believed to be swarming with rebels ready to descend upon the city. This fear prompted the construction of the Military Road in 1800 – which would run along the spine of the Dublin and Wicklow Mountains and allow the British forces to flush out the rebels from the inaccessible interior. 
• Emmet's Fort on the perimeter of The Hermitage, where Robert Emmet would stay during his secret visits to his fiancée, Sarah Curran
Robert Emmet and Sarah Curran
At this time, "The Wicklow Chief" made contact with young revolutionary Robert Emmet – a wealthy Anglo-Irish Protestant who deeply sympathised with the Irish Catholic population. He had worked in France to secure support during the 1798 Rebellion and returned to Ireland after the defeat, despite being wanted by authorities, to reorganise the United Irishmen and launch another uprising. 
During this time he frequently visited the Hermitage, staying in a fortified lodge on the outer perimeter wall which is now known as "Emmet's Fort". From here he would rendezvous with his sweetheart and fiancée, Sarah Curran, who lived nearby in The Priory. 
Emmet and Curran had been engaged in secret as her father (John Philpot Curran, a liberal nationalist) deeply disapproved of Emmet's political views. Emmet was executed just months later for his leadership of the rebellion of 1803. Sarah Curran was disowned by her father and had to move to Cork with relatives and later to Sicily, where she died five years later. Her final request was that she be buried in the garden of The Priory, next to the small grave of her sister Gertrude who had died in a falling accident as a child. Her last wish was refused by her father. 
The resting place of Robert Emmet has long been a source of speculation. Local rumours have it that his body was smuggled to Rathfarnham shortly after his beheading on Thomas Street and buried beside the body of little Gertrude. The story of Robert and Sarah inspired Thomas Moore's poem, 'Sarah Curran':
She is far from the land where her young hero sleeps, 
And lovers around her are sighing: 
But coldly she turns from their gaze and weeps, 
For her heart in his grave is lying.
Pearse's school 
It was this connection to Irish history and its idyllic location that prompted Pádraig Pearse to relocate his St Enda's School (Scoil Éanna) – opened in 1908 in the Dublin suburb of Ranelagh – to The Hermitage in 1910. 
Speaking of his new home, Pearse said:
"I live in a place that is very full of heroic memories. In the room in which I work at St Enda's College, Robert Emmet is said often to have sat; in our garden is a vine which they call Emmet's Vine and from which he is said to have plucked grapes; through our wood runs a path which is called Emmet's Walk – they say that he and Sarah Curran walked there; at an angle of our boundary wall is a little fortified lodge called Emmet's Fort . . . It is easy to imagine his figure coming out along Harold's Cross Road to Rathfarnham, tapping the ground with his cane, as they say was his habit; a young, slight figure, with how noble a head bent a little upon the breast, with how high a heroism sleeping underneath that quietness and gravity!"
Inside the lobby of the old schoolhouse, beneath a painting of the crucified Jesus Christ, sits a block with a small brass plate bearing the inscription: "Robert Emmet was beheaded on this block – 20th Sept 1803." 
If the block and the old facade and steps of the former schoolhouse are familiar it is because some of the only film footage that exists of Michael Collins was recorded on the steps of the building. In 1919, the Dáil began selling Republican Loan Bonds to support Ireland's struggle for independence. The launch of this event took place on the steps of St Enda's and Collins, as Minister for Finance, signed the Bonds on Emmet's block.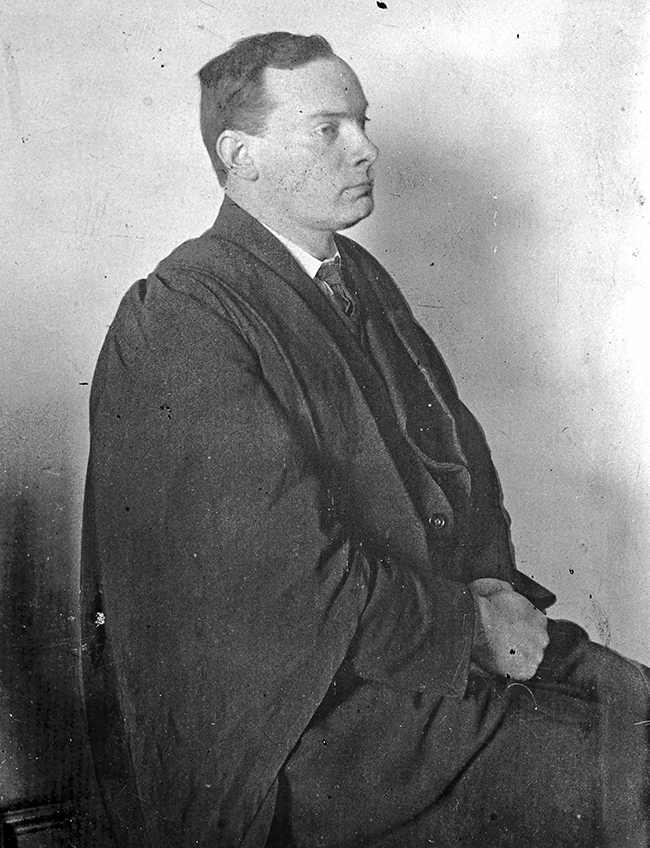 • Pearse in his headmaster's robes
Educational pioneer
Pádraig Pearse was an educational pioneer. His desire for a new education system was expressed in his 1913 essay 'The Murder Machine', in which he eviscerated the English system as "the most grotesque and horrible of their English inventions for the debasement of Ireland".
Pearse's school was firmly rooted in the Gaelic tradition, the Irish language and the promotion of Irish nationalist thought.
"The story of Joan of Arc or the story of young Napoleon means more for boys and girls than all the algebra in all the books. What the modern world wants more than anything else, what Ireland wants beyond all other modern countries, is a new birth of the heroic spirit," wrote Pearse.
Inside, the rooms are kept much as they were during Pearse's time. An impressive collection of weapons from previous rebellions was purchased by the school and put on display. Portraits of Irish patriots and martyrs adorn the walls, while beautiful sculptures by Pádraig's brother, Willie, are on display.
St Enda's School won praise from across nationalist Ireland, including from W. B. Yeats, Roger Casement and Constance Markievicz. It even prompted Indian nationalist Rabindranath Tangore to open a similar institution in Bengal.
Speaking at the school in 1914, Douglas Hyde (the first President of Ireland from 1938 to 1945) said: 
"Pearse's philosophy is the philosophy of all who are concerned with the creation of what might be called an Irish Ireland, as distinct from an imitation English Ireland." He said schools like St Enda's are "bringing back again the consciousness of belonging to a nation".
Pearse fostered a love of everything Irish in his students. He was also a nature-lover, and The Hermitage, set amidst woods, fields and streams, allowed the boys to explore nature with emphasis placed on classes such as horticulture. Old display cases contain small animals, seeds and plant specimens collected by the students, while Pearse's notes alongside them explain how students were under "geasa" not to kill wild things and any specimens captured for study were to be released unharmed. Sports, Irish dancing, and drama were core subjects and St Enda's provided a beautiful backdrop for plays such as 'Fionn: A Dramatic Spectacle' – the performance wonderfully captured in photographs at the time.
The Irish Volunteers would frequently drill in the grounds of St Enda's and, in the lead-up to the 1916 Rising, a group of former students known as "The Dogs" continued to lodge in the building while attending university. In the evenings they would meet in secret in the school basement, which they had transformed into a bomb factory. Fifteen of "The Dogs" would go out to fight during the Easter Rising.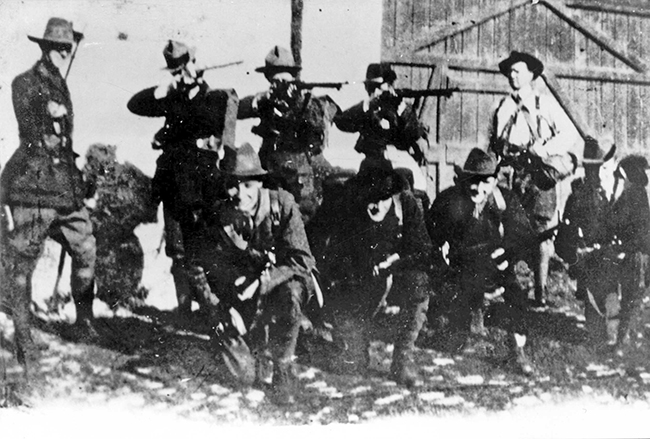 •  A group of former St Enda's students known as 'The Dogs' pose for a photo on Easter Sunday 1916 before heading into battle alongside the Irish Volunteers and Citizen Army
Aftermath
As the dust settled after the Easter Rising, five of St Enda's teachers – Pádraig Pearse, Willie Pearse, Joseph Plunkett, Thomas MacDonagh and Con Colbert – were executed by British Army firing squads. The school closed and was occupied by British forces. It was reopened at its old home in Cullenswood House before returning to the Hermitage in 1920.
Margaret Pearse never recovered from the execution of her two sons. Committed to keeping the memory of her sons alive, she and her daughter, Margaret Mary, continued to run the school. In 1921, Margaret Pearse was elected to the Dáil as a Sinn Féin TD for Dublin County. She opposed the Treaty that partitioned Ireland, telling the Dáil:
"It has been said here on several occasions that Patrick Pearse would have accepted this Treaty. I deny it. As his mother, I deny it, and on his account I will not accept it."
She added that if she voted to support it:
"I feel in my heart – and I would not say it only I feel it – that the ghosts of my sons would haunt me."
Mrs Pearse died in 1932 and St Enda's closed three years later. In 1968, in accordance with her mother's wishes, Margaret Mary left it to the state to be used as a memorial to the Pearse brothers on condition that it opened every day and entry be free.
In contrast to the carefully-maintained house and grounds in what is now St Enda's Park and the Pearse Museum, Sarah Curran's home at The Priory suffered a very different fate.
The deaths of his two daughters left John Philpot Curran a broken man. A news report recounted how the once well-maintained grounds deteriorated and locals would observe "a lonely grave over which an old man lies sobbing . . . every day the same sad sight would have met our gaze: the broken figure of John Curran crying like a child for his youngest and favourite daughter".
The ruins of The Priory now sit overgrown in a small green at the centre of a nearby housing estate with no markers or plaque to remember its historic importance. Gertrude's (and if rumour is to be believed, Robert Emmet's) grave has been lost to time and in the construction of the housing estate in the 1970s.
• The Pearse Museum and St Enda's Park are now managed by the Office of Public Works. They are open every day and entry is free.