3 October 2016 Edition
Investing in families and infrastructure
'Alternative Budget 2017'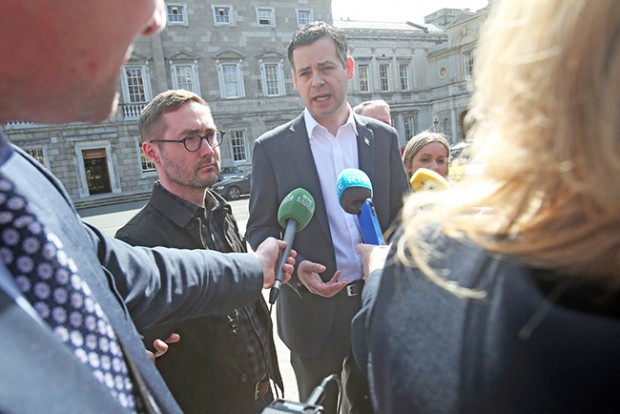 'At the heart of our alternative budget is a commitment to fairness, a commitment to ensuring that no community is left behind and no individual is left behind' – Pearse Doherty
SINN FÉIN'S 'Alternative Budget 2017' is a costed, realistic programme that could ease the cost of living for families while investing in much-needed infrastructure that has been neglected by Fine Gael and Fianna Fáil, Sinn Féin Finance spokesperson Pearse Doherty has told An Phoblacht. 
"At the heart of our Alternative Budget is a commitment to fairness, a commitment to ensuring that no community is left behind and no individual is left behind," Pearse said.
Fine Gael and Fianna Fáil are stuck in a rut, he said, using a "broken model" when it comes to Budgets.
"Fine Gael's and Fianna Fáil's idea is still based on the idea that the state can do with having tax cuts in the region of €330million at a time when our services are at breaking point," Pearse said.
"Sinn Féin's approach is very different.
"It's about increasing the overall fiscal space that's available by making sure that those at the top who can pay additional taxes pay their share and by closing tax loopholes. By doing that, we can bring in additional revenue that we can put back into people's pockets by reducing the cost of living, by investing in health, childcare, education and a huge capital programme.
"There will be a very clear contrast between the type of proposals that Sinn Féin puts forward and that Fianna Fáil and Fine Gael put forward."

He said how the parties' Budgets are framed "all boils down to political choices". 
He explained:
"Our choice is to ensure that low- and middle-income families are supported, that the services they depend on are strengthened and enhanced and that we invest in our capital infrastructure so that the failures there begin to be rectified."
The Sinn Féin Finance spokesperson said that all of the measures in the party's Alternative Budget have been costed in a process that began three or four months ago in a series of engagements that included the Department of Finance and the Department of Public Expenditure. "And all of it is within the new fiscal rules that apply to Ireland."
The Sinn Féin Alternative Budget is based on three pillars.
The first is investing in infrastructure across the island, Pearse Doherty said.
"That's to put money into health, schools, repairing roads and building houses as well as ensuring we have a proper water and sewerage infrastructure.
"And we're putting forward a package in this Budget for addressing the housing crisis, for the fact that we have children going to school in prefabs, and that our secondary roads network, particularly in rural communities, is disintegrating."
The second part, he said, is about "ensuring that we have the investment in our public services and that we repair some of the damage that was done during the brutal years of austerity by both the Fine Gael and Fianna Fáil governments".
He said that will see a massive investment in health, education and childcare and also direct supports for people such as pensioners, single parents and those dependent on state supports, whether it's rent supplements or fuel allowance or others like that.
He said the Sinn Féin plan aims to ensure that the most vulnerable in society are protected.

The third pillar is related to tax justice and bringing fairness to the tax code, he said.
"It's about clamping down on tax loopholes that allow very wealthy property funds to pay no tax within Ireland. It's also about ensuring that people get unjust taxes back into their pocket by abolishing taxes such as the water charges and the tax on family homes, the Local Property Tax.
"Alongside that, we'll be asking that those who can afford to contribute more to do so and pay their fair share. That's by looking at areas such as Inheritance Tax and high-earners, those individuals earning over €100,000 a year."
Pearse Doherty said that the Sinn Féin Budget programme is also different to proposals by Fine Gael, Fianna Fáil, Labour "and, unfortunately, AAA/People Before Profit" to get rid of the Universal Social Charge.
"Sinn Féin believes very clearly that is not possible when you look at the crisis we have in homelessness and housing, the amount of people still on hospital trolleys, children going to school hungry, and the lack of investment particularly in the regions. There is no justification for abolishing a tax that will only benefit the wealthiest in society.
"Overall, there will be more taxes raised in the state but those taxes will be shouldered by those who can afford to do it. And the reason that will happen is because we need the investment in other areas.
"For us, it's very much about reducing the cost of living for families.
"That's what marks Sinn Féin's Budget proposals as different from Fianna Fáil and Fine Gael."