5 September 2016 Edition
The Olympic spirit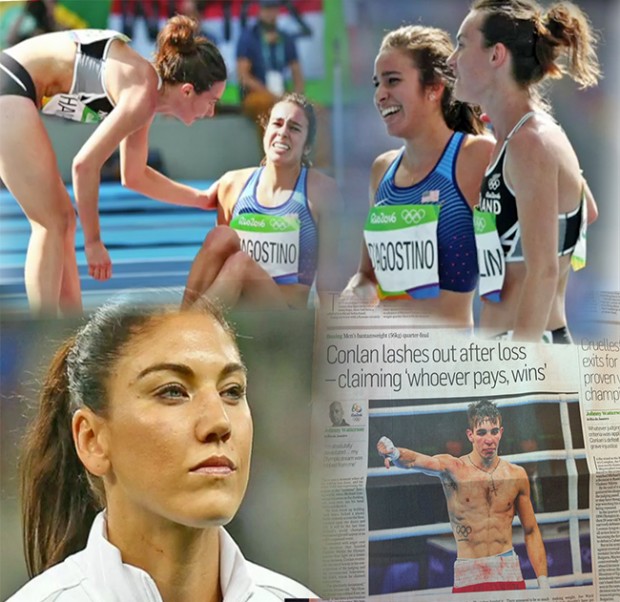 A good sportsperson is defined as someone 'who employs fairness, ethics and respect'
OVER THE COURSE of Rio 2016 there has been great talk of the "Olympic Spirit" and of sportsmanship.
A good sportsperson is defined as someone who shows "courtesy towards another in a sports game, who employs fairness, ethics, respect".
This was exemplified perfectly by New Zealand 5,000-metre runner Nikki Hamblin who, during her heat, accidentally tripped up Abbey D'Agostino of the United States.
Instead of continuing with her race, Hamblin turned to help out the stricken American – a true demonstration of sportsmanship.
Over the course of the Olympics there have been many examples of good sportsmanship. But there have also been several examples of bad sportsmanship
The USA women's soccer team is one of the most successful sports teams of all time.
The reigning Olympic champions came to Rio in the hope of defending their crown and becoming the first team to claim back-to-back World Cup and Olympic titles.
This dream died in the quarter-finals when they were defeated by Sweden on penalties, making it the earliest exit for the USA in a major tournament, a record spanning seven World Cups and six Olympics.
After the game, Hope Solo, the USA's goalie, called the Swedes "cowards".
Hope Solo is arguably the best goalie in the women's game: a two-time Olympic gold medalist and a World Cup gold medalist with over 200 appearances, earlier this season she recorded her 100th clean sheet.
She told reporters after the loss:
"We played a bunch of cowards. The best team did not win today. I strongly believe that."
It is worth noting that as Lisa Dahlqvist stepped up to take the last penalty, in an attempt to put the Swedish player off, Solo decided to change her gloves. Mind games, perhaps, but also a clear example of bad sportsmanship.
This and her words after the game meant that the backlash was swift, with commentators and past players calling Solo an embarrassment to both her country and her national team.
Solo's teammate, Alex Morgan (who scored the equaliser to take the game to extra time before missing a penalty in the shoot-out) had a different perspective to Solo.
"Sportsmanship is definitely an important thing in all sports," she said. "In soccer, we all respect each other on such a high level, between Sweden and Brazil and Japan or whatever team it is.
"As much as we were deserving of the win, Sweden played a game that tactically was how they felt they could beat us.
"Having respect at the highest level is important and that's why it was important for me immediately after the game — as heartbroken as I was — to shake the referee's hand, to shake all of the Swedish players' hands, and to give credit where it's deserved."
Walsh Jennings also displayed grace in defeat. Over the past 12 years, she has become one of the most successful Olympians of all-time.
After 26 straight victories and three straight gold medals in Olympic beach volleyball, the American lost out to Brazil's Agatha and Barbara in the semi-finals, ending the Rio Games with a bronze.
When asked how it felt after the defeat, she replied: "It's a terrible feeling."
She tried to explain why it was so hard to take:
"We can squash that team. We have in the past. I say that with so much respect for them. They're very, very good. Tonight, they rose to the occasion. I certainly did not. There's no excuse for it. Just terrible execution. They outplayed us pretty much in every way. Not out-hustled us, not out-hearted us, not out-teamworked us. Just outplayed us."
Belfast boxer Michael Conlan created global headlines by branding Olympic boxing governing body AIBA "cheats" in the wake of his defeat to Russian Vladimir Nikitin.
"They're known for being cheats," a very angry Conlan raged directly after his fight. "Amateur boxing stinks from the core right to the top."
In his mind, and according to many commentators and observers, he should have won the fight. Computer stats after the fight also showed he should have been awarded the win.
The judges decided otherwise, denying him a shot at fighting for an Olympic gold.
Such was the clear injustice of the decision, Conlan has received widespread support with many within the boxing community, calling his remarks a challenge to the AIBA and the Olympic Committee to do something to stamp out corruption.
While many will look at the medal count and stats to measure the success of countries and athletes at the Olympics, we must also look at how they carry themselves in victory – and how they carry themselves in defeat.
It is these gestures of sportsmanship that stick in the mind and may bring the "Olympic spirit" to everyday sport.