5 September 2016 Edition
Joe 'Madge' Ó Gallachóir, Derrybeg, Donegal
Fógraí Bháis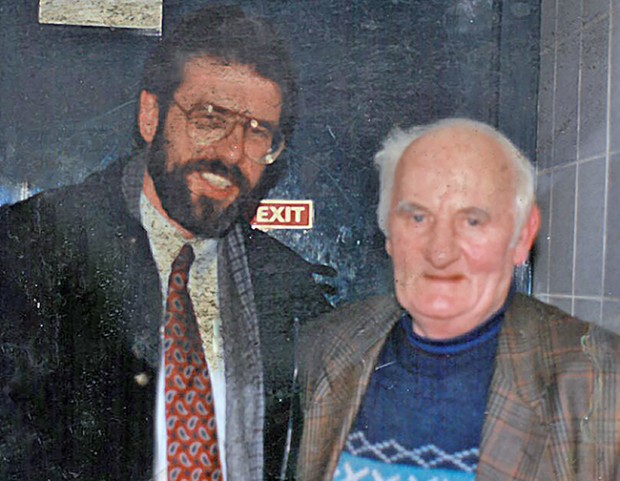 John could trace his republican heritage back to the days of the Land League. One of his ancestors was arrested during the evictions in Gaoth Dobhair in the 1880s
JOE, who was born in 1924, passed away earlier this year and was buried in Machaire Gathlán Cemetery, overlooked by friends and comrades alike, where a Tricolour draped his coffin and a piper played a lament. 
One of the last acts he carried out was to visit the polling booth at the ripe old age of 91 to cast his Number 1 vote for his near neighbour, Sinn Féin TD Pearse Doherty.
John could trace his republican heritage back to the days of the Land League. One of his ancestors was arrested during the evictions in Gaoth Dobhair in the 1880s. His grand-aunt, Bridget (Biddy) Coll, was accused of striking the blow that killed RIC Inspector William Limbrick Martin as he rushed towards An Tathair Séamus Mac Pháidín, advocate of Conradh na Talún  (Land League), with a drawn sword outside Teach Phobail Mhuire in Derrybeg on Sunday 3 February 1889. Inspector Martin was leading a force of RIC men carrying out evictions.
As a consequence of that action, she spent a considerable time in the harsh confines of Derry Gaol before her eventual release.
Joe's father had spent time in jail with the Drumboe Martyrs in 1923 and he also escaped from Portlaoise prison along with Neill Plunkett Ó Baoill, one of the Rosses Martyrs.
When Catholic homes were being systemically burned in the sectarian pogroms from 1969 onwards, as happened in Belfast's Bombay Street, Joe Madge Ó Gallachóir did not hesitate in throwing open his doors and he housed as many refugees as he could and formed solid friendships with families that persisted until the day he passed away.
There are countless stories to be told of his inspirational and facilitating efforts at helping the republican cause down the years, where he provided a safe house and anything that was required by the dozens of Óglaigh na hÉireann Volunteers who took refuge under his roof from the early 1970s until the Peace Process.
One of the "On the Runs" I am at liberty to name that stayed on many occasions in the safety of Joe's house was Sinn Féin TD Pádraig Mac Lochlainn's father, Raymond, a lifelong IRA Volunteer. 
As he gave the graveside oration, Pádraig informed the mourners that he had only been told that morning about the important link between his father and Joe Madge and he was humbled and offered his sincere thanks to Joe for his bravery in doing so.
Joe never missed taking part in the yearly Easter Sunday commemoration for the Drumboe Martyrs, due in part to the fact that his father had struggled alongside Charlie Daly, Timothy O'Sullivan, Dan Enright and Seán Larkin in the Tan War and spent time in jail with them before they were executed by Free State soldiers in the woods of Drumboe.
James Woods