5 September 2016 Edition
Buzzkill – Ireland's bees are being wiped out
A call for action to 'stave off a calamitous collapse of ecosystems'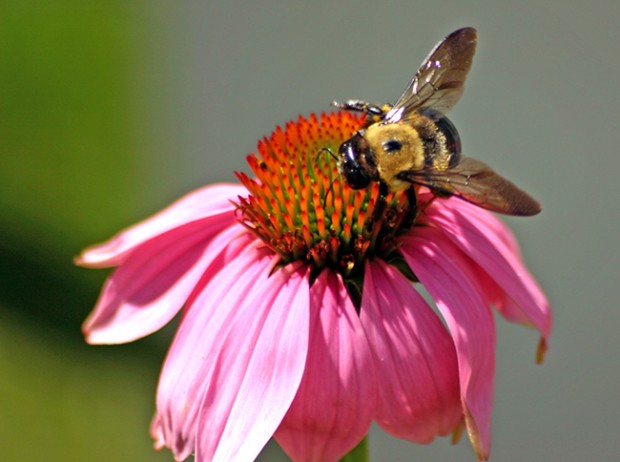 As well as engaging with county councils, farmers, and environmental and heritage groups, a new part of the plan aimed at gardeners and homeowners was launched this summer
MORE THAN 30% of all fruits and vegetables and as much as 70% of all the world's food production is heavily reliant on one tiny insect – the honeybee. Its role in pollination is absolutely vital in agriculture but all is not well in Ireland – a third of our wild bee species are in danger of extinction.
Nobel Prize-winning playwright Maurice Maeterlinck famously wrote (although often misattributed to Albert Einstein):
"If the bee disappeared off the face of the earth, man would only have four years left to live."
While that may not be entirely true, the disappearance of the planet's most important little workers could indeed spell the beginning of an ecological Armageddon. 
Across the globe, many bee species are simply vanishing due to a mysterious phenomenon known as Colony Collapse Disorder. So far there has been no single cause identified but the use of pesticides, loss of habitat and the spread of mites are all believed to be factors.

In some parts of the world, particularly in the USA and China, vast swathes of land are essentially devoid of pollinators. Beekeepers have seen a surge across the USA for their services as farmers rent mobile hives in the hopes of pollinating their crops. In some parts of China, where chemicals have all but wiped out bees, workers are paid to climb trees and hedgerows and pollinate flowers by hand.
Irish Wildlife Trust ecologist Billy Flynn says the Irish countryside has been made "inhospitable" to pollinators.
"The need for shelter and food are common to all living things, and we have deprived many of our native invertebrates of both," Billy says.
He points to the loss of nesting sites, removal of hedgerows, disappearance of small woodlands, the lack of native wildflowers and the constant cutting of park and road verges as soon as dandelions and daisies appear as all contributing to this decline.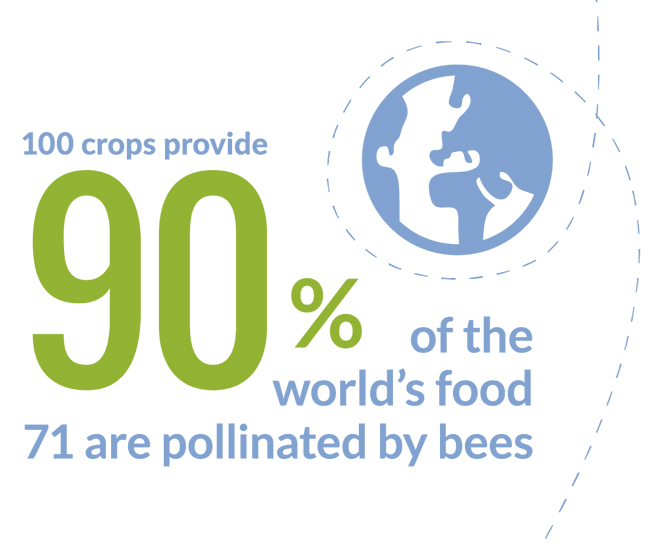 The decline, which included an up to 50% reduction in bees in the Six Counties, prompted a debate in the Assembly in 2008 and eventually led to The All-Ireland Pollinator Plan 2015-2020, supported by over 80 public, private and non-governmental bodies.
The Heritage Council's Michael Starrett said: 
"Gone are the days we can choose to ignore warning signs. Our science is sound. Our concern has to be to get it done. The alternative is not acceptable, and should not be acceptable to anyone. This is about improving the quality of our environment."
Billy Flynn says there are few plans that mean so much for biodiversity on this island: 
"This is a call for action that may well be critical in saving many of our invertebrate species from extinction. By doing so, we might be able to stave off a calamitous collapse of ecosystems the like of which we have not yet seen."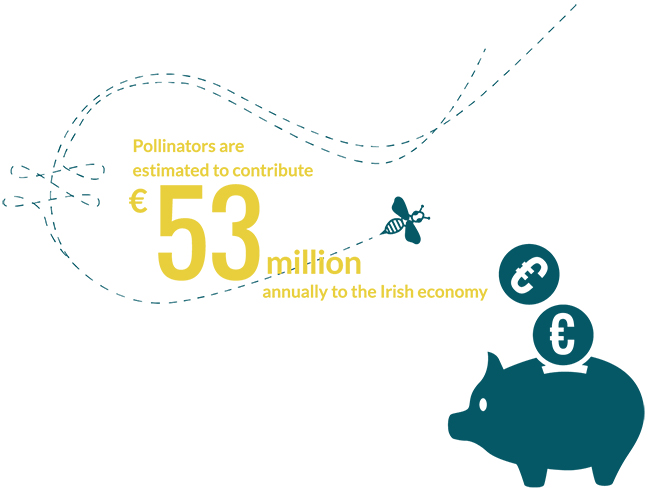 As well as engaging with county councils, farmers, and environmental and heritage groups, a new part of the plan aimed at gardeners and homeowners was launched this summer. Simple tips include planting native wildflowers, leaving a patch of the garden to grow wild, manual weeding rather than pesticides, and installing an 'insect hotel' nesting site for solitary bees. It also contains a handy list of what plants and shrubs are best to attract pollinators all year round.
There's already been a great response from local organisations, including Sligo Tidy Towns who are running beekeeping classes in the community gardens. Places like Leighlinbridge in Carlow, Castletownroche in Cork and Galliagh in Derry swiftly incorporated insect corridors – uncut areas of wildflowers – into their Tidy Towns plans and they are now commonplace across Ireland.
In July, scientific research debated at European level conclusively showed that insecticides – as well as killing or seriously weakening bees – are having a detrimental effect on bee fertility. 
Dublin MEP Lynn Boylan, an ecologist, says the temporary ban on three insecticides should be made permanent in light of the evidence and called on the European Commission and Ireland's Minister for Agriculture to take this into account.
Speaking to An Phoblacht, the MEP said:
"Governments need to stop contradicting themselves. On one hand they are producing detailed plans for protecting bees, which is welcome, yet in Europe they continuously take the side of the big corporate lobbies and chemical companies which have been directly linked to the decline in bee numbers.
"In the absence of Fine Gael ever opposing corporate interests, I'd encourage everybody to do what they can to help bolster the bee population."