5 September 2016 Edition
Support Palestinian prisoners, demand sanctions against Israeli apartheid state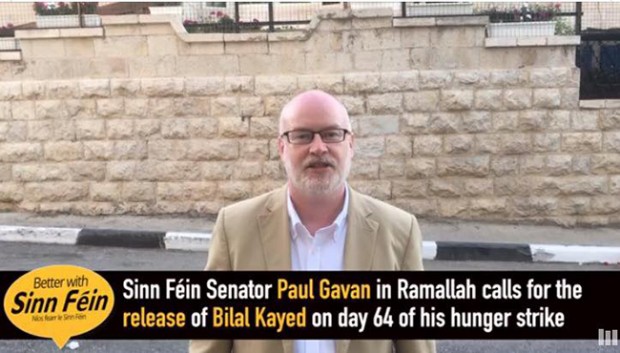 4.5 million Palestinians live under Israeli military rule in the West Bank and Gaza Strip while Israeli citizens live in more than 200 illegal settlements – the two populations are separate and unequal
Senator Paul Gavan and Assembly member Fra McCann joined an emergency international parliamentary delegation to Palestine in August to highlight the plight of Palestinian political prisoners and the hunger strike campaign led by PFLP prisoner Bilal Kayed.
THE MOMENT that brought home the truth to us about the nature of the Israeli regime in Occupied Palestine was a simple one. 
Our parliamentary delegation was planning a brief visit to East Jerusalem but one of our hosts from the Addameer Prisoner Support & Human Rights Organisation, based in Ramallah, would not be joining us. "I only have a permit to reside in the West Bank; I am not allowed to visit Jerusalem." 
A trip of just nine miles within her own country was an illegal act.
Some 4.5 million Palestinians live under Israeli military rule in the West Bank and Gaza Strip while Israeli citizens live in more than 200 illegal settlements. The two populations are separate and unequal. Palestinians in the West Bank face more than 500 checkpoints and roadblocks while Israeli settlers come and go as they like. 
Thousands of Palestinians have their houses routinely demolished each year as new Israeli settlements continue to expand.
It's been widely recognised that Israel has effectively imposed an apartheid regime across Palestine and our experiences over the course of a three-day visit certainly confirmed this to be the case.
• Sinn Féin MLA Fra McCann and Senator Paul Gavan were part of an emergency international  parliamentary delegation visiting Palestine in support of Palestinian prisoners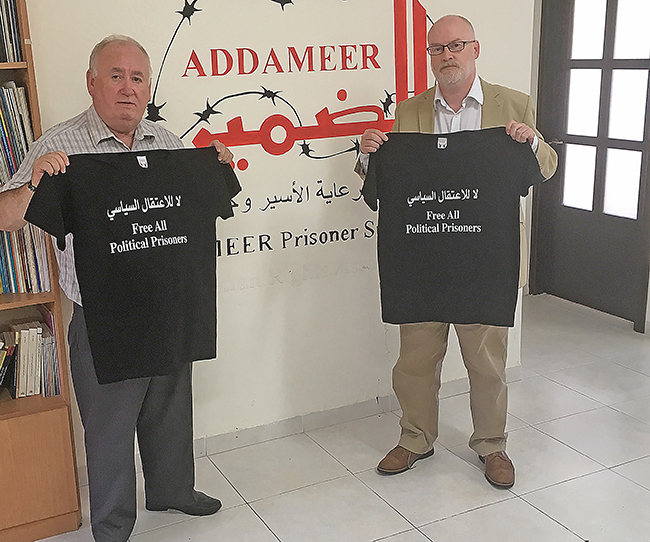 We met families and loved ones of some of the 750 prisoners currently being under "administrative detention" (internment without trial). This number forms part of an overall political prisoner population of 7,000.
Prisoners are routinely denied family visits and sentences are almost always served in full under a harsh regime. Administrative detention is increasingly being used to keep prisoners incarcerated beyond their original sentence. We saw at first-hand the operation of Israeli military courts dispatching 'justice' to Palestinian prisoners. These courts have a prosecution success rate of 99.7%, with all proceedings carried out in a foreign language, with only Israeli soldiers allowed to provide official translation.
We met with a representative of families who have had their sons killed by the Israeli military but have yet to be handed over the bodies of their deceased relatives. In a further cruel form of collective punishment these families have had their homes demolished.
We also met with a spokesperson for Defence for Children International who told us of the 350 Palestinian children currently under lock and key who can now be sentenced for up to 20 years in prison for throwing a stone at an Israeli tank of the occupation forces.
Right now there are three pressing tasks for all republicans who want to support the Palestinian cause:-
Highlight the current struggle for justice of Palestinian prisoners against the affront to international law that is "administrative detention". Bilal Kayed, a man of just 35 years who has spent almost half his life in military prison, is entering his tenth week of hunger strike as this article is being written. He has now been joined by dozens of other prisoners who are undertaking hunger strikes in support of his demand for freedom and an end to internment. Every available public platform must be used to highlight this violation of human rights – from council chambers to the European Parliament.
The plight of Palestinian children must be raised. It's chilling to think that more than 2,000 children have been murdered by Israeli forces since the turn of the century.
Republicans must play a key role in building broad-based support for the Boycott, Divestment and Sanctions (BDS) campaign, which is the most effective peaceful means of pressurising the Israeli Government to open meaningful and inclusive negotiations towards a just and lasting settlement. Specifically, we must call for an end to the EU-Israeli Association Agreement, the banning of produce from the Occupied Territories and a military equipment embargo.
The occupying Israeli regime in Palestine is cruel, vindictive and vicious. But the spirits and voices of Palestinians are unbowed and their demands for freedom and justice are stronger than ever. Their voices must be heard.