4 July 2016 Edition
Get ready for the Brian Keenan Mountain Challenge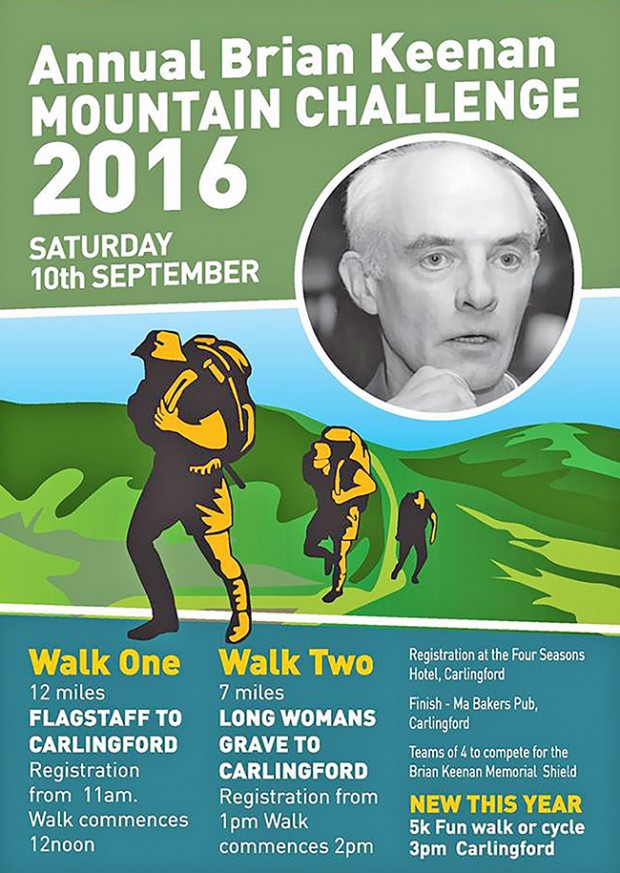 9th Annual Mountain Challenge & 5k Fun Walk. County Louth, Saturday 10 September
BRIAN KEENAN was a legend. He still is, and his selfless commitment to the Irish Republican Army and his comrades continues to inspire and enthuse everyone taking part in the Annual Brian Keenan Mountain Challenge, which takes place along the Border in County Louth this year on Saturday 10 September.
This year's Challenge includes three elements, with the introduction of the first-ever "5km Fun Walk or Cycle" on Carlingford Greenway (adults and children welcome).
The tougher, fiercely-contested but no less friendly mainstays of the Brian Keenan Mountain Challenge are the two 'walks' over the Cooley Mountains.
Walk One – Flagstaff to Carlingford (12 miles). Registration from 11am. Walk starts at 12 noon.
Walk Two – Long Woman's Grave to Carlingford (7 miles). Registration from 12 noon. Walk starts at 1pm.
5km Fun Walk – New this year, 5 Kilometre Fun Walk or Cycle, 3pm Carlingford.
Registration at the Four Seasons Hotel, Carlingford.
Teams of 4 can compete for the Brian Keenan Memorial Shield which was won last year by 'The Banta Warriors' (Eoghan McCabe, Brendan McCabe, Seán Hughes and Órán Ó Caoláin).
It's a great day followed by food, ceol agus craic in Ma Baker's, Carlingford.
Get ready for another great event.