4 July 2016 Edition
Cruinniú na nGaeilgeoirí
Polasaí agus Gaelú Shinn Féin á bplé sna Sollain roimh an chomóradh i mBaile Uí Bhuadáin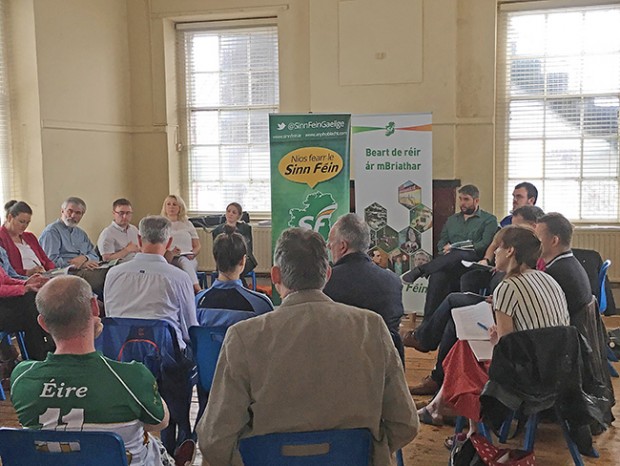 BHÍ CÚRSAÍ Gaeilge agus Gaelú Shinn Féin á bplé sna Solláin i gContae Chill Dara ar na mallaibh roimh an chomóradh i mBaile Uí Bhuadáin. Chuir Uachtarán Shinn Féin Gerry Adams TD fáilte roimh roinnt mhaith Gaeilgeoirí as ceantair éagsúla ar fud na tíre. Ag caint le An Phoblacht i ndiaidh an chruinnithe, dúirt Oifigeach Náisiúnta Gaeilge Johnny McGibbon:
"Is maith an rud go raibh deis againn bualadh lena chéile chun cúrsaí Gaeilge a phlé. Gabhaim mo bhuíochas le hachan duine a bhí i láthair agus le gach duine a d'obair go díograiseach ar an dá cháipéis ar glacadh leo ag an Ard Fheis i mbliana – 'Plécháipéis Gaeilge Shinn Féin' agus 'Gaelú Shinn Féin'.
"Tá dúshlán nach beag romhainn anois chun plean gnímh a chur i bhfeidhm agus iarraim ar dhuine ar bith ar fud na tíre ar mhaith leis nó léi cuidiú linn, dul i dteaghmáil liom ar [email protected]"
Policy and Gaelicisation were topics of the day in Sallins before the Bodenstown commemoration this year, as Sinn Féin President Gerry Adams TD welcomed Gaeilgeoirí from across the country to a Cruinniú na nGaeilgeoirí. Speaking to An Phoblacht following the meeting, National Irish Language Officer Johnny McGibbon said:
"Today was an excellent opportunity for us to meet and discuss matters relating to the Irish language. I would like to thank everyone who attended the meeting and also all those who were involved in the work which composed the documents accepted at this year's Ard Fheis – 'The Irish Language Discussion Document' and 'The Gaelicisation of Sinn Féin'.
"There is a massive challenge before us in terms of Gaelicisation and I encourage anyone interested in working with us on these issues to contact me on [email protected]."