4 July 2016 Edition
The poacher you are, The player you get
Donegal & The Wild Atlantic Way
YOU WON'T FIND "Galway Bay Lobster" on a restaurant menu anytime soon anywhere near you, especially if you live in Ireland. No. 
These geographic-specific crustaceans are immediately processed and shipped to France, where they are sold as a unique delicacy and served in expensive restaurants. 
Irish authorities do not seem to care about this.
You won't find "Blackwater Salmon" on a restaurant menu either. These wild fish disappear into the night and, like the salmon of legend, are a mystery to the authorities.
And you won't find "Mulroy Bay Scallops" on a restaurant menu in north Donegal, much to the chagrin of chefs who delighted in their freshness. The authorities, apparently, shut down the local operation.
In Bantry town there are two restaurants where the chefs celebrate their ability to cook fresh fish, locally caught and named. "O'Connor's Hand-Dived Bantry Bay Scallops" are especially favoured by diners at Pat Kiely's restaurant in Wolfe Tone Square. 
Across the street, in the Fish Kitchen, former marine biologist Diarmaid Murphy knows exactly where to look to find the best mussels, prawns and scallops in the bay, and this is reflected in his menu.
Up the road in Cork City, and up the coast in Lisdoonvarna, Pat O'Connell and Birgitta Hedin-Curtin respectively do a brisk trade in Irish smoked salmon. 
In Dingle, diners gasp at the freshness of the smoked mackerel pâté made by the French chefs in the Out of the Blue restaurant.
Peppered smoked mackerel is a salad ingredient at the Lobster Pot pub-restaurant.
Along the Atlantic seaboard the increased sale of sea vegetables such as carrageen, dulse and kombu has delighted those who promote their health benefits.
And all over the country, bistros, cafés, gastro-pubs, pubs and restaurants offer seafood chowder as starters and main courses. 
Salmon fishing is banned in the Six Counties but not in the 26 Counties
THERE IS A conflicted attitude toward fishing, fish and fish products in modern Ireland. It is neither one thing nor another, something that affects everyone from bureaucrats to chefs, from fishers to consumers. Some people love fish, other people hate fish. The regulations confuse fishers who accuse Brussels rather than Dublin, then wonder why EU legislation is applied in Ireland and not in other countries, where fishing appears higher on the economic and political agenda. 
Why is it, they ask, that a small boat can land fish in Kerry and not in Donegal? It is not just scallops that are safe in one bay and not in another. Eels also get different treatment.
Eels on Erne, Lee and Shannon are managed by the ESB (yes, the Electricity Supply Board). On the surface this seems an arrangement that should protect the eels and maintain their stocks. Instead, the ESB has been accused of mismanagement. Allied to this is a ban on eel fishing, put in place by Dublin to protect eel stocks. No such ban exists for the eel fishers in Lough Neagh.
Sinn Féin MEP Liadh Ní Riada feels this is unfair and that the ESB must take responsibility for the conservation of the eels.
"A crude fishing ban will not revive eel stocks," Liadh says. "What is needed is a proactive approach that doesn't punish eel fishermen for a problem that is not of their making.
"The ESB must ensure effective management of their hydroelectric operations to prevent further damage to eel stocks and must invest in restocking operations similar to the programme in place in Lough Neagh, where millions of elvers are released into the lough each year."
This inconsistency is prevalent throughout the fishing industry, whether it is related to freshwater or seawater fishing. It seems there is one arrangement for one fisher, a different arrangement for another fisher; one rule for one place and a different rule for another place; and different approaches in Belfast and Dublin. Salmon fishing is banned in the Six Counties but not in the 26 Counties. Eel fishing is banned in the 26 Counties but not in the Six Counties. 
Surprisingly, conservationists, fishers and politicians all agree that something is wrong. "There is no joined-up thinking," says freshwater angler Damien O'Brien, a committed conservationist. "The losers in all this are the people who should be benefiting from our fishing culture."
O'Brien insists the problem is political and should be resolved in Belfast, Dublin and Brussels. But he doesn't hold his breath. Unlike many anglers who eat the salmon and trout they catch, O'Brien releases his catch back into the river. 
Catch and release has become a metaphor for the angling community's attitude to fish conservation. Trap and catch is the attitude of the poachers who flout the regulations and benefit from the scarcity of wild salmon in the rivers and on the market.
This all plays into the hands of those who smoke farmed salmon for the tourists who cannot tell the difference between farmed and wild fish.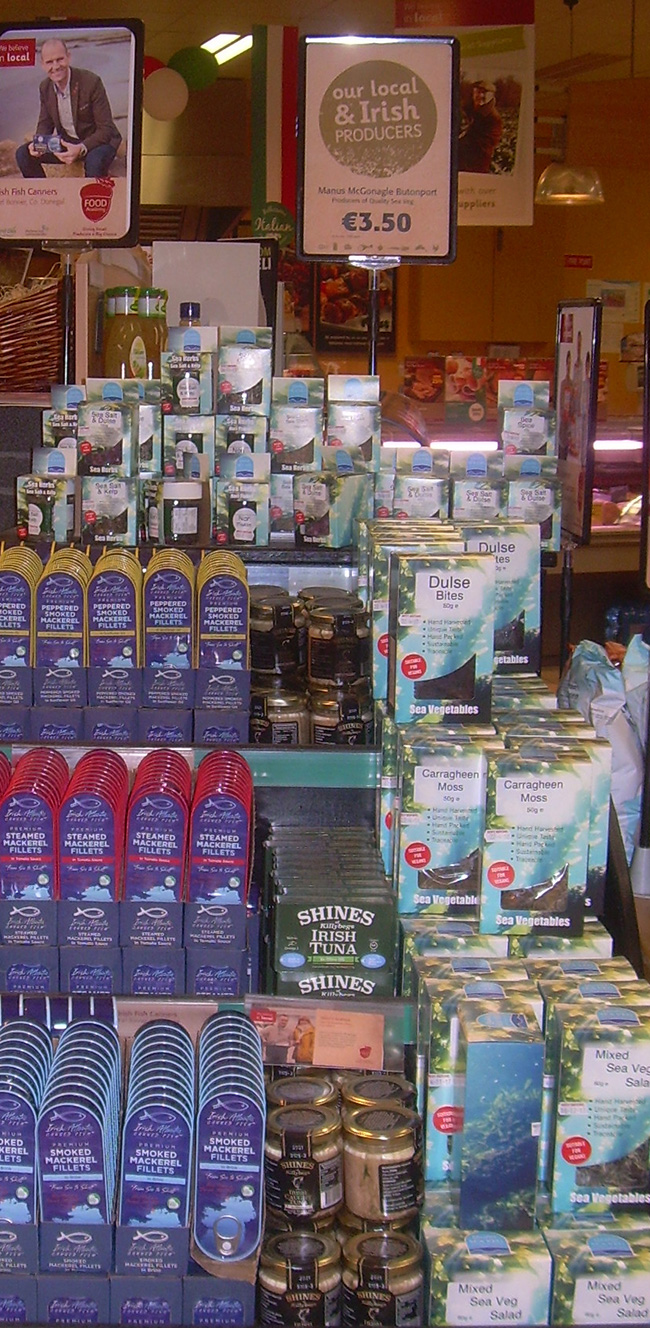 Surprisingly, conservationists, fishers and politicians all agree that something is wrong
IN DONEGAL there is a strong feeling that the local economy should be boosted by all things fish.
"It would," retired trawlerman Dinny Byrnes said in 2008 when many feared the end for the Irish fishing industry, "if the fish landed here stayed here, and there was less corruption and more enterprise."
In Burtonport they are doing that with sea vegetables; in Dungloe they are doing that with mackerel; in Greencastle they are doing that with prawns; and in Killybegs they are doing that with albacore tuna. 
You can see this if you go into the SuperValu store in Dungloe. Since last year, SuperValu has been promoting local produce, among them sea vegetables packaged by Quality Sea Veg in Burtonport, tinned mackerel from Irish Atlantic on the other side of Dungloe, and albacore tuna in olive oil from Shines in Killybegs.
Comparatively, the tuna and mackerel are more expensive than the brands from across the road in Aldi and Lidl.
"People here," says the woman behind the deli counter, "think the Irish Atlantic mackerel tastes better; the price doesn't come into it."
Aldi and Lidl do not sell any of these Irish fish products.
In Donegal there is a strong feeling that the local economy should be boosted by all things fish
CHRIS SMITH is a chef at Teac Jacks in west Donegal. Before he moved west he was chef around the north of the county with a reputation for cooking fish. He once served Mulroy Bay mussels and scallops, and laments their loss.
"I am trying to get local fish. I want to put on the menu where that fish is from. Pallas Foods are getting me people who can supply me that. I reckon that by the end of July I will have ten or twelve fish on the menu sourced from specific places."
Because Teac Jacks have a fixed €10.50 for their specials he is at the mercy of price.
"I used to get razor clams, tuna, scallops, all fresh and as wild as you get. It is very difficult now. I have to take what I can get.
"The quality fish is going out of the country and this is a problem: how much fish is there around here?" he asks, answering his own question: "We are not even getting five per cent of it."
Despite his concerns, Teac Jacks now has a reputation for its fish specials with customers ringing up to find out what is being served on a particular day. People now have a fish palate, he says.
"The problem is the owners of the businesses. They want to make money; they are not interested in standards. It is all about serving 300 people, counting the money, but 100 people went home unhappy, and I don't want that. If the food is good you will make money.
"Chefs used to ruin fish, now they are more educated, they have values now. The cooking is done professionally, with heart and soul, and diners are patient, they know they are getting quality and value for money."
Smith believes the future for food in Ireland is of the small-scale cottage variety, the sort that starts small and grows big through the quality and value of the products. Such enterprise has never been encouraged, and never will be with current policy – an assessment that is now common among those who understand what is happening in the food industry. We read about it in the business media and always it is about other people and other places in other countries.
Therefore the issue for many is why there are not more marine products with protected geographic indicator (PGI) status and why there are not more value-added products made with fish and sea vegetables in Ireland. 
This is not about people, place and produce – the practical solution to sustainable food security, it is about poachers, politicians and players – the pragmatic result for those who only see a quick buck, who cannot see the bigger picture.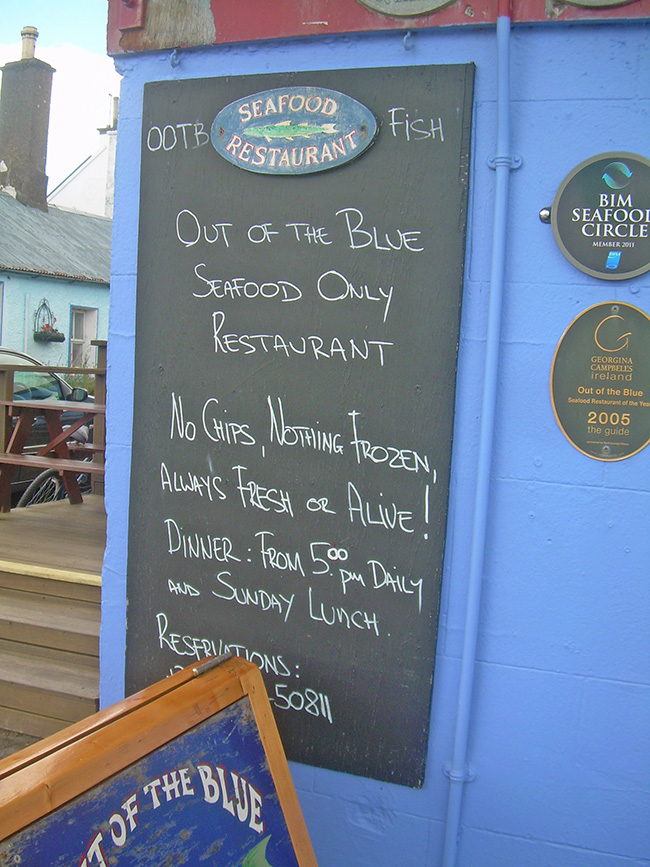 There is a conflicted attitude toward fishing, fish and fish products in modern Ireland
• • •      • • •      • • •      • • •      • • •
Geographic-specific and value-added marine products
Atlantic Carrageen – Picked and marketed from several locations along the west and north-west, carrageeen should be identified with the Atlantic. Carrageen Jelly would be the value-added product.
Atlantic Dulse – Same as carrageen, though more associated with Donegal.
Atlantic Mackerel – Historically associated with coastal communities from Cork to Donegal. The product today is frozen mackerel. Another is salted mackerel fillets, a tradition that goes back a long way. Pan-fried mackerel served with potatoes or in a bread bun are value-added products. The fillets could be vacuum-packed to seal in the fish's natural oils.
Galway Chowder – Local sea vegetables, local mussels (Killary) and inshore fish as value-added product.
Cork Chowder – Haddock, hake and potato in a carrageen stock.
Dingle Smoked Mackerel Pâté – The French chefs at the Out of the Blue all-fish restaurant in Dingle make a typical French pâté with locally smoked mackerel, and there is no reason why this could not be established as a PGI. The French can't complain because the mackerel comes out of Irish waters and will be smoked with Irish wood.
Donegal Chowder – Carrageen, mackerel and potato. All local produce.
Galway Bay Lobsters – All lobsters caught in the bay are exported to France, a tradition that goes back centuries. Regarded as among the best in Europe, this crustacean should be given a PGI. Lobster tails in a stout batter as scampi might be the value-added product.
Killary Mussels – Vacuum-packed with herbs in rape seed oil for the value-added product. Also Bantry mussels.
Shannon Eels – Presently, Irish eels are exported to the Netherlands to be smoked. There is no reason why they could not be smoked in Ireland and then exported as a value-added product.