4 July 2016 Edition
'My vision of health care will not be bound by any border'
Health Minister Michelle O'Neill, Assembly member for Mid Ulster tells 2016 Wolfe Tone Commemoration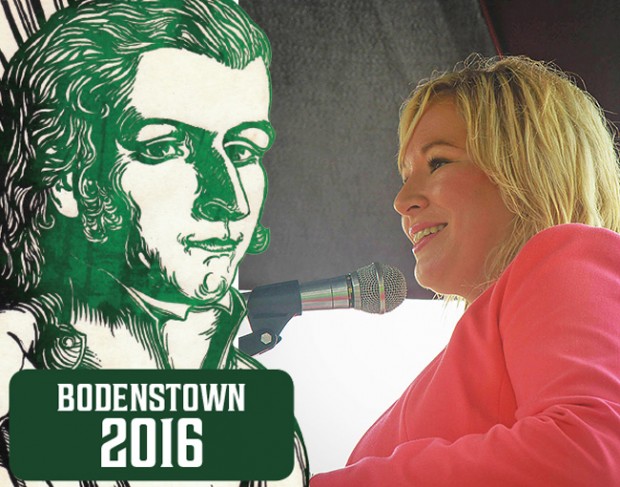 TORRENTIAL RAIN and dark clouds overshadowed the 2016 Wolfe Tone Commemoration in County Kildare on Sunday 19 June but stout-hearted though thoroughly-soaked republicans braved the deluge to parade from Sallins village to Bodenstown Graveyard to rededicate themselves to "The Father of Irish Republicanism".
Proceedings at the Wolfe Tone Monument were chaired by one of Sinn Féin's newly-elected TDs, Carol Nolan, Dáil deputy for Offaly and the party's spokesperson on Education & Skills.
The main address was given by Michelle O'Neill, the new Health Minister in the North's Executive at Stormont, at the start of a week of the referendum on EU membership in the Six Counties and Britain.
Michelle – who has already made an impact in the first weeks of her tenure by overturning the ban on gay men donating blood – made the health service the focus of her speech and unequivocally declared:
"While I am the Health Minister in the Executive, my vision of health care will not be bound by any border.
"I want to see a truly national health care system – a system of free universal health care," she said.
"It is nonsense this is available in Newry but not in Dundalk. The South is a wealthy, developed state. It can afford universal health care.  
"I will act to safeguard and transform the health and social care system, a health care system that is delivered on the basis of need and not on the ability to pay, a public health care system that operates to the highest standards, that is accessible and resourced.
"We need a system which prioritises tackling health inequalities, that prioritises mental health." It is a privilege to stand with you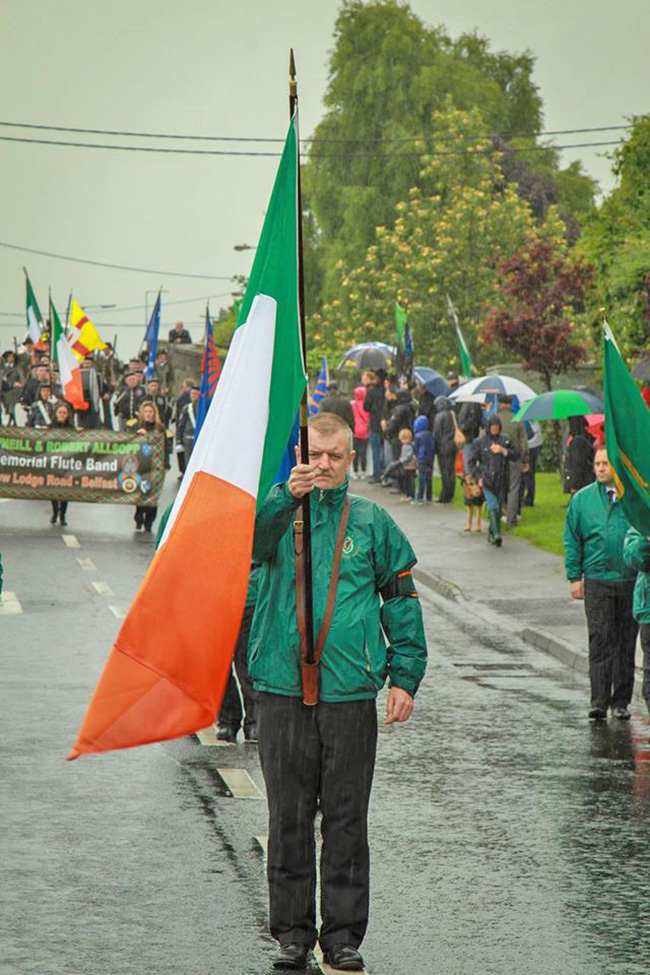 • The march leaves Sallins
The Assembly member for Mid Ulster said it was a privilege to stand with comrades at the graveside of the founder of modern Irish republicanism, Theobold Wolfe Tone.
"We come to commemorate his life as a revolutionary, to recommit ourselves to his vision of an independent and equal Ireland, and to set out how this generation of republicans can play its part in realising that vision."
She said that Wolfe Tone crystalised the longstanding tradition of resistance to British rule into the progressive political principles of Irish republicanism that Sinn Féin remains committed to today.
"Inspired by the revolutions in America and France, the United Irishmen established an alliance of Catholics, Protestants, and Dissenters, in opposition to sectarianism and British rule, and in favour of human rights, equality, liberty, democracy, and solidarity. 
"Those principles have underpinned every phase of our struggle from the United Irish movement, to the 1916 Rising, to the Hunger Strikers, and to Sinn Féin today.
"As in all points in our history, women played a central role in the 1798 rebellion, despite the title of the United Irishmen. Key figures included Mary Anne McCracken, a champion of social justice; and Betsy Gray, killed in battle in Ballynahinch, alongside her father and fiancé.
"The defeat of the rebellion led to a reassertion of sectarian division among our people, ultimately resulting in the sectarian division of our country in 1921. Reuniting the nation and the country remains the goal of republicans today as we continue to grapple with the realities of partition and conservatism."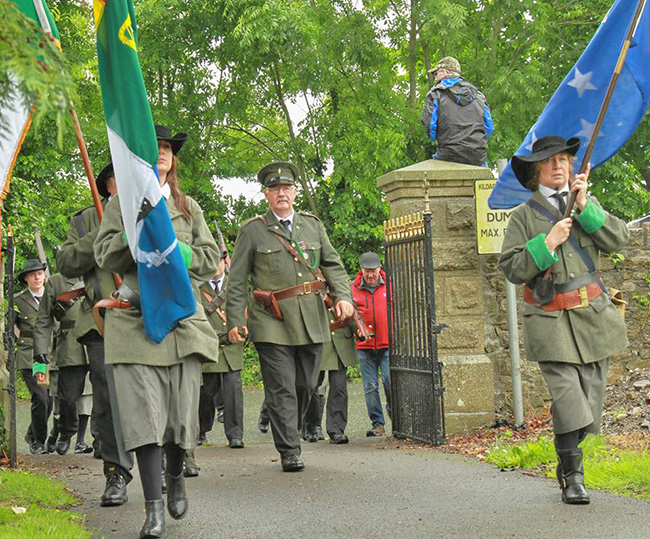 • Marchers arrive at Bodenstown Churchyard
In the 26 Counties, there has been 90 years of governments that barely paid lip service to the 1916 Proclamation, culminating in the recent attempt to play down the 1916 centenary and erase the leaders of the Rising from history, the minister born in Clonoe, County Tyrone, said.
"Sinn Féin did not allow that to happen. The people did not allow that to happen. Together we forced the state to properly commemorate their ideals and their sacrifice.
"That is a sign of republicanism's growing strength in the 26 Counties. The people here voted for a significant increase in the number of Sinn Féin TDs and senators. We thank everyone for their vote."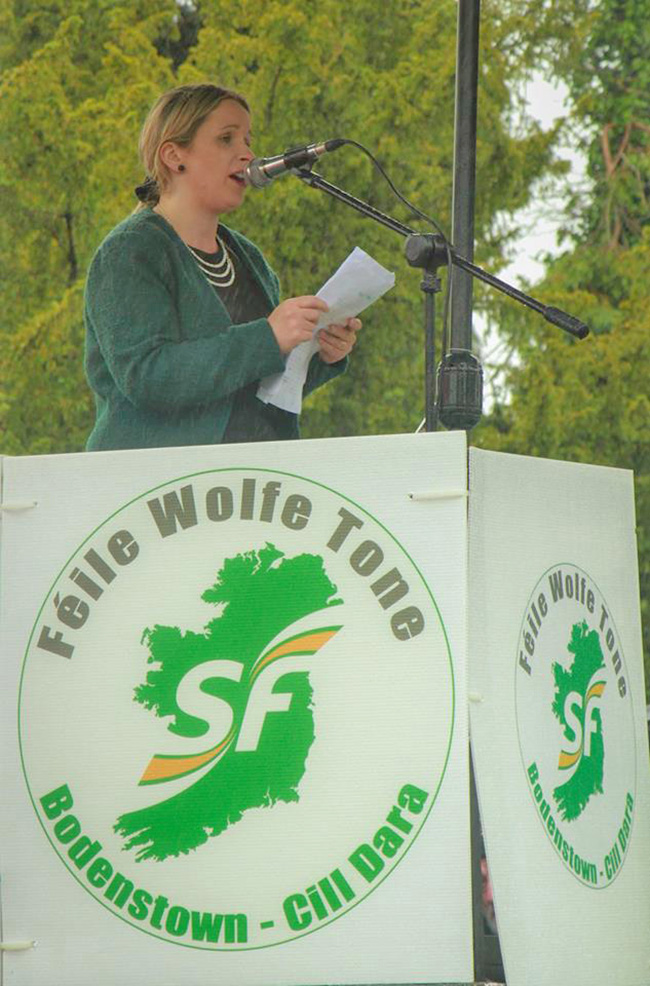 • Sinn Féin's newly-elected TD for Offaly, Carol Nolan, chairs the commemoration
She added that the people also voted to get rid of the Fine Gael/Labour Government, to get rid of Enda Kenny, yet Fianna Fáil put Fine Gael back into government.
"Fianna Fáil's behaviour since has been shameful – railing against Government policy then voting with Fine Gael or in Fine Gael's interests.
"They re-elected Enda Kenny, voted against the scrapping of water charges, voted against legislation to deal with the rent crisis (despite supporting it in the Dail's Housing Committee) and hatched a plan with Fine Gael to have 'jobs for the boys' in the Seanad.
"The so-called 'new politics' is difficult to distinguish from the old politics of co-option and corruption.
"This is because there is little difference between Fianna Fáil and Fine Gael. They are both right-wing parties that have no intention of delivering a Republic of Equals – the Republic that Sinn Féin continues to work towards.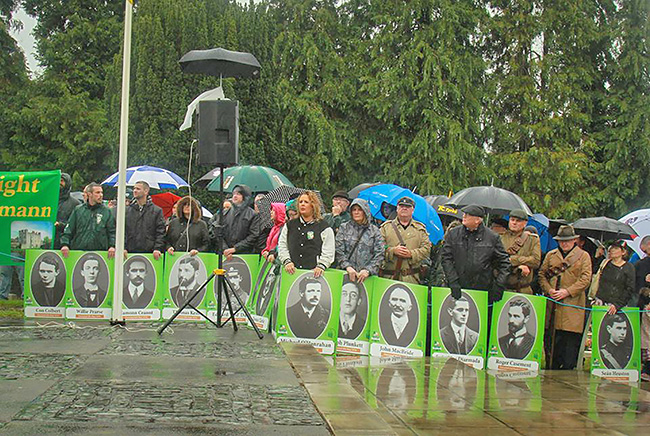 •  The leaders of 1916 are also remembered in the Easter Rising's centenary year
In the North, the Mid Ulster MLA reminded commentators, partition relegated nationalists to second-class citizens.
"The Civil Rights Movement's attempts at peaceful reform was met with resistance to change, attacks on marchers, the organising of loyal paramilitary groupings, and the mobilisation of the state's security forces against defenceless nationalist communities."
Since then, however, Sinn Féin has transformed the North, she said.
"In 1998, 200 years after the United Irish rebellion, we created a new Assembly which shares power between 'Catholic, Protestant and Dissenter'.  
"Stormont has acted as a bulwark against British austerity. We have used its power to provide the most generous system of welfare on these islands, to keep student fees affordable, and to protect free health care.
"While the importance of resisting austerity should not be underplayed, our aspirations are much greater and Sinn Féin's new ministerial team is ready to deliver change. Finance Minister Máirtín Ó Muilleoir is negotiating the transfer of Corporation Tax and will be seeking other powers from Westminster. Minister Chris Hazzard will be investing in the infrastructure needed to bring opportunity and prosperity to the North-West."
And she reiterated that she is honoured to be Sinn Féin's Minister for Health.
Declaring that her and Sinn Féin's vision of health care will not be bound by any border, she said that she wants to see a truly national health care system:
"A system of free universal health care."
"It is nonsense that this is available in Newry but not in Dundalk.
The South is a wealthy developed state. It can afford universal health care. However, both Fianna Fáil and Fine Gael continue to support a two-tier health care system, where those who can pay receive treatment quicker.
"That is wrong. That is nothing to do with republicanism and equality and all to do with enriching the few at the cost of the many."
Speaking on Sunday ahead of the following Thursday's EU referendum, the Sinn Féin minister agreed that the EU does need to be radically reformed.
"Sinn Féin has consistently argued for a social Europe that prioritises people's needs over the interests of powerful corporations," she said.
"But we live in a global world and if we are to influence change it is important to engage in international institutions, not to isolate ourselves from them.
"A Brexit would not be a victory for progressive forces. It would be a victory for the most inward-looking, narrow-minded, xenophobic wing of the British Conservative Party.
"It would damage Ireland's economy and reinforce the Border. 
"So Sinn Féin are advocating a vote to remain," she said, adding to loud applause:
"The Brexit we need is a British exit from Ireland!"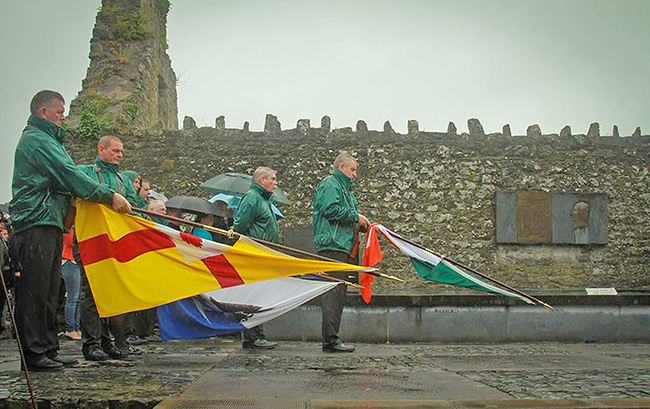 •  Flags are lowered at the graveside of Theobald Wolfe Tone
She concluded by saying that republicanism has come through enormous challenges since Wolfe Tone set us the historic task of uniting the people of Ireland and breaking the connection with England.
"Standing here today I feel energised, I feel excited, I feel proud. I feel that the future is in my hands, in yours, and in the people of Ireland's hands. 
"Our story is still being written. 
"We can and we must be the generation to build a republic worthy of Tone.  
"We have made much progress but we have further to travel. It will take hard work, generosity and patience. 
"Republicans have demonstrated these qualities time and time again throughout the decades – they are qualities that characterised Mary Anne McCracken, Constance Markievicz, and Mairéad Farrell. They are characteristics that continue to be shown by the strong republican women of today such as Mary Lou McDonald and Megan Fearon.  
"If we stay true to those qualities, and if we stand by the principles of 'Equality, Liberty and Fraternity', then we can break the link with Britain and unify our people and our nation.
"We can build a republic worthy of its name."