6 June 2016 Edition
Tom Kelly – The Sinn Féin Dublin Mayor that wasn't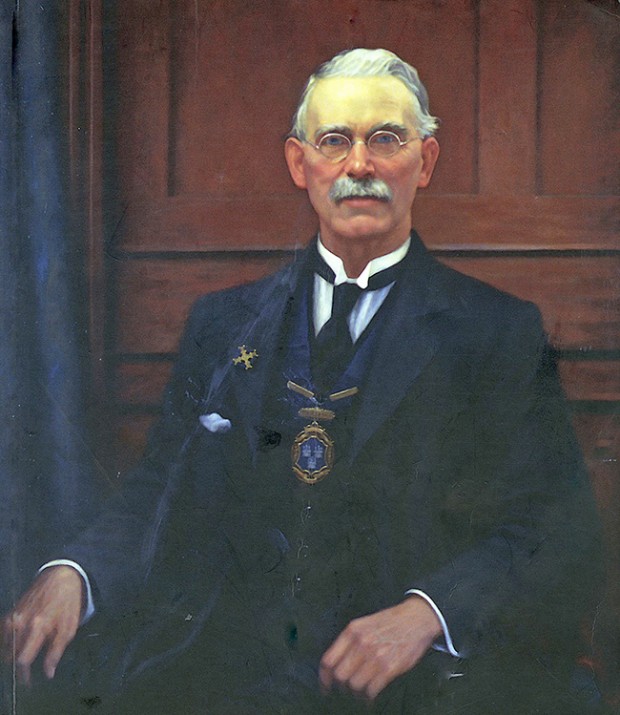 'The Alderman: Alderman Tom Kelly (1868-1942) and Dublin Corporation' by his grand-daughter, Sheila Carden, published by Dublin City Council (2007).
As Ard Mhéara Bhaile Átha Cliath Críona Ní Dhálaigh ends her term of office as the first Sinn Féin Mayor of Dublin City in history to take their seat in the capital, we recall that Tom Kelly was elected to the position as a Sinn Féin candidate in 1920 but was unable to actually formally take up the position as First Citizen as he was being held by the British in a London prison under charges relating to the 1916 Easter Rising.
A NEW MAYOR for the City of Dublin was unanimously elected on 30 January 1920. It was said that, in defiance of 'the neighbours' in Dublin Castle, the republican flag was hoisted over City Hall. The new First Citizen was nominated by the outgoing mayor and seconded by future head of the Free State,  W. T. Cosgrave, but the Mayor to be was never to be installed.
The mayor-elect was Tom Kelly a founder member of Sinn Féin, a councillor and alderman for many years in Dublin City and a TD in the First Dáil and after.
Tom Kelly was born on 13 September 1868 in Townsend Street and later lived in Cumberland Street, Longwood Street, St Teresa's Terrace and Bloomfield Cottages. He married Anne Glynn in September 1894. He was described as a bookkeeper and she as a dressmaker. They had nine children.
Tom was elected councillor from 1899 when he first stood as an Independent having been nominated by Total Abstinence & Workmen's Club for the Mansion House Ward. 
In 1901 he set up the Dublin Workmen's Industrial Association, South William Street, as a clothing co-op, making and selling Irish clothes.
He was secretary of the Amnesty Association which campaigned for the release of Irish Republican Brotherhood POWs. In this time he visited Tom Clarke in Portland Prison in England (Clarke was released the following year, 1898, following a highly successful campaign at home and abroad).
As a councillor he was increasingly appalled by the vested interests on the Corporation who were failing to tackle the city's housing crisis, in the tenements especially with the worst housing conditions in Europe. One of the first motions he supported was one that proposed that all councillors would be forced to visit the tenements in their area at least once a year.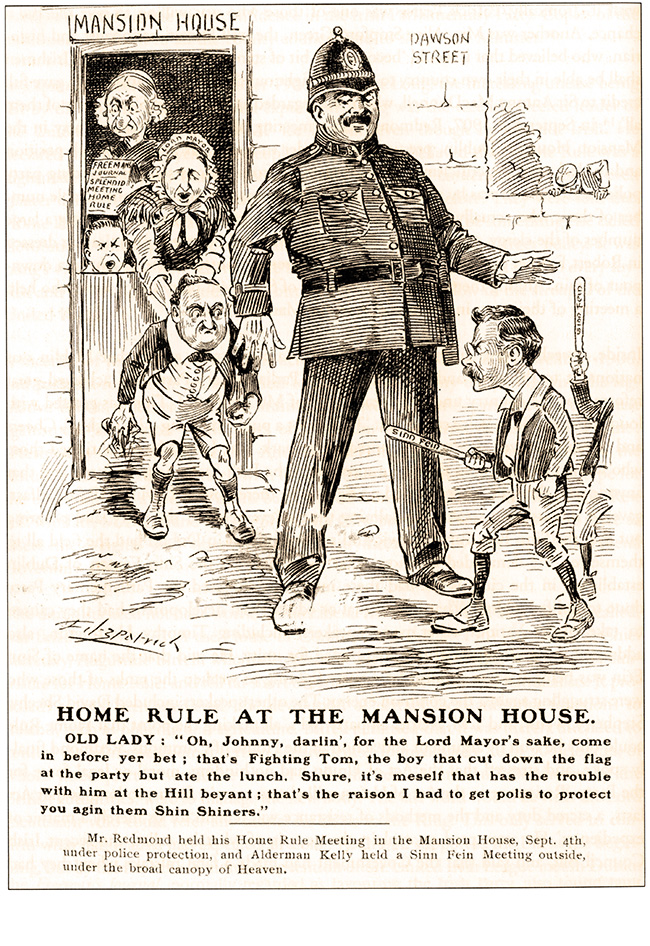 • John Redmond held a Home Rule meeting under police protection while Tom Kelly and Sinn Féin held a protest. Cartoon by Fitzpatrick from The Lepracaun, September 1907
Queen Victoria 
Tom Kelly was involved in the vote in 1900 against the Corporation welcoming Queen Victoria and joined the march against it.
At a meeting in the Mansion House on 4 September 1907 organised by John Redmond to brief his members regarding the state of play regarding the Home Rule Bill, a protest was organised by Kelly with 1,500 people outside. To tremendous cheers, he proposed a motion stating that they had lost confidence in the Irish Parliamentary Party. Later on there was a clash with police as the protesters marched down O'Connell Street.
On 8 December 1907, Kelly addressed a meeting of Sinn Féin of the Fitzwilliam Ward and said of the party "that while at that moment they did not advocate physical force, it would be wrong at the same time to repudiate it entirely as it was their hope to some day drive the English out of Ireland. Sinn Féin policy did not at present mean revolution but it meant something better than parliamentarianism. It meant first self-respect and self-reliance and it meant they could accomplish many things in their own country, if they set about doing them in the proper way."
In June 1911, when the English King George V and Queen Mary were due to come to Ireland, Kelly and others defeated a unionist proposal on Dublin Corporation to welcome the royal pair and passed a motion which stated that while Ireland had no parliament there would be welcome for royal visitors. On the eve of the British royal coronation of 22 June 1911, over 30,000 gathered at Beresford Place and when the visit came in July there were disturbances when police attacked protesters at City Hall. Kelly had a motion passed for a public inquiry into their conduct.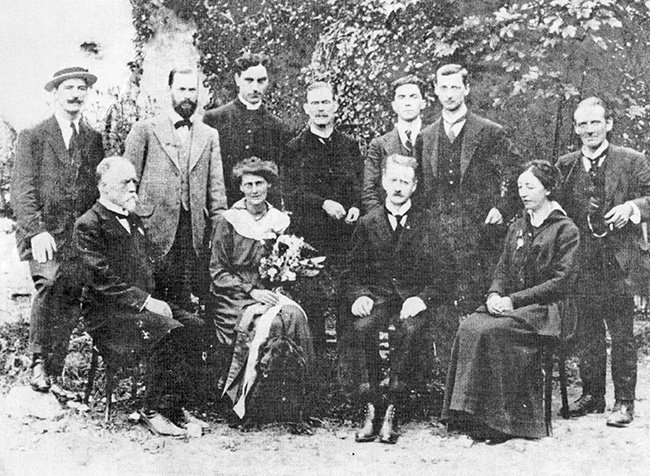 •  Sinn Féin members, back row: Dan McCarthy, Darrell Figgis, Fr Browne, Alderman Tom Kelly, Austin Stack, Éamon de Valera and Seán Milroy. Front row: Laurence Ginnell, Constance Markievicz, W. T. Cosgrave and Mrs Ginnell
'Honest Tom'
Tom Kelly served as Vice-President of Sinn Féin in 1912, having been the initiator of the Sinn Féin Bank which opened in 6 Harcourt Street in June 1910. 
It was Tom who read into the record of the Corporation the now famous Castle document which purported to be a copy of a plan the British authorities in Ireland had to arrest and deport the republican and nationalist leadership. Many believe it was a forgery by Plunkett to try force Eoin Mac Néill's hand for a Rising, but it had the air of truth as the British were already starting to round up and deport or intern Volunteer and Sinn Féin leaders. The pacifist Francis Sheehy Skeffington gave Tom the transcript that came from an Irish spy in Dublin Castle. Tom read it on 19 April and it was taken seriously as he was known as 'Honest Tom'.
It led to his arrest after the Rising and he was held firstly in Kilmainham and then Richmond. He was in Kilmainham for 17 days during the executions, the sounds of which were to play heavily on him for many years after. His son Isaac was arrested and sent to Knutsford.
Tom was released quite quickly in June, but his health was even affected by the short incarceration. He was re-involved in Corporation work by September and managed to get the Councillors to agree to send a delegation to Frongoch to report on the conditions there. He was one of three to travel over.
Tom beat both the unionist and nationalist candidates in the general election on 14 December 1918 for the Dublin (St Stephen's Green) seat.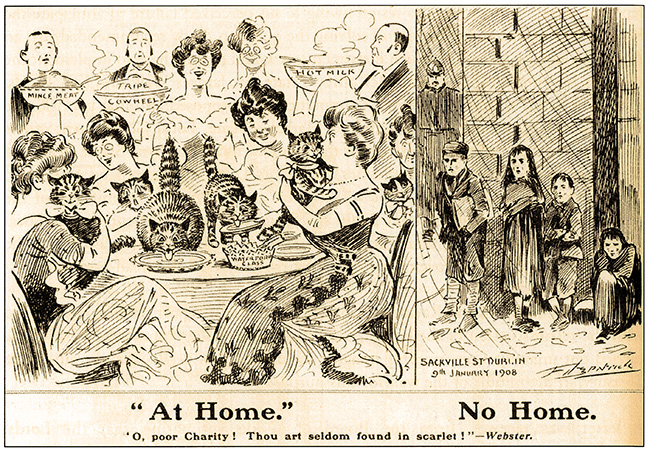 • The glamour and luxury of a charity subscription ball at the Gresham Hotel is contrasted with the poverty and deprivation of homeless people outside in Sackville Street. Cartoon by Fitzpatrick from The Lepracaun, January 1908
Taken by the British
On 11 December 1919, British soldiers took Tom from his bed in the middle of the night. When arrested first he was brought to Richmond Barracks before deportation to England. Examined there, he was found to have a weak heart and the doctor was concerned even then, 15 December, if he would survive imprisonment. He was 52 at time.
Tom was released from Wormwood Scrubs on 16 February on health grounds, with the British authorities even recognising him as Dublin's First Citizen, saying:
"Alderman Thomas Kelly, Lord Mayor of Dublin who has been interned in Wormwood Scrubs, has been conditionally released by the Government owing to the state of his health. The order of internment has not been revoked: its enforcement has been merely suspended. He has been informed that if he attempts to return to Ireland he will be immediately rearrested. He has been in failing health for some time past and his release was an act of imperative necessity if his health is to recover from the effects of his imprisonment."
Kelly had suffered from a mental and physical breakdown, not totally unexpected of a man of his age. The threat of rearrest and the need to recuperate fully saw him relocated in a nursing home first. His doctor said that he was in a state of nervous and general debility and suffering from insomnia. Despite what the British had claimed, seemingly he never gave any undertaking whatsoever. His previous incarceration after the Rising saw his health deteriorate and it took months then to recover. He eventually arrived back in Dublin on 28 April, the internment order having been revoked on 23 April.
Tom was far from recovered, though. Another Sinn Féin councillor on the journey back with him, Joe Clarke, recalled him running from the train when it stopped without warning on the journey to Holyhead. Michael Collins, who was also on train with them, ran after him and brought him back. 
Tom's brother, David, manager of the Sinn Féin Bank at 6 Harcourt Street, was regularly caught up in British Army raids on the bank, the Sinn Féin headquarters and New Ireland Assurance offices in that building. Bank moved to 3 Harcourt Street temporarily. David was shot dead in Pearse Street during a shoot-out between IRA Volunteers and British soldiers on 14 March 1921.
Tom was re-elected in the non-contested May 1921 election along with Dan McCarthy, Constance Markievicz and Charles Murphy in the new Dublin South constituency. On 16 June 1922 he stood along with Daniel McCarthy and they were elected despite their pro-Treaty stance ahead of the other sitting TDs, Markievicz and Murphy. Their seats were won by an Independent, Myles Keogh, and a Labour candidate, William O'Brien. He didn't contest the 1923 election. (When he stood for Fianna Fáil in 1933 he was elected fifth out of seven TDs with a massive surplus from Seán Lemass helping over the line then, as was the case in 1938.)
By 1929 it looks as if Tom had recovered enough to open a bookshop on Trinity Street. His Dublin Workman's Industrial Association had been wound up in 1928. He contested the council elections as an Independent in 1930 and was re-elected to chair of the Housing Committee. He was in the chair until 1940.
• The final concept for Marino Housing Estate, 1922, approved by Dublin Corporation Housing Committee under chairperson Alderman Thomas Kelly
Raised ill-treatment of POWs
With Sinn Féin in major decline in the late 1920s and early 1930s and wanting still to help the lot of the working man, Kelly turned his back on the Cumann na nGaedhael party and Sinn Féin and he threw his lot in with Fianna Fáil. 
He was successfully re-elected as a TD in the general elections in 1933 and he became a major advocate of the street traders who were being continuously marginalised by the commissioners appointed by the Free State who took over the operations of Dublin Corporation. He was also extremely critical of new powers that the state granted city and county managers – three-quarters of the original powers of the Corporation were transferred to non-elected officials. 
Tom Kelly was instrumental in the Crumlin housing scheme in the 1930s also and the building of 33 flats which would later carry his name on Charlemont Street. He also wanted to ensure that all housing contracts used Irish labour and Irish materials only.
Tom Kelly seems to have grown disillusioned from Fianna Fáil due to their attitude to republican POWs. In 1934 he stopped attending Fianna Fáil meetings and in fact was reprimanded by the Fianna Fáil authorities for daring to raise the question of the ill-treatment of republicans POWs in Arbour Hill. 
He died at age of 74 on 20 April 1942. Hanna Sheehy Skeffington said of Tom Kelly after his death:
"He never troubled about honours or glory, was shy and self-effacing but with a lion's courage when action was needed . . . In civic things he was a pioneer, a friend of temperance, a supporter of women's suffrage when championship meant ridicule and hostility. He was a pacifist in a war-mad world, a friend of the poor who never forgot his early struggles and who always remained a man of the people.
"Brusque sometimes in his ways but kindly and sensitive underneath, a storehouse of anecdote and reminiscence, an ever-bulling fountain of racy humour, a shrewd judge of human values and a hearty hater of cant and humbug."