6 June 2016 Edition
In dialogue, we need to know the end point of the journey – Patricia MacBride
UNCOMFORTABLE CONVERSATIONS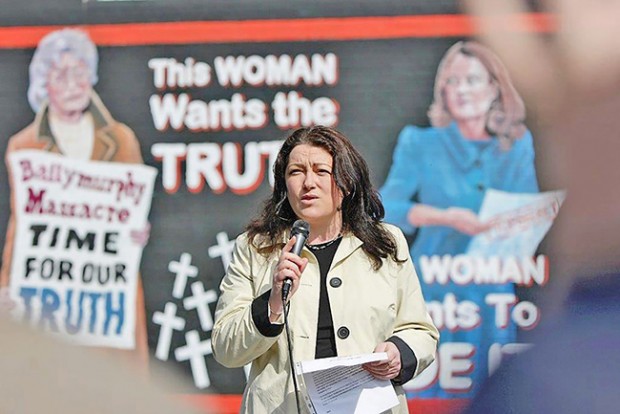 People need to be assured that a new Ireland is somewhere they will be happy to live and to raise their children
Patricia MacBride is a legal and public affairs consultant specialising in human rights, victims, community engagement and good governance. She is a regular political commentator and is former Commissioner for Victims and Survivors.
DO republicans and nationalists still, as I do, believe that a united Ireland is the best thing socially, culturally, economically and politically for the citizens of this island?
If so, why are we still largely in the dark about what this united Ireland would look like?
At the launch of the Uncomfortable Conversations collected essays in the Linen Hall Library last year, Sinn Féin National Chair Declan Kearney said the publication represented "a snapshot of the type of dialogue and range of issues with which all sections of Irish society need to engage".
When I was asked to contribute to that dialogue, I asked myself what is the purpose of Uncomfortable Conversations? To help heal the past? To present a new future? Or is it both?  
It needs to be spelt out because currently the grand plan reads like the small print on an airline ticket: it might be important but very few are reading it.
The dialogue, for me, needed to begin with knowing the end point of the journey. Hence my opening question. 
So where are the plans for a united Ireland – even the outline sketch? Or are we afraid, lacking the confidence to say this is the blueprint, help us make it a reality?
We don't have to look too far away to see what happens when detail is lacking. The SNP is the biggest party in Scotland yet the independence referendum was lost. In many ways that's a colossal example of snatching defeat from the jaws of victory. Was it lost because there was no meat on the bones of what an independent Scotland would look like? 
How would Government fund public services, what about currency issues, health, education and even passports?  
People were scared to jump into the unknown, no matter how strong their sense of a Scottish identity was. Those are issues that are very real for Ireland too. 
You don't build a house without plans. You bring in the architect to design how it will look when it's finished. You get a surveyor to tell you the materials you need and how much it's going to cost and an engineer to make sure the foundations are solid, the walls can bear the load and the roof provides proper cover. You go and talk to your neighbours and tell them what you want to do and are mindful of how the construction might impact your future relationship with them.
Building a new Ireland is no different.  
People need to be assured that this is somewhere they will be happy to live and to raise their children.
Sinn Féin has called on the Irish Government a number of times to produce a Green Paper on Irish Unity but why wait on that unlikely event? It's time to stop whining and start winning. Since the Good Friday Agreement, any reunification of Ireland can only be brought about by consent of the people in both jurisdictions on the island. There has been no political imperative in Dublin to pursue this. That might change but a lot more could be done to bring about that change.
The minority government in Dublin, the creation of an Opposition in Stormont and the forthcoming Brexit referendum are all indicative of the changing political dynamics on this island and with our neighbours to the east.
Fine Gael and Fianna Fáil need to take bold steps before the next election to distinguish themselves from one another. Given that Fianna Fáil have stated that they will contest elections in the North from 2019, it makes sense that they, in the first instance, would want to develop such a strategy for a united Ireland.
With an Opposition now in place at Stormont and power sharing taking on a completely different hue, it is incumbent upon republicans to reassess what the end game at Stormont is. That needs to include an honest appraisal of whether a united Ireland is still the goal and, if so, what is the plan, the timescale, the interim steps and who needs to be brought along on the journey.
If the Brexit campaign to leave the EU is successful, how will unionists be convinced that their interests are better served in a single-economy, united Ireland within the EU?
Would the Stormont administration be devolved from Dublin as opposed to Westminster? Would we have a new flag, a new national anthem? Those are all "uncomfortable conversations" that need to take place and if republicans don't have the answers to them, how can anyone else be expected to buy in?
Building a united Ireland will need more than politicians and governments. It needs economists, healthcare experts, educators, activists and more to make it happen and for those conversations to take place in a genuine spirit of supporting the common good.
In this centenary year of the Easter Rising, it is time to draw up the plans.
Editor's Note: Guest writers in the Uncomfortable Conversations series use their own terminology and do not always reflect the house style of An Phoblacht.