6 June 2016 Edition
Rubber and plastic bullets: Lethal impact
From The Technology of Political Control by Ackroyd, Margolis, Rosenhead and Shalice, published in 1977:
"Rubber bullets were tailor-made to a military specification. But their introduction was part of a concerted political-military policy. The new Tory line was to present Northern Ireland as a problem of 'law and order' – a purely technical problem, for which rubber bullets and other devices provided the appropriate 'technological fix'."
List of those killed by rubber and plastic bullets
Prior to the introduction of plastic bullets, rubber bullets were deployed for use by the British Army. Three people were killed by these weapons:

Francis Rowntree (age 11),died April 24 1972, Belfast
Tobias Molloy (18),died July 16 1972, Strabane
Thomas Friel (21),died May 17 1973, Derry
Deaths as a result of being shot by plastic bullets:
Stephen Geddis (10), died August 30 1975, Belfast
Brian Stewart (13), died October 10 1976, Belfast
Michael Donnelly (21),died August 9 1980, Belfast
Paul Whitters (15), died April 25 1981, Derry
Julie Livingstone (14), died May 13 1981, Belfast
Carol Ann Kelly (12), died May 22 1981, Belfast
Henry Duffy (45), died May 22 1981, Derry
Nora McCabe (30), died July 9 1981, Belfast
Peter Doherty (33), died July 31 1981, Belfast
Peter McGuinness (41), died August 9 1981, Belfast
Stephen McConomy (11), died April 9 1982, Derry
Seán Downes (22), died August 12 1984, Belfast
Keith White (20), died April 14 1986, Portadown
Seamus Duffy (15), died August 11 1989, Belfast
WHEN as far back as 1972 the British Government set in motion its plans to replace rubber bullets with the new plastic bullet for use by the British Army against civilians it was clear that the weapon was to be used in an aggressive manner against nationalists.
The recent discovery by Ciarán MacAirt of Paper Trail Legacy Archives Research of previously secret British Army documents in which the head of the British Army's counter-terrorism branch recommended that plastic bullets be used "against young hooligans in Londonderry" despite initial tests showing that the projectile was "highly likely" to cause serious injury underlines this.
A Mr A. W. Stephens of the British Army's DS10 counter-terrorism unit acknowledged that initial tests of the plastic bullet (which were carried out on sheep at the Ministry of Defence Science and Technology Laboratory at Porton Down in England) showed that "at ranges significantly less than 25 metres it is highly likely that the PVC round hitting a person would cause serious injury and –depending on the position of the strike and the age, health and clothing of the person – might be lethal".
Of course we now know that in the hands of the sectarian Royal Ulster Constabulary and anti-Irish British soldiers it was not just "highly likely" that these weapons would be lethal. They were in fact used deliberately and indiscriminately to kill and maim, with children as young as 10 and a mother of three young children among those killed.
United States Army research from 1977 which was known to the British Government, according to a report drawn up by the United Campaign Against Plastic Bullets, has proven that the kinetic energy of plastic bullets at a range of 25 yards is such that being hit on the head with one at that distance is very likely to cause death. The guidelines for their use allowed them to be used at less than 25 yards even when there was no threat to members of the RUC or British Army.
Yet what is interesting about Stephens's rationale for using what the British called the "baton round" is his language and how he presents the case for phasing out rubber bullets and their replacement by the plastic bullet as one of concern for those targeted and struck.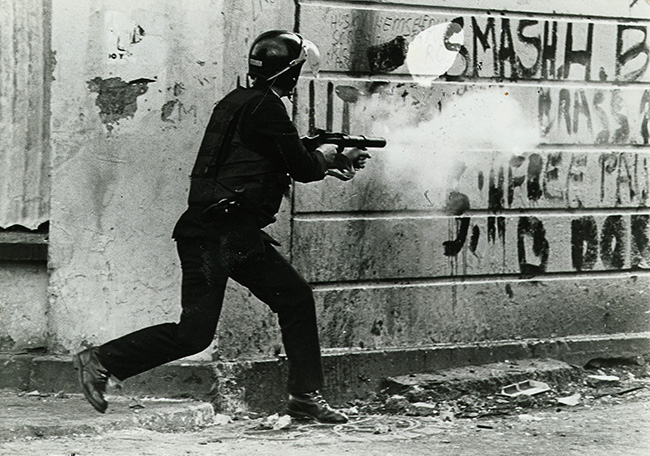 •  An RUC officer opens fire using plastic bullets during protests in 1981
In his submission, Stephens says:
"The rubber round itself can be dangerous. One blinded a woman in Belfast last November (1971) and broke bones in her face. An 11-year-old boy recently died from a fractured skull; no inquest has been held yet, but we understand from the pathologist that the injury was not inconsistent with this cause – though the boy's skull was quite abnormally thin, more so than the pathologist had ever previously encountered."
Stephens also maintained:
"The rubber baton round – though it has been and still remains very useful for dealing with hooligans and rioters in many circumstances – becomes increasingly ineffective at ranges above 35 metres. At 50 metres, its accuracy nor its terminal effect is sufficient."
So the new weapon was purportedly to be more accurate and effective in dealing with "hooligans and rioters" – in other words, only offenders would be targeted.
The Anglian Regiment: Francis Rowntree, Stephen Geddis and Stephen McConomy
The 11-year-old boy referred to by Stephens was Francis Rowntree whose inquest is, after 40 years, finally being heard in the High Court in Belfast.
Among the evidence presented to the court is the statement of the British soldier who fired the rubber bullet in the April 1972 incident that left the child dead.
Identified only as "Soldier B", the former member of the Anglian Regiment who gave his evidence by video-link from an undisclosed location told the court:.
"I have nothing to be reproachful about."
'Soldier B' added during questioning on Tuesday 26 April that he was confident he fired in accordance with the British Army guidelines for using the weapon.
"I do not have any concerns. I was doing my job as we did all the time," he maintained under oath.
In 1972, however, the former soldier, in statements to the British Army's Royal Military Police, said that he fired two "baton rounds", one of which struck an unidentified person who may have been taken to hospital by ambulance.
His admission that he had not picked a particular target but fired into a crowd is in clear breach of regulations which say the weapon must be fired at identified persons and not indiscriminately.
Furthermore in a damning insight into the British Army's collective mindset at the time Soldier 'B' further revealed:
"Virtually everybody you see were the target. The fact we are being pelted by just about every kind of missile you are not really looking around to see if this person is innocent (sic).
"I did not see a distinction."
When asked when he became aware that a child had died he replied: "There was talk of a child being injured and the name rings in my mind."
The court had heard previously that the young boy suffered extensive injuries after being hit from close range, with medical evidence saying he was struck within a distance of between two and three yards.
Accounts of eyewitnesses also contradict Soldier B's version of events as they say he had a clear view of the schoolboy.
Clearly then the real issue over the use of rubber or plastic bullets is not the rules governing their use but the user, the British soldier or RUC member, pulling the trigger of the lethal weapon.
With the new round coming on stream in 1973 it gradually replaced the rubber bullet and in 1978 the weapon was issued to the RUC.
It was a member of the British Army's Anglian Regiment who was responsible for shooting dead the first person to be killed by a plastic bullet in the North.
Stephen Geddis, a 10-year-old boy from the Divis Flats complex in the lower Falls Road area of Belfast was struck on the head on 28 August 1975 and died later on 30 August.
When he was examined in the Royal Victoria Hospital on admission it was found that his hands were clean, indicating that Stephen was not involved in stone throwing.
Other reports at the time say that the schoolboy was shot at point-blank range.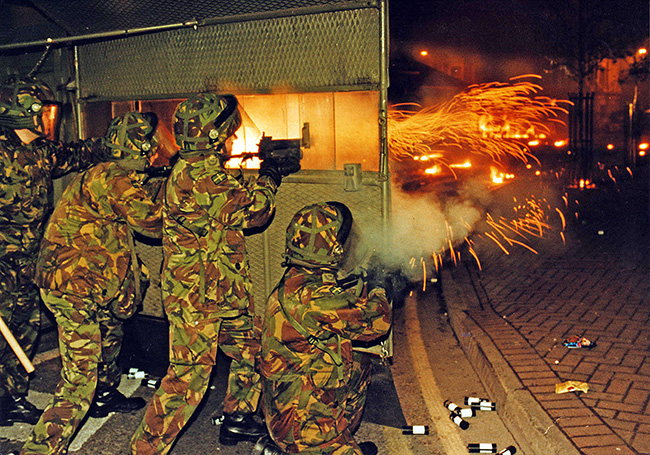 • British soldiers fire plastic bullets in Derry in 1996
A third schoolboy, Stephen McConomy (aged 11), was shot dead in Fahan Street in Derry in 1982 when a lance corporal from the Anglian Regiment fired on him from approximately six yards.
It later transpired that the British soldier who fired the fatal round was not the designated gunner assigned responsibilty for the weapon.
According to Stephen's brother Emmet, the soldier who shot Stephen wasn't following Ministry of Defence policy and broke all the rules.
"He took the plastic bullet gun off the designated gunner and leaned over the driver to fire out a side window. The military said the gun jammed and he was clearing it and pulled the trigger twice. They also claimed the gun was not accurate and that it did not fire in a straight line. Conveniently, the gun was later destroyed, despite the fact that it was involved in the death of a child," he said.
Since it was first deployed in 1970 when 238 rubber bullets were fired in that year, until 1981 (the year of the H-Block Hunger Strikes), when 29,669 plastic bullets were fired that year, almost 100,000 so-called baton rounds were used in total.
1981 saw a massive spike in their use, leaving seven people dead, including three children: Paul Whitters, Julie Livingstone and Carol Ann Kelly.
In May alone, in the aftermath of Bobby Sands's death, 16,656 plastic bullets were shot at an average of 537 per day. This is further proof (if it were needed) to northern nationalists that these weapons were deployed to suppress nationalist outrage at their treatment at the hands of unionism and the British.
Despite the British Government's argument that the "baton round" is necessary for riot control, is subject to strict controls, is not a lethal weapon and consistent with minimum force, the reality of 17 deaths and hundreds receiving life-changing injuries completely contradicts this.
There can be no doubt that these weapons were deliberately used to maim and kill and that those who pulled the triggers were showing a total disregard for the lives of civilians.
Successive British Governments hid behind guidelines that were systematically ignored, suppressed medical evidence, as shown in the booklet Rubber and Plastic Bullets Kill and Maim, by Fr Denis Faul and Fr Raymond Murray. 
That the British Government and their Civil Servants and officials in Downing Street and Whitehall covered up the killings and injuries indicts the politicians as much the soldiers and RUC men who pulled the trigger.