6 June 2016 Edition
Separated parents and children seriously affected by housing policies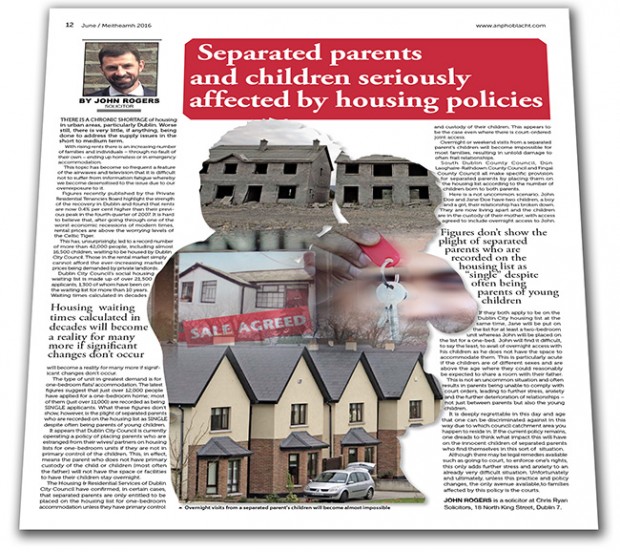 Figures don't show the plight of separated parents who are recorded on the housing list as "single" despite often being parents of young children
John Rogers is a solicitor at Chris Ryan Solicitors, 18 North King Street, Dublin 7.
THERE IS A CHRONIC SHORTAGE of housing in urban areas, particularly Dublin. Worse still, there is very little, if anything, being done to address the supply issues in the short to medium term. 
With rising rents there is an increasing number of families and individuals – through no fault of their own – ending up homeless or in emergency accommodation.
This topic has become so frequent a feature of the airwaves and television that it is difficult not to suffer from information fatigue whereby we become desensitised to the issue due to our overexposure to it.
Figures recently published by the Private Residential Tenancies Board highlight the strength of the recovery in Dublin and found that rents are now 0.4% per cent higher than their previous peak in the fourth quarter of 2007. It is hard to believe that, after going through one of the worst economic recessions of modern times, rental prices are above the worrying levels of the Celtic Tiger.
This has, unsurprisingly, led to a record number of more than 42,000 people, including almost 16,500 children, waiting to be housed by Dublin City Council. Those in the rental market simply cannot afford the ever-increasing market prices being demanded by private landlords.
Dublin City Council's social housing waiting list is made up of over 21,500 applicants, 1,300 of whom have been on the waiting list for more than 10 years. Waiting times calculated in decades will become a reality for many more if significant changes don't occur.
The type of unit in greatest demand is for one-bedroom flats/ accommodation. The latest figures suggest that just over 12,000 people have applied for a one-bedroom home; most of them (just over 11,000) are recorded as being SINGLE applicants. What these figures don't show, however, is the plight of separated parents who are recorded on the housing list as SINGLE despite often being parents of young children.
It appears that Dublin City Council is currently operating a policy of placing parents who are estranged from their wives/ partners on housing lists for one-bedroom units if they are not in primary control of the children. This, in effect, means the parent who does not have primary custody of the child or children (most often the father) will not have the space or facilities to have their children stay overnight.
The Housing & Residential Services of Dublin City Council have confirmed, in certain cases, that separated parents are only entitled to be placed on the housing list for one-bedroom accommodation unless they have primary control and custody of their children. This appears to be the case even where there is court-ordered joint access.
Overnight or weekend visits from a separated parent's children will become impossible for most families, resulting in untold damage to often frail relationships.
South Dublin County Council, Dún Laoghaire-Rathdown County Council and Fingal County Council all make specific provision for separated parents by placing them on the housing list according to the number of children born to both parents.
Here is a not uncommon scenario. John Doe and Jane Doe have two children, a boy and a girl, their relationship has broken down. They are now living apart and the children are in the custody of their mother, with access agreed to include overnight access to John. If they both apply to be on the Dublin City housing list at the same time, Jane will be put on the list for at least a two-bedroom unit whereas John will be placed on the list for a one-bed.  John will find it difficult, to say the least, to avail of overnight access with his children as he does not have the space to accommodate them. This is particularly acute if the children are of different sexes and are above the age where they could reasonably be expected to share a room with their father. 
This is not an uncommon situation and often results in parents being unable to comply with court orders, leading to further stress, anxiety and the further deterioration of relationships – not just between parents but also the young children.
It is deeply regrettable in this day and age that one can be discriminated against in this way due to which council catchment area you happen to reside in. If the current policy remains, one dreads to think what impact this will have on the innocent children of separated parents who find themselves in this sort of  situation.
Although there may be legal remedies available such as going to court, to enforce one's rights, this only adds further stress and anxiety to an already very difficult situation. Unfortunately and ultimately, unless this practice and policy changes, the only avenue available,to families affected by this policy is the courts.