6 June 2016 Edition
Erica Fleming – 'I am not going away'
A job, a place at Trinity but no home of her own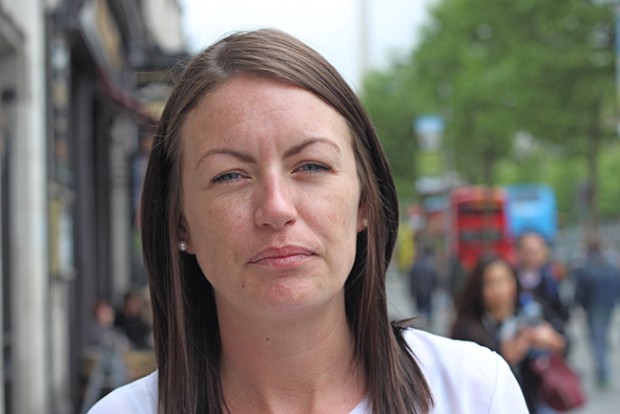 ERICA FLEMING is walking hurriedly down O'Connell Street to meet An Phoblacht, her 9-year-old daughter Emily quickening her pace to keep up with her mother. Erica is 20 minutes late and she apologises profusely. 
The 30-year-old young woman has been thrust into the headlines after becoming a reluctant star in January's RTÉ documentary My Homeless Family. She started her day by waking up in her "temporary emergency accommodation" of almost a year, getting Emily ready for school and herself for work, racing from across Dublin City to RTÉ in Montrose to be interviewed on Ray D'Arcy's afternoon radio show, then dashing back into town to meet us at our request at the Gresham Hotel. She and Emily will eventually get home sometime after 7pm to do Emily's homework and snatch some "mother and daughter time". And Erica still apologises for putting us out.
Erica has become such a well-known face as a housing crisis campaigner that staff come over to give their congratulations on seeing in the newspapers the day before that she has secured a place at Trinity College. Erica still finds the public attention a little hard to handle but she is buzzing about getting into Trinity, especially coming from the working-class suburb of Coolock.
"I never thought that I'd get into college, never mind Trinity." She laughs and raises her hand up to her head to emphasise the achievement: "I mean, that's up there, isn't it?" Having successfully applied through the Trinity Access Programme, Erica will be studying law and social and political studies but her ambition has always been to be a social worker. A political career is not envisaged by her even though U Magazine has also just shortlisted her for its "Social Pioneer Award".
Daughter Emily sits patiently next to us as we get down to talk properly. They've had no time for tea so Emily is tucking in to some sausages and chicken nuggets like any normal child. But she doesn't live a normal life. She has no home to call her own.
"Don't get me wrong, the hotel we are in and the staff are great," Erica says, "but we are still homeless when it comes down to it."
She works 29 hours a week as a receptionist but unable to afford rent and is not entitled to rent supplement so she and Emily are homeless.
Figures show there are more than 1,000 families and over 2,000 children living in emergency accommodation. The state spent €16million on hotels for the homeless last year in Dublin alone.
It is particularly frustrating for Erica that she has to drive to work past vacant homes boarded up by Dublin City Council. They're known as "voids" and they're one of Erica's biggest bugbears in the housing crisis.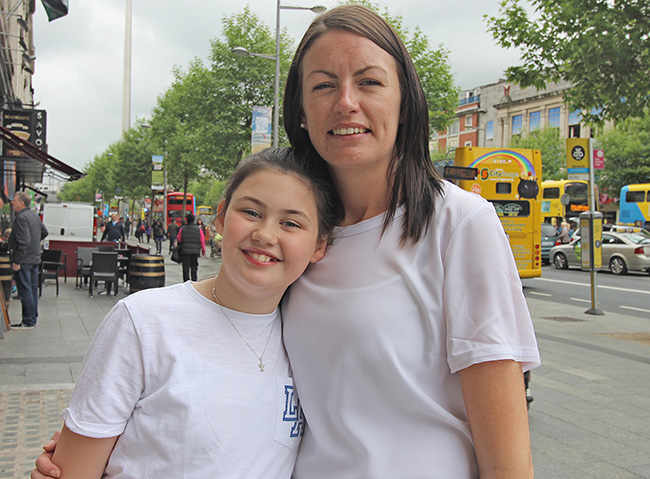 • Erica Fleming with her daughter Emily
"When I was on Newstalk radio and first told them about how I had to drive past these on my way to work from emergency accommodation I think they thought I was exaggerating. Fair play to [presenter] Jonathan Healy, though, he came out to see for himself how many there were."
She says that five particular "voids' she pointed out last October still haven't been turned around. This makes her frustrated and angry at the speed the system operates – or doesn't operate.
Since My Homeless Family, Erica acknowledges that there has been a change in media and public perception that homeless people are mostly people with alcohol, drugs or mental health issues. The stereotype has been broken. What does frustrate her, though, is the pace of change.
"I welcome the fact that there is now a cross-party Oireachtas Committee on Housing and Homelessness but in the 60 days that it takes from it being set up in April to reporting in the middle of June, how many more people have become homeless or facing homelessness; how many repossessions are there by the banks; how much land is being sold off by local authorities on which they should be building social and affordable housing instead?"
In May, a report by the Housing Agency revealed that as many as 230,000 homes across the state are vacant.
There are said to be over 38,000 residential properties vacant in Dublin while figures show that 366 families became homeless in the capital this year.
New Housing Minister Simon Coveney has said on Twitter to Erica that he's "happy to take advice" and he's already met Focus Ireland, the Simon Community and the Peter McVerry Trust. She has followed this up by writing to the Housing Minister's office, asking for a meeting. 
The first three things she would ask him to do would be to raise the rent allowance, to quickly turn the voids into habitable homes, and to devise a plan to use the assets that NAMA has to address the housing crisis.
She feels that people in power are not truly that concerned about homelessness or housing needs as they and their families are very unlikely to face such a crisis in their lives. "When I first went looking for housing I was asked if I couldn't borrow €8,000 from a relative. There's no one I know who has that sort of money to lend but I bet that the people in power do."
But she's willing to give new people in power a chance. 
She's not giving up and she's undaunted. She reveals she "had a bad week" before her interview with An Phoblacht and the news about Trinity College because things just got on top of her and she sees no end in sight for her and Emily. 
"How old will Emily be when she gets to do her homework in our own home?"
Erica at the Sinn Féin Ard Fheis
ERICA FLEMING opened her prime-time address to the Sinn Féin Ard Fheis in Dublin in April with a quote from a leader of 1916:
We seem to have lost 
But we have not lost
To refuse to fight would have been to lose 
To fight is to win 
We have kept faith with the past 
And handed on a tradition to the future
"To Pádraig Pearse, I would like to say thank you," she said. "Thank you for instilling that passion to fight within the Irish people." 
She explained to the packed Ard Fheis hall ahead of the Presidential Address by Gerry Adams that she didn't want to take part in the RTÉ documentary.
"I didn't want to expose my life to the public; I didn't want people to have the opportunity to judge me; I was ashamed; I was embarrassed and I was scared.
"But, as the days and weeks passed with our situation not changing, a flame was sparked within me – I began to see how wrong 'the system' was. I began to see how our own people were being judged and ridiculed and forgotten. I began to feel angry.
"No one was speaking out. People were too frightened to tell their story, so I decided to tell mine and Emily's.
"I exposed our lives, I exposed the hardships of being a homeless working lone parent.
"I exposed the hardships of being a homeless child.
"I exposed how unfair the system was and is towards us.
"And I'm glad that I have done it," she announced. "I am glad that flame was sparked within me because now it is a burning raging fire and it cannot be extinguished by anyone.
"We are being treated as if we don't matter, as if we are at fault for becoming homeless. To the outgoing government we are only a number. We are only a statistic. They forget that we are real people, with real lives and real feelings. They forget that our children are watching how the outgoing government is failing us.
"They are basically telling our children that they do not matter. They are teaching our children that the less fortunate, are people with no worth. They are teaching our children that money is more important than basic human rights."
Echoing the aspiration in the Proclamation to cherish all the children of Ireland equally, she said:
"Our children are being denied a chance to have a normal happy childhood, free from worry, free from discrimination. Our children, our next generation, are being denied a basic human right – a right to a stable and secure home."
And she asked the audience:
"Do you think that the heroes of 1916 would be happy about this? No they would not!"
As a parent, Erica Fleming said, her job is to allow her daughter to dream, to have dreams and aspirations.
"My job as a mother is to protect her at all costs, to provide for her and to allow her to grow into a well-rounded, successful woman. Without a home, my child is being denied the right to have those opportunities. She is being forced to leave her childhood behind and to grow up too soon. She is being forced to live in a world where things are unsure, unsettling and unreliable.
"My biggest fear is that this will affect my daughter for the rest of her life that she won't bounce back to the happy, outgoing, adventurous child that she once was.
"The state has failed us; the state has failed my precious gem.
"So, as I stand here today, I demand action. I demand that the public come together and say enough is enough.
"The issue of homelessness needs to be tackled today, we need solutions today. We need action today."
The reluctant yet articulate and passionate campaigner said that she refuses to be silent so that others can continue to feel comfortable.
"I will continue to speak out, I will continue to be the voice for the homeless families.
"I am not going away!"