6 June 2016 Edition
A new coalition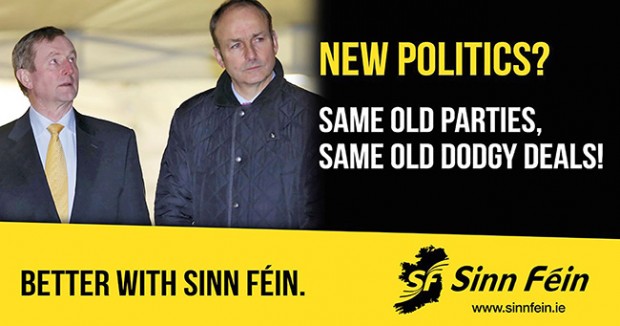 Fianna Fáil were voted out of power but their policies were not
FIANNA FÁIL AND FINE GAEL are not involved in a new kind of politics. They are buying time until they are in a position to bring their membership to the conclusion that the leaderships have already reached, which is that a formal and full coalition between both parties will have to happen in order to protect the Establishment they represent. 
This coalition of sorts has a history to it. In March 2011, Fianna Fáil were voted out of power but their policies were not. The current Taoiseach and his ministers took those policies and made them their own. Now, five years later, we are in the same situation – with Fianna Fáil continuing to dictate policy from the opposition benches
It is no harm to remember that in 2010 the previous Fianna Fáil/Green coalition gave Cabinet approval to set up an Irish Water entity. It also gave its approval to bring in water charges and install water meters, and did so in the words of the government as a "confidence-building structural reform measure".
This was all done before the Troika arrived. It was all instigated on Fianna Fáil's watch.
The Irish people have rejected water charges outright. They have rejected the attempts to privatise our water system, but the mandate given in the election to give legislative expression to this issue is being scuppered by both Fianna Fáil and Fine Gael.
What we have here is a classic "temporary little arrangement" that would make Albert Reynolds and Bertie Ahern beam with pride. 
This 'temporary little arrangement' is flawed to the core. The rejection of the will of the people is unforgivable. And it is being done for the benefit of the two government parties – Fianna Fáil and Fine Gael – with the progressive and left-wing Independents the expendables of the deal.
We have come a long way from the days when Fine Gael and Labour were threatening to cut off people's water supply if they didn't pay their water bills. But we still have a long way to go before we can start taking the state back from those who profit from it.
Dr Conor McCabe is author of 'Sins of the Father: Tracing the Decisions that Shaped the Irish Economy'