6 June 2016 Edition
Micheál Martin U-turn means water charges remain
Fianna Fáil, Fine Gael, Labour and Greens get together to defeat motion to scrap water charges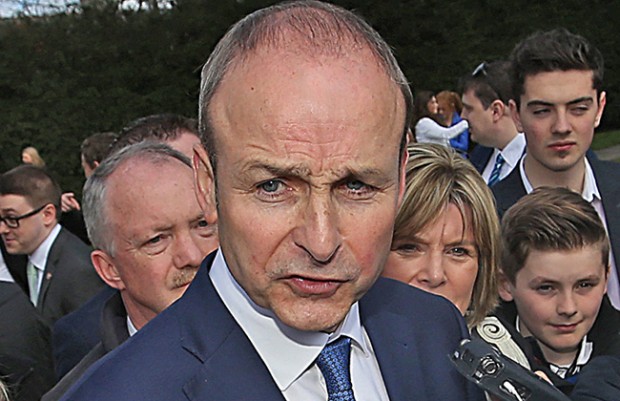 'If anybody is embarrassing Fianna Fáil then it is themselves, not Sinn Féin or the Right2Water TDs. Fianna Fáil are the ones breaking their election pledges' – Eoin Ó Broin TD
FIANNA FÁIL refused to back a Sinn Féin motion in the Dáil on 25 May to scrap water charges, abolish Irish Water and set a date for a referendum to enshrine public ownership of Ireland's water infrastructure in the Constitution.
During two days of heated debate in the Dáil chamber, Fianna Fáil leaders found themselves all at sea as they tried to justify their support for the continuation of water charges with their very clear election manifesto commitment to scrap water charges and abolish Irish Water.
Moving the Sinn Féin motion –  supported by 39 TDs including the Anti-Austerity Alliance/People Before Profit, the Social Democrats, Independents4Change and others – Eoin Ó Broin said deputies had "the choice to listen to the will of the people and scrap the charges".
Speaking to reporters at Leinster House, Eoin Ó Broin rejected claims by some in the media that the motion was put forward by Sinn Féin to embarrass Fianna Fáil:
"If anybody is embarrassing Fianna Fáil then it is themselves, not Sinn Féin or the Right2Water TDs. Fianna Fáil are the ones breaking their election pledges. We said we would continue to pursue this issue in the 32nd Dáil and that is what we are doing."  
In the chamber, Louise O'Reilly, Sinn Féin TD for Dublin Fingal, said the suspension of water charges for nine months, as agreed by Fianna Fáil and Fine Gael, simply is not good enough: 
"We are fooling nobody if we think we were elected to kick this particular can down the road. We were not, and Sinn Féin will not go back on the promise it gave to people."
•  Richard Boyd Barrett (People Before Profit), Paul Murphy (Anti-Austerity Alliance), Eoin Ó Broin (Sinn Féin) and Joan Collins (Independents4Change) call on Fianna Fáil to back the Sinn Féin motion to scrap water charges and Irish Water
Anti-Austerity Alliance TD Mick Barry singled out "Endapendent" TDs Finian McGrath and former Workers' Party representative John Halligan for a particular grilling. Both are now propping up the Fine Gael administration as Ministers of State, something which Barry described as "crossing the line" before hitting out at their attempts to "derail a motion supported by the anti-water charges movement of which they were once part".
Next came a bizarre contribution from Fianna Fáil Meath West TD Shane Cassells in which he suggested Sinn Féin should thank Fianna Fáil for temporarily suspending water charges! He went on to decry the fact that Fianna Fáil is being subjected to "sniggering and insults" because they have "taken their mandate and actually brought something constructive to the table and delivered", resulting in a barrage of criticism from the benches of anti-water charges TDs.
During the second day of debate, hundreds of protesters gathered outside the gates of Leinster House to urge TDs to support the motion. Former Environment Minister and water charges aficionado Alan Kelly of Labour – who said the scrapping of water charges would be "political, economic and environmental sabotage" – was jostled by some protesters as he made his way into the Parliament. 
Fianna Fáil's Timmy Dooley used his speaking time to attempt to justify his party's U-turn but ran into extreme difficulty as he appeared to not have enough speaking notes to fill his slot. The Fianna Fáiler whinged that Sinn Féin had sought to "pour cold water on what has been achieved by Fianna Fáil" and described such criticism as "disheartening".
There was more commotion in the chamber when Fine Gael Minister for Public Expenditure and Reform Paschal Donohoe claimed that by scrapping water charges money that could be used for hospitals, primary care centres and infrastructure projects would be lost.
• Eoin Ó Broin, Louise O'Reilly and Mary Lou McDonald
Responding to her constituency colleague, a clearly annoyed Mary Lou McDonald said the Public Expenditure Minister had a "brass-iron neck to stand in this chamber and issue a kind of threat to the population that it is water charges or else. He has suggested that the Government will charge for the water in the tap because if it does not do so then hospital services and the housing supply issue will be affected. How dare he?"
The Sinn Féin deputy leader went on to highlight the much more substantial loss to the Exchequer if Fianna Fáil and Fine Gael's plans to slash the Universal Social Charge to disproportionately benefit the wealthiest in society go ahead.
Summing up the debate, Mary Lou McDonald said: 
"Despite all of the talk of 'new politics', there is a constant in Irish political life and that is that the word of Fianna Fáil means nothing." 
Addressing the Fianna Fáil benches, she challenged them:
"If you had any interest in new politics then I would suggest that you would at least be upfront. Fianna Fáil clearly support the efforts of Fine Gael and their allies to impose an unfair charge that takes no account of ability to pay on low and middle-income families right across this state."
The Sinn Féin motion was defeated by 59 votes to 38. Fianna Fáil and Green Party TDs abstained from the vote.