11 April 2016 Edition
Experience and challenges – Conor Murphy
UNCOMFORTABLE CONVERSATIONS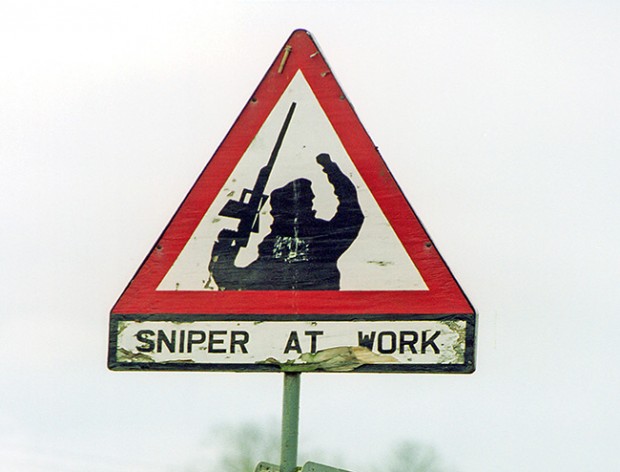 An elderly Protestant 'Ministry man' who had visited our family farm to test cattle exclaimed to me: 'But your father was a decent man!'
ADVANCING RECONCILIATION is not just about healing wounds or addressing hurt and division but also about ensuring that the conditions that created and sustained the conflict in Ireland are never to be repeated.
Republicans have accepted that the continuing human loss and pain of conflict is, for many, too great a barrier for progressing reconciliation. That experience is also found in the wider nationalist and republican community where the immunity enjoyed by British state agencies and the prevention of access to truth and justice continue to be open sores.
Demonstrating a commitment to reaching out and affording equal respect to all identities is an important part of the reconciliation journey, whether they be large public gestures in the full glare of the media or small private initiatives which have real and lasting positive impacts on those involved. 
The decision by Sinn Féin leaders to publicly meet members of the British royal family on their recent visits to Ireland was neither easy nor comfortable for republicans but was an important milestone on the road to addressing the legacy of the past and creating optimism and ambition for a better future. 
In a similar vein, Sinn Féin members have also participated in remembrance events for those killed in World War One and World War Two. We shouldn't allow the begrudging reaction of some unionist leaders to such initiatives to deter us from showing leadership on these matters; they have been genuinely warmly welcomed across all communities in Ireland and internationally and recognised for being a significant contribution to peace building.
Republicans at grassroots level have been involved for many years in a multitude of initiatives engaging in dialogue with members of the unionist community and former combatants (both loyalist and British state forces) in an attempt to mend historic hurts and division. It can be genuinely challenging to be confronted with deep mistrust and, on occasions, the anguish of personal loss. There are also multiple and competing narratives on the origins, causes and consequences of conflict on which there may never be agreement.
But not only is this work necessary it can also be rewarding as new and better understandings are forged and even friendships are formed.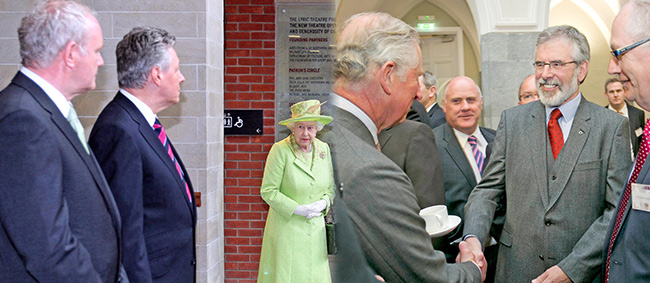 • Meetings between Irish republicans and members of the British royal family were key milestones on the road to addressing the legacy of conflict
On my first occasion at a cross-community dialogue in Newry in the late 1990s I was paired with an elderly Protestant gentleman who had been what people in the farming community call 'a Ministry man' who visited farms to test cattle. It emerged through our conversation this included visiting our family farm. He knew who I was politically but when I explained my family background he looked at me aghast and exclaimed: "But your father was a decent man!" We still agree to disagree on some political issues but I have been invited and welcomed to his place of worship on a number of occasions since then and I greatly value the friendship of this very Christian man. 
Similar friendships were formed with people from other Protestant churches and the loyal orders which continue to this day and have helped reduce tensions around parading and improve community cohesion in the area.
In south Armagh, the republican ex-prisoner network has led in a programme of dialogue and exchange with loyalist groups as well as facilitating visits from former British Army personnel who served in the area as part of a 30-year-long oppressive military presence. 
Some of those who have visited have simply wanted assurance that they could go to sites, without interference, where they were traumatised through their engagement in armed conflict or witnessed the loss of friends and colleagues. This has been agreed without reservation. Others want to meet with what they respectfully regarded as a formidable enemy. We recently had the pilot of a helicopter shot down by the IRA in Crossmaglen express support for the Peace Process. 
A better future has been the common denominator in all of these discussions.
International students of conflict resolution annually come to south Armagh to examine how an area for so long associated with intense conflict has embraced the Peace Process and embarked on a journey of reconciliation. This is not simply an academic exercise as many of them who come from societies hoping to emerge from long and bitter struggle themselves.
Our own international travels to assist in conflict resolution across many countries have always confirmed that the Irish experience of moving beyond conflict, even with all its well-documented failings, inspires a great deal of hope in war-torn regions across the world.
There remain huge challenges in dealing with the legacy of partition and political conflict as we try to create an inclusive and agreed future. This centenary year of the 1916 Easter Rising should afford us all the opportunity to promote the vision of an equal, secular and progressive society contained within the Proclamation. That vision, however, faces two significant obstacles of hurt and mistrust.
There is no short-cut past the 'Uncomfortable Conversations' necessary for reconciliation.
Conor Murphy is a Sinn Féin MLA for Newry & Armagh. A republican ex-prisoner, Conor is a key member of Sinn Féin's negotiating team