11 April 2016 Edition
NAMA jewel thieves go free
Missed opportunity to democratise housing development in Ireland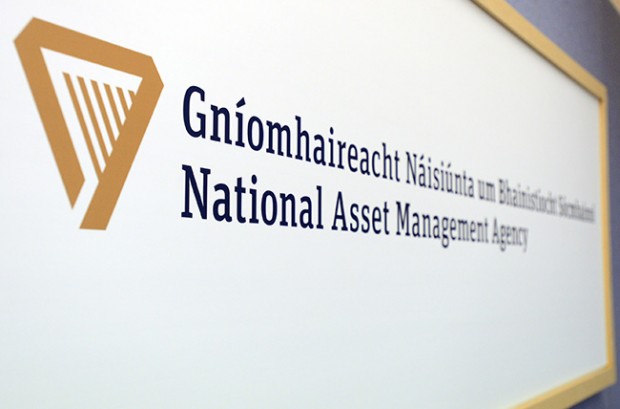 The vultures are circling, and the last group considered in NAMA's operations are the Irish people
'VULTURES' AND 'PEOPLE' are the two words you won't find on the website of the National Asset Management Agency (NAMA). Yet, as NAMA enters the final years of operations, these are the key terms many are using to describe its impacts. The vultures are circling, and the last group considered in the agency's operations are the Irish people.
Set up in 2009, NAMA was the supposed solution to sort out the multibillion euro property loans pulling Irish banks into a chasm of unmanageable debt. The Irish Government and the taxpayer would take over the loans through this new agency.
The business of NAMA was simple. Five banks had lent €74.4billion in 15,000 loans to 800 debtors. NAMA would sell off whatever assets there were behind these debts, whether it was ghost estates, hotels, development land or unfinished offices. NAMA got a head-start when it took over these loans because 57% of the value was written off. So, on their balance sheet, the loans are only worth €31.8billion.
Two thirds of the NAMA properties were in the 26 Counties, 6.2% were in the Six Counties, 20.7% in Britain, and other assets were in the USA plus Germany and other EU states.
In the intervening years, NAMA has been busy with sales. It gives names to particular schemes. We had Project Arch, Project Arrow, and the controversial €1.24billion Project Eagle property portfolio in the North. 
The last two NAMA portfolios are called Project Emerald and Ruby. After this, all the jewels will be gone.
Regarding Project Eagle, it is still unclear why Fine Gael Finance Minister Michael Noonan did not halt the sale when his office learned of the questionable fees being paid as part of the deal or why he did not allow NAMA officials to present themselves to the Northern Assembly Finance Committee who were investigating the property sale to US company Cerberus.
Housing policy
Of the 800 debtors, the majority of the debt was held by just 50 individual property developers. This disclosure echoes a claim made by Bertie Ahern in the last decade that the potential development land in Dublin was owned by just 21 developers.
What Bertie Ahern didn't admit to at the time was that his and other governments had allowed this clique of private developers – whose only motive is short-term, quick gains – to dictate housing policy in Ireland. The inception of NAMA presented an opportunity to reverse this trend.
• Acting Finance Minister Michael Noonan, Acting Environment Minister Alan Kelly and Former Taoiseach Bertie Ahern
With the stroke of a pen, prime real estate and development land all over Ireland was now effectively under the control of the Irish Government. Yet the years of NAMA's operations have coincided with an absence of a Government housing strategy.
As NAMA went to work selling properties, homelessness increased. The number of homeless families increased by 93% in 2015, according to Department of Environment figures. Rents have increased by 32% since their lowest point in 2011, according to accommodation website DAFT.ie. Central Statistics Office house price figures show increases of 6.6% in 2015 and 16.3% in 2014. The Government's solution to the housing crisis was Labour deputy leader Alan Kelly's cut in the minimum two-bedroom apartment size to 45 square metres (484 square feet).
Double standards on loans
The biggest debtor bank was Anglo Irish, who had €34.4billion in loans transferred to NAMA who took them on for €13.4billion, the largest percentage writedown of all the banks. AIB's loans were €20.5billion, Bank of Ireland €9.9billion, Irish Nationwide Building Society €8.7billion, and EBS €0.9 billion.
Loans less than €20million were left on the individual banks' balance sheets. Here is a critical inequality in how debts were treated in the Irish economy after the 2008 economic collapse. Massive portfolio and speculators property loans were effectively halved while the thousands of families and small businesses in debt had no write-offs.
What this second group of homeowners and small businesses found waiting was a hostile banking sector aggressively following up on debt collection, threatening repossession and sale of properties. These problems were aggravated by negative equity and unemployment of the borrowers. They were unable to pay their mortgages and the loans they borrowed to buy homes were now greater than the houses' sale value.
From its inception, NAMA was an accounting exercise where the agency only had to now sell off its property portfolio at a profit – which it is on course to do, buoyed in Britain by a property speculation bubble and in Ireland by a growing economy.
NAMA had ownership of just under 20,000 completed dwellings, 6,635 of which have been made available to the National Housing Agency. Two thousand have been transferred so far. On paper, this is positive but it is only a small part of the total NAMA business. The €150million invested by NAMA in social housing is less than half of 1% of its total property sales to date.
For now, the vultures will circle the remaining NAMA assets and for homelessness, house prices and rents it is still the same old cycle of missed opportunities to solve Ireland's housing crisis.
NAMA Factsheet
€74.4billion – Total amount of loans taken over by NAMA
15,000 – Number of loans taken over by NAMA
800 – Number of debtors
€42.6billion – NAMA's initial write-off
6,635 – Number of NAMA properties available for social housing
332 – Number of unfinished housing estates taken over by NAMA
€32.7billion – NAMA sales to end of 2015
€150million – NAMA's investment in social housing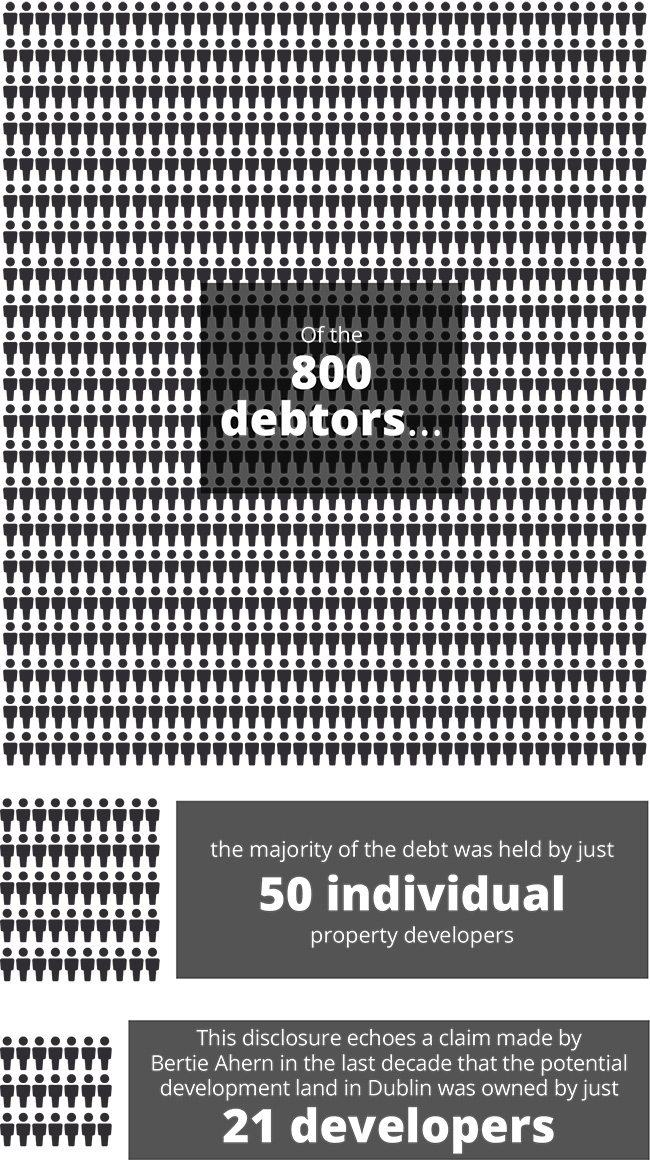 Of the 800 debtors the majority of the debt was held by just 50 individual property developers. This disclosure echoes a claim made by Bertie Ahern in the last decade that the potential development land in Dublin was owned by just 21 developers