11 April 2016 Edition
Sinn Féin Ard Fheis 2016 – Join the Rising
Freed Basque Peace Process leader Arnaldo Otegi to speak in Dublin
The Ard Fheis on Friday and Saturday 22/23 April in Convention Centre Dublin, takes place on the eve of the actual 100th anniversary of the Easter Rising – 24 April
THE 2016 Sinn Féin Ard Fheis in Dublin during the Easter Rising Centenary Year – just weeks after the party's most successful Dáil election ever and only a fortnight before new elections for the Assembly as Stormont – will be one of the party's most important gatherings in the current political climate. What gives it added poignancy is that the Ard Fheis on Friday and Saturday 22/23 April takes place on the eve of the actual 100th anniversary of the Easter Rising – 24 April.
The Ard Fheis at the Convention Centre Dublin on the River Liffey will see upwards of 2,000 delegates, visitors and special guests pass through the doors along with up to 30 governments from around the world, including official Government representatives from Palestine, South Africa and Cuba. 
A particular highlight will be a special appearance by Basque leader Arnaldo Otegi from EH Bildu, released from a Spanish prison on 1 March this year after serving more than six years on political charges.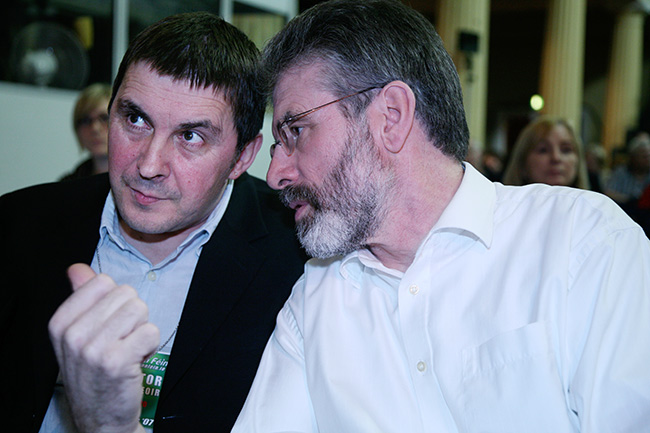 • Basque leader Arnaldo Otegi and  Sinn Féin President Gerry Adams at the 2007 Sinn Féin Ard Fheis
Podemos from Spain will be officially represented at the Sinn Féin Ard Fheis.
Also from mainland Europe attending is the President of the European United Left/Nordic Green Left European Parliamentary Group of which Sinn Féin's four MEPs are members, Gabriele Zimmer, and the Deputy Secretary General of the European Parliament GUE/NGL, Sannaleena Lepola.
There will be a significant attendance from England, Scotland and Wales, among them British Labour Party Shadow Secretary of State Vernon Coaker, Billy Hayes (former General Secretary of the Communication Workers' Union), and representatives of the Irish community in Britain and solidarity groups.
From Australia, there will be a delegation of up to 40 people including political activists, trade unionists, Cairde Sinn Féin Australia, Brehon Law Society and several figures from the Shadow Cabinet in New South Wales.
The overall theme of the Ard Fheis will be A United Ireland – Delivering on the ideals of 1916, a sovereign, independent and united Irish Republic based on equality and social justice.