11 April 2016 Edition
Inspired by 1916
Editorial – Eagarfhocal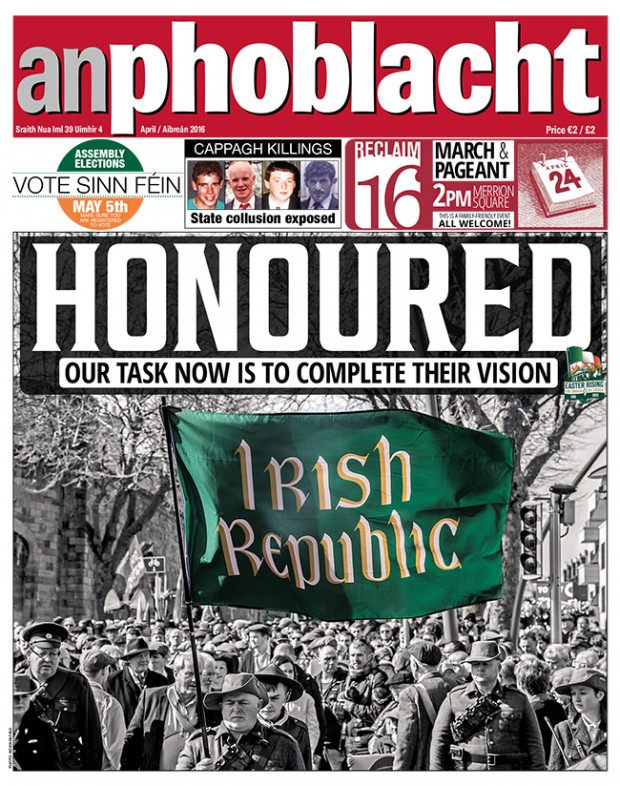 The Assembly elections on May 5th provide another opportunity to increase the strength built up over many years of struggle
WE ARE living in historic times. The centenary year of the 1916 Rising. The highest number of Sinn Féin TDs returned to the Dáil in recent years. A strong team of Sinn Féin MLAs in the Assembly seeking a renewed mandate to not just defend the most vulnerable against the Tories at Westminster and at Stormont but to build a better future for all our communities. And this year is also the 35th anniversary of the H-Blocks Hunger Strike in Long Kesh – the crucible of a traumatic personal and political period in modern Irish history that resonated across the globe and will have ramifications for centuries to come.
Much has been hard fought for and much has been hard won but this is not 1916, 1968 or 1981. This generation of republicans must work to deliver the Republic base on the vision of the Proclamation, for our people now and for generations to come.
With polls North and South to end partition and the Union provided for in binding inter-governmental and inter-party agreements, we now have a peaceful and democratic pathway to Irish reunification.
We need to build support for unity and highlight the continued failure of partition.
We must assert the right of people in the North to end the link with Britain, to end Tory austerity economics, and to oppose an exit from the EU that will affect the entire island of Ireland. 
The EU is by no means perfect but the place for Ireland is as a single united member state leading the process of political, economic and social change. Sinn Féin will seek a No vote in the upcoming Brexit referendum. We will continue to work within the EU to build a social, just and prosperous Europe that respects national sovereignty. 
We are now the main Opposition in the Dáil to the conservative and failed Establishment parties of Fine Gael, Fianna Fáil and Labour. We are the leaders of progressive republican politics across Ireland.
And we will be in Government, in the South as well as the North. It is not a case of if this will happen but when will it happen.
This is an exciting time to be part of the republican family. Hundreds of thousands of people have voted for Sinn Féin across the 32 Counties. We have made huge advances and we are growing but we must grow stronger. We want power not for its trappings or for the sake of it but because holding the levers of power is one of the ways to make effective change in society.
The Assembly elections on May 5th provide another opportunity to increase the strength built up over many years of struggle.
We must continue to do all that we can in pursuit of our political objective of creating a nation where the vision of the Proclamation is the living experience of every Irish man, woman and child throughout Ireland.