11 April 2016 Edition
1916 Easter Rising commemoration at Stormont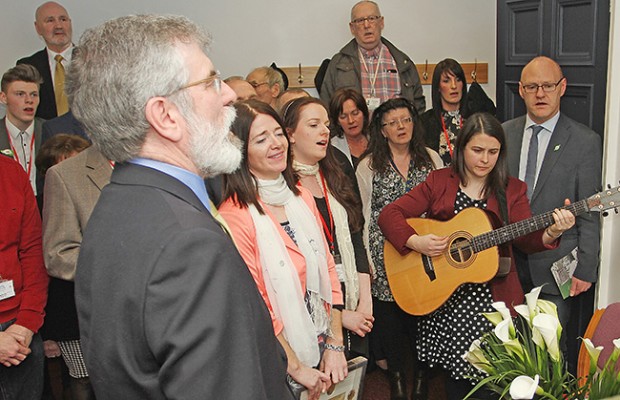 HISTORY WAS MADE at Stormont on Wednesday 23 March when Sinn Féin held a commemoration to mark the centenary of the 1916 Easter Rising in the building's Long Gallery. 
The venue was once regarded as a bastion of unionist misrule and domination.
The 1916 commemoration was also the first time since Sinn Féin's success in the recent Dáil general election that the party's elected representatives from across Ireland came together. 
Many of the 23 newly-elected TDs travelled to Belfast for the historic event to mark the 100th anniversary of the Rising alongside their MLA colleagues. 
The TDs passed statues of Carson and Craigavon as they made their way into the commemoration to remember the heroes of Easter Week and Ireland's patriot dead. 
Alongside the Sinn Féin representatives from across Ireland, relatives of veterans of 1916 also attended the commemoration. 
The 1916 Proclamation was read in front of a 50-year-old copy of the famous document which was produced for the 50th anniversary of the Rising in 1966. 
Mid Ulster MLA and Sinn Féin Agriculture Minister Michelle O'Neill was the main speaker at the commemoration. She reflected on the historic significance of holding the event at Stormont. 
"As republicans, we are very mindful of the fact that we are in the midst of a number of important centenaries, including the signing of the Ulster Covenant, the Battle of the Somme, the Tan War and partition. 
"Marking them in an inclusive and mature manner can contribute to reconciliation and to creating a society that is respectful of different traditions," she said. 
The senior Sinn Féin Assembly minister also said the fact that TDs from across Ireland attended the event was an indication of the growth of Sinn Féin. 
"Today the only viable route forward to our objective of a united Ireland is to build republicanism as a popular, progressive political force across this island. 
"That is the project Sinn Féin has embarked on and that is the project Sinn Féin is delivering on."