1 February 2016 Edition
Another Europe is possible – Treo eile don Eoraip
Funded by the European United Left/Nordic Green Left (GUE/NGL)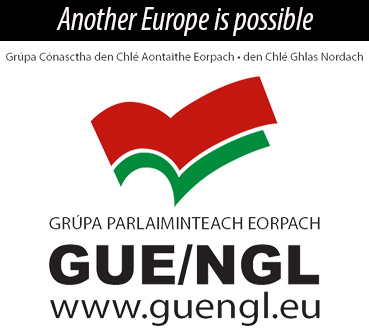 'Sinn Féin believes that Europe does need serious and radical democratic reform but BREXIT would have serious implications for Ireland, North and South'
Major BREXIT conference in Belfast hosted by Martina Anderson MEP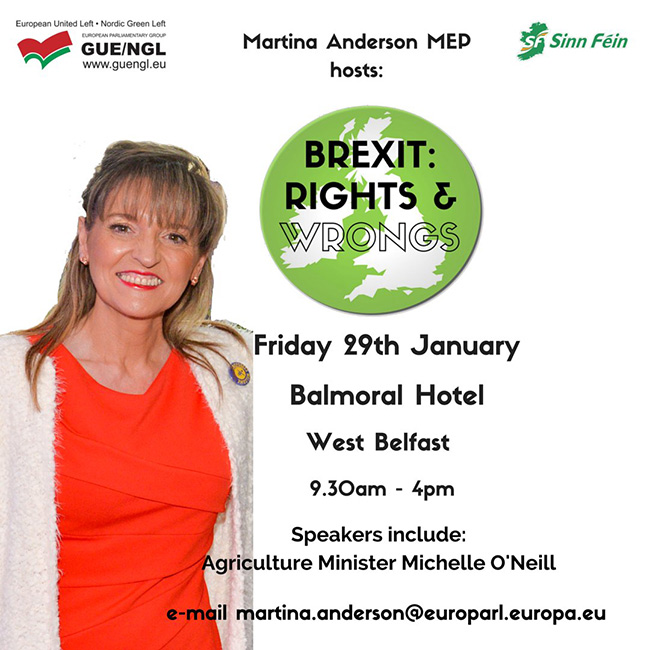 A MAJOR CONFERENCE in Belfast on the proposed in/out British referendum on EU membership (BREXIT) and the repeal of the Human Rights Act is being hosted by Sinn Féin MEP Martina Anderson on Friday 29 January.
Its purpose is to look at the wider issue of BREXIT, the effects of the possible repeal of the Human Rights Act, and the implications both of these would have on the whole of Ireland.
Speakers include representatives from trade unions, the business sector and Claude Moraes MEP, Chair of the Civil Liberties, Justice and Home Affairs Committee in the European Parliament.
Martina said:
"Sinn Féin believes that Europe does need serious and radical democratic reform but we believe that a British withdrawal from the European Union (BREXIT) would have serious implications for Ireland, North and South.
"British Prime Minister David Cameron has stated that a referendum is likely to take place as early as September 2016 so it is imperative that the Irish people are made aware of the disastrous implications this could have for our island as a whole.
"I have been consistent in raising the implications of a BREXIT for Ireland, with the possible re-emergence of border controls and the particular adverse effects it would have on the economy, trade, agriculture and infrastructural development across the island. Ths is not to mention the impact it would have for the hundreds of community and social projects that depend on EU funding for their existence."
She added that the repeal of the Human Rights Act is something that many people overlook when we discuss BREXIT.
The GUE/NGL European Parliament Group commissioned two top civil liberties law firms – Doughty Street Chambers and KRW Law – to provide legal opinions on the effects the repeal of the Human Rights Act would have on citizens in the North of Ireland. Their findings will be presented to the conference. 
Doughty Street Chambers ("probably the largest and most wide-ranging civil liberties legal practice in the world") have offices across England and at The Hague. The renowned Belfast KRW Law (formerly Kevin Winters Solicitors) are "Ireland's leading human rights and defence lawyers".
The conference, 'BREXIT: Rights & Wrongs' takes place in the Balmoral Hotel, Belfast, on Friday 29 January. 
Contact: [email protected]
EU Investment Court scheme likely to need Irish referendum, says Matt Carthy MEP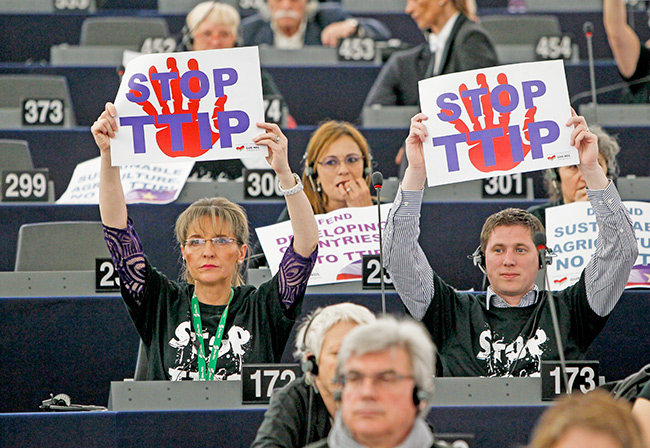 A MOVE by the EU Commission in the ongoing EU-US trade deal (TTIP) negotiations might need to be ratified by a referendum of the Irish people, posing a huge difficulty for proponents of the deal which has attracted unprecedented opposition across Europe, according to Sinn Féin MEP Matt Carthy.
Matt has confirmed that he has commissioned formal legal opinion on the constitutionality of the European Investment Court proposed by the EU Commission.
The Investment Court has been proposed in response to resistance to the inclusion of an Investor State Dispute Settlement (ISDS) mechanism within Transatlantic Trade and Investment Partnership Agreement (TTIP).
Preliminary legal opinion, however, suggests that such a court would contravene the Irish Constitution and therefore require a referendum.
Matt Carthy MEP said:
"The greatest cause of concern across the EU regarding TTIP is the inclusion of an Investor State Dispute Settlement (ISDS) mechanism. Basically, this means that there would be provision – denied to everyone else – for corporations to sue sovereign governments who implement measures that impact on profit-making potential.  
"In an effort to minimise the huge levels of opposition the European Commission has tried to repackage ISDS and in this vein it recently proposed a new European Investment Court.
"The creation of this new court would open taxpayers in Ireland up to liabilities not previously imagined. It would not engage with national courts, it would limit the ability of the Irish Government to legislate freely when it comes to public services and, consequently, it would have massive implications for the Irish Constitution. 
"I have now commissioned formal legal opinion from a senior counsel and I expect that it will confirm that an Irish referendum will be required if the Commission proceeds as it has indicated. For TTIP proponents this is a nightmare scenario as they have gone to great lengths to limit debate and deny public access to most documentation relating to the deal.
"Such a scenario, however, could only be a good thing for the democratic process and for citizen engagement. With the prospects of a referendum, proponents of TTIP will no longer be able to hide from this debate or continue to deny the very real threats that TTIP presents to the rights of workers and communities or to the future of the Irish economy."
Twelfth trial postponement in Egypt for Dubliner – MEP renews release call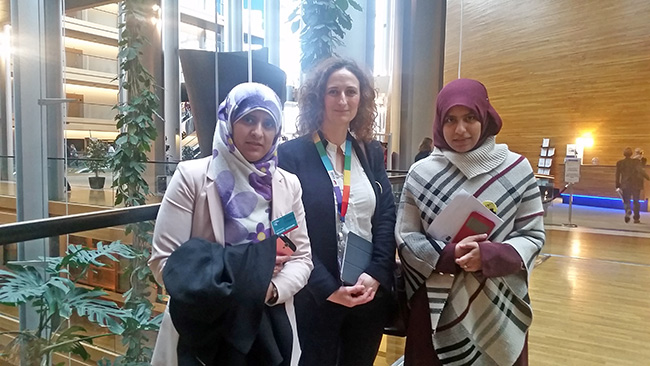 • Lynn Boylan MEP with two of Ibrahim Halawa's sisters at the European Parliament
DUBLIN MEP Lynn Boylan has expressed her disappointment at yet another postponement of Irish citizen Ibrahim Halawa's trial in Egypt – the twelfth postponement in less than three years. 
Lynn once again said the Irish Government must call for Ibrahim's immediate and unconditional release.
The young Dubliner is due to appear again in court in Cairo on 6 March and, if convicted, could face the death penalty.
Amnesty International Ireland has declared him a "Prisoner of Conscience". Amnesty says he is being held in a prison in Egypt "solely for peacefully exercising his right to freedom of expression and assembly".
Now aged 20, Ibrahim Halawa was 17 when he was detained in Cairo in August 2013 during an illegal march and demonstration protesting an Egyptian Army coup that ousted elected President Mohamed Morsi and suspended the Egyptian Constitution.
Ibrahim and 493 other people are on trial for their alleged role in violence during protests that took place on 16 and 17 August 2013 in central Cairo. At least 97 people died in the protests – "most as a result of a reckless use of force by the security forces", Amnesty says.
One of the foremost campaigners for justice for Ibrahim, Lynn Boylan said:
"The very public adoption of the resolution that I brought to the European Parliament in December has already seen discussions on Egyptian television about how it might be easier to release Halawa than to have such negative attention focused on Egypt.
"The European Parliament resolution calling for Halawa's immediate release was pursued and all Irish MEPs put political differences aside and agreed to my request that they lobby within their own European political groups.
"The resolution, which made it on to the December parliament agenda, received a resounding endorsement with 566 MEPs voting in favour and only 11 opposing.
"It sent a very clear and public message to the Egyptian authorities that they were in breach of their human rights obligations under Egyptian and international law.
"It is quite clear that Ibrahim is not going to get a fair trial. His family are desperately worried about him.
"The Irish Government should call for Ibrahim's immediate and unconditional release."
Lip service to the arts in 1916 centenary year is 'shameful', says  European Committee on Culture MEP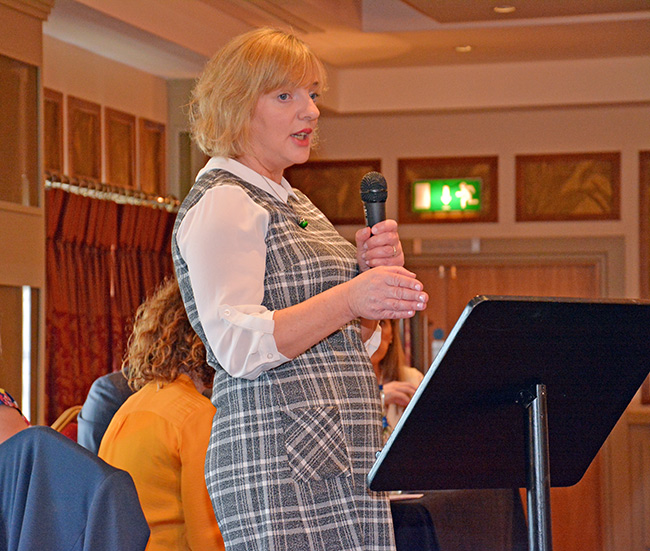 REVELATIONS that Irish traditional musicians face a 41% cut to their funding has prompted Sinn Féin MEP Liadh Ní Riada (European Committee on Culture and Education) to call for more backing for traditional music.
Liadh's father, Seán Ó Riada, has been described in an Irish Daily Mail interview with her as "Ireland's greatest-ever composer and the man who was the single most influential figure behind the revial of Irish traditional music in the 1960s".
Liadh said that while she welcomes the Irish Arts Council allocating additional funding from previous years, "it's shameful that traditional musicians have been dealt such a huge blow by a 41% cut in their funding".
"This isn't about the Arts Council, who are already stretched," the Sinn Féin MEP insisted, "it's about the Government's continuous lip service to the sector.
"Year after year we see huge cuts inflicted on the industry as consecutive Arts, Heritage & Gaeltacht Ministers sit back and allow our heritage to be sliced. 
"Whilst the arts sector is an economic commodity, it also has a huge cultural importance with regards to identity and expression of culture."
Reminding legislators and funding agencies that, across the sector, artists are struggling to make a living, especially those that are involved in the traditional arts, she pointed to the symbolism of cuts to traditional arts in Ireland in the 1916 centenary year.
In brief
'European Central Bank – Europe's Unelected Government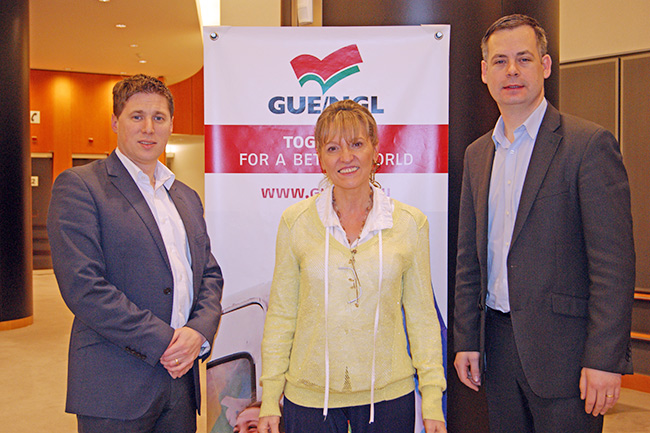 • MEPs Matt Carthy and Martina Anderson with Pearse Doherty TD at the ECB conference 
"THE ECB – Europe's Unelected Government" was the title of a conference co-hosted in the European Parliament last month by Sinn Féin MEP Matt Carthy about the power and the activities of the European Central Bank.
The event was also addressed by Pearse Doherty TD and by Irish political economist Conor McCabe, author of Sins of the Father: The decisions that shaped the Irish economy.
Expert speakers from Greece, Germany, Spain, Scotland and Portugal also addressed the conference which was organised jointly by left-wing party representatives on the Parliament's Economic & Monetary Affairs Committee.
Matt Carthy has frequently ECB President Mario Draghi on the ECB's negative role in the Irish banking crisis.
"Let us not forget that, according to official Eurostat statistics, Ireland, which comprises less than 1% of Europe's population, shouldered 43% of the net cost of the European banking crisis across all 28 EU member states.
"Sinn Féin has continuously called for a reform of the ECB and following this event we have new proposals for measures to take these efforts forward."
Youth skills and unemployment report
AT THIS MONTH'S Strasbourg session, Lynn Boylan MEP was the GUE/NGL negotiator for the Skills Policies for Fighting Youth Unemployment report.
Pointing out that youth unemployment in the EU remains higher than 20% and more than double the general unemployment rate, Lynn Boylan said we need to acknowledge that without an end to austerity, and the introduction of job-creation policies, the youth unemployment crisis will not be resolved.
"Our GUE/NGL group has negotiated many improvements to this report, ensuring it calls for the maximum input from young people in implementing the Youth Employment Initiative, for an end to apprentice fees, and for an end to abusive and exploitative practices in internships and traineeships."
MEPs to visit Palestine
MEP Martina Anderson, Chair of the Delegation of Relations with Palestine, is to lead delegation of cross-party MEPs to Palestine in week beginning 8 February.
"We will be meeting with Palestinian representatives and groups, viewing the situation on the ground and strategising for the year ahead," Martina said.
Respecting Linguistic Diversity
LIADH NÍ RIADA MEP is to host a language hearing entitled "Respecting Linguistic Diversity? Language Discrimination in the EU" on Tuesday 1 March in the European Parliament in Brussels.
Speaking ahead of the hearing, Ms Ní Riada said,
"Language discrimination across the EU is a major problem and the purpose of this hearing is to highlight this and propose ways and means of how we can go forward to tackle this inequality," Liadh said.