1 February 2016 Edition
Impressive series of events for 1916 centenary year
1916 CENTENARY EVENTS are already underway with impressive programmes already in place in Dublin, Belfast, Derry and Kerry and many locally-accessible events across the 32 Counties, including exhibitions, films, drama, parades, talks, concerts and music.
National events are listed here.
• In Belfast, throughout February and on International Women's Day on 8 March, there will be discussion groups and events on the theme 'Women in the Struggle'. Also in March is an exhibition in south Belfast on the Corr sisters, who reported to James Connolly in Liberty Hall despite the Volunteers mobilisation order being countermanded. Several weekends from April on are given over to individual figures in the Rising, including Charlie Monahan, James Connolly, Winifred Carney and Seán Mac Diarmada
There is a Centenary Easter Parade on Sunday 27 March, an Irish Volunteers Re-enactment with a march from Hamill Street to MacRory Park on Sunday 5 June.
A 1916-2016 Centenary Dinner will be held in the Waterfront Hall on Saturday 14 May with over a thousand guests, including relatives of those executed in 1916.
There's a host of local events across the city as well.
The full programme can be obtained by visiting the 1916-2016 Centenary Shop, 189 Falls Road, or through Facebook Rising2016Belfast or Twitter @Belfast1916.
• Joe Dunne reads the Proclamation of the Irish Republic on the steps of Derry's Guildhall at the launch of the Derry Centenary Commemoration programme
• In Derry, the schedule begins on 2 February with '1916: Visionaries and their Words', book launch: Reflections of Prison Struggle 1976-1981 (1 March), International Women's Day (8 March), lecture: James Connolly and his Legacy (11 March), Easter Rising Exhibition launch at Tower Museum (14 March), conference: Uniting Ireland (Millennium Forum, 21 March, 7:30pm), Easter Commemorations (21 March), Macalla 1916 with Comhaltas Ceoltóirí Éireann, a specially-commissioned work with a 50-piece orchestra entitled Ireland Easter Rising – An Echo of the Past, A Vision of the Future (Millennium Forum, 3 April, 8pm), Hunger Strike Commemoration March (1 May), bilingual exhibition The Revival of the Irsih Language and the Easter Rising (May), pageant: Dawning of the Day (Guildhall Square, 12 May), 1916 Film Festival (Nerve Centre and other venues, 1-4 June), Annual Derry Volunteers Commemoration (26 June), Derry Volunteers Commemorative Annual Dinner Dance (11 November).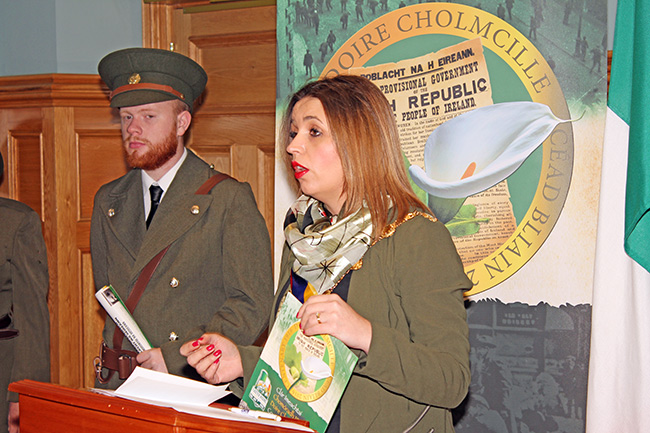 • Mayor of Derry Elisha McCallion launches the Derry Centenary Commemoration programme for the Easter Rising – see page 8 for more details
Derry is also running a Youth Programme and a number of events are being held at the Milennium Forum and the Nerve Centre as well as local initiatives across the city.
Contact: Derry Twitter @1916_easter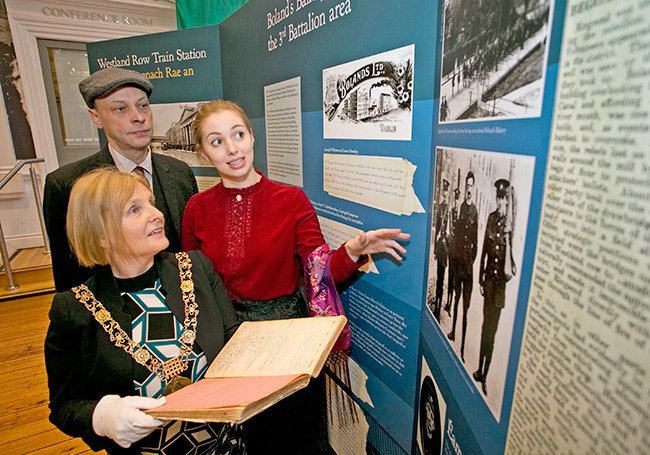 • Dublin Sinn Féin Ard Mhéara Críona Ní Dhálaigh opens a specially commissioned exhibition entitled 'Citizens in Conflict, Dublin 1916' at Dublin City Library. Pictured with the Mayor are actors James Barry and Seana Kerslake dressed in period costumes
• A Dublin City Council bilingual multimedia exhibition, Citizens in Conflict 1916 ("gives special place to the civilians who were killed during the Rising, listing all 257, including 40 children) is on view at Dublin City Library and Archive, Pearse Street, until the end of June. It includes eyewitness accounts of the Rising and other unique sources such as the Dublin Fire Brigade logbook for Easter Week 1916 from Tara Street station.
•The Dún Laoghaire/Rathdown 1916 Rising Committee in South County Dublin and DLR County Council are hosting a series of lectures on Thursdays (7pm to 9pm) in February and March at the DLR Lexicon, Moran Park, Dún Laoghaire on 1916 and Ireland's Revolutionary Tradition (4 February), Patrick Moran, Irish Volunteer and Trade Unionist (11 February), Sherwood Foresters: From Dún Laoghaire to the Battle of Mount Street (18 February), Roger Casement (25 February), Captain Jack White (3 March), Michael Mallin (10 March), Major John MacBride (24 March).