1 February 2016 Edition
Martin McGuinness – Back home in Derry
Sinn Féin deputy First Minister to fight for Foyle Assembly seat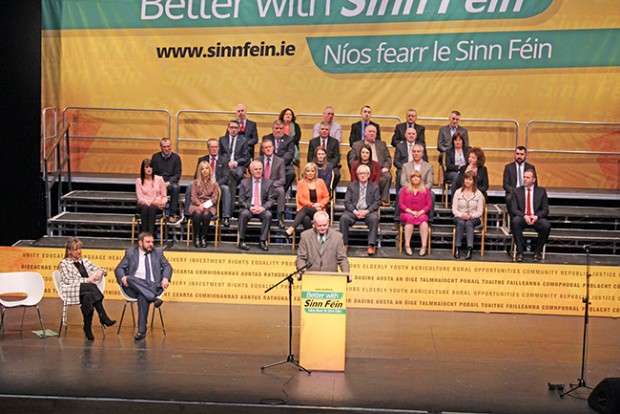 The Sinn Féin deputy First Minister said he will be seeking to join sitting Foyle MLAs Maeve McLaughlin and Raymond McCartney on the ballot paper in Derry
MARTIN McGUINNESS has confirmed that he will seek the Sinn Féin nomination to contest the upcoming Assembly election in the Foyle constituency. The election is likely to happen in May.
The dramatic move was officially announced on Saturday 23 January at the Sinn Féin Cúige Uladh AGM in the Millennium Forum in Derry.
After mounting speculation, the Sinn Féin deputy First Minister declared that he will be seeking to join sitting Foyle MLAs Maeve McLaughlin and Raymond McCartney on the ballot paper in Derry.
The move will see Martin McGuinness move from his Assembly seat in Mid Ulster, which he has held since 1998, to seek a seat in his native city.
Speaking in the Millennium Forum – the venue of last year's Sinn Féin Ard Fheis – Martin McGuinness said:
"I would like to take this occasion to confirm that I will indeed be seeking the nomination to contest that election in the Foyle constituency.
"I have chosen to do so because I believe I can supplement the fantastic work that Maeve McLaughlin and Raymond McCartney have already been doing."
The deputy First Minister also said he wants to build on the work already carried out by Sinn Féin in the city.
"I want to see this city and region thriving and making the most of the massive potential that we have here.
"The best way to achieve that is a stronger Sinn Féin Assembly team in Foyle.
"Team Sinn Féin is better for Derry, and if I am successful in seeking the party nomination I firmly believe that I can help us take three seats in this constituency," he said.
• Deputy Mayor of Armagh Councillor Catherine Seeley chaired the Sinn Féin Cúige Uladh AGM
He also said it had been a honour to serve as Sinn Féin MLA in Mid Ulster.
"I leave Mid Ulster with a heavy heart but also safe in the knowledge that Sinn Féin has never been stronger there.
"I am privileged to have played a part in that growth and the benefits that such strong Sinn Féin leadership has brought to the constituency."
The senior Sinn Féin figure also told the large crowd at the Millennium Forum that the next few months will be crucial with two major elections on the island.
"This will be a huge year for our party. The New Ireland has never been closer.
"The vision set out a century ago by the men and women of 1916 has never been more realisable.
"It is their vision of a New Republic – founded on civil and religious liberty, social justice, equality and fairness – which still guides us as republicans today.
"We are the people – the only people – who can turn the vision of 1916 into a reality."