5 January 2016 Edition
Major Mansion House rally to kickstart a momentous year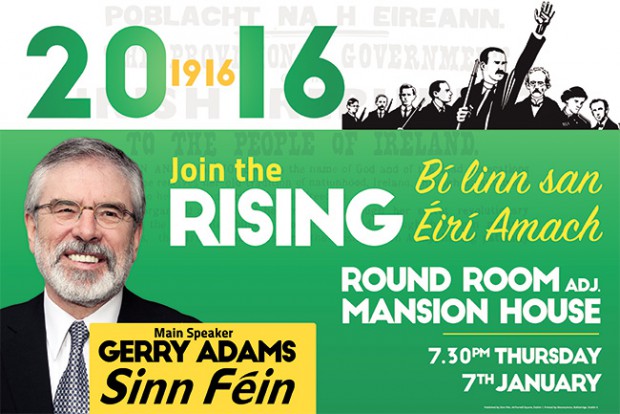 SINN FÉIN will begin its year of commemorative events to mark the centenary of the Easter Rising with a major rally in the Mansion House in Dublin on 7 January. It was in the Mansion House in 1918 that the first democratically-elected Irish parliament, Dáil Éireann, met and pledged its allegiance to the Republic proclaimed in Easter 1916. 
Sinn Féin has told An Phoblacht that the event is the first of a momentous year which marks the 100th anniversary of the Easter Rising and will also include a general election in which Sinn Féin want to emerge as the largest party as well as Assembly elections in the North.
Elected representatives from all of Ireland's 32 counties will be in attendance at the event which will include music and drama as Gerry Adams, who will give a keynote speech at the event, said:
"We are asking you to be there. We are asking you not only to remember but also to recommit yourself to completing the unfinished business of the men and women of 1916 and subsequent generations by completing the only monument fitting to them – the Irish Republic."
The rally will take place on Thursday 7 January, 7:30pm, at The Round Room in the Mansion House, Dawson Street, Dublin 2.