2 November 2015 Edition
Clear potential for changing Ireland
Building an Alternative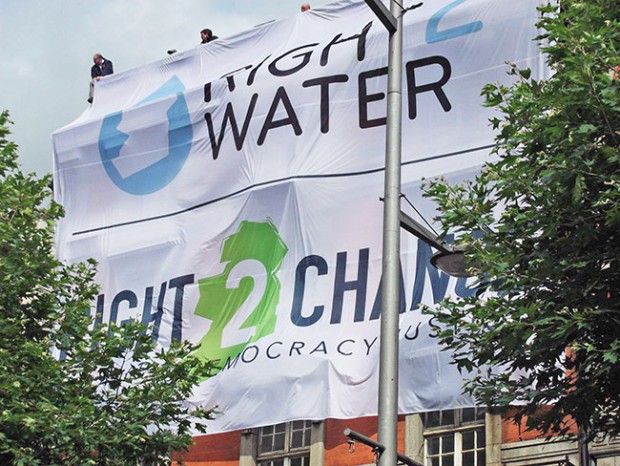 Sinn Féin and the smaller Left parties and Independents will have to show that they can work together with a coherent and (as much as possible) unified alternative policy programme for government and a common vision and narrative for changing Ireland
DR RORY HEARNE is Senior Policy Analyst at TASC (Ireland's independent progressive think tank) and author 
BEHIND the mask of recovery lies a scarred society which is the legacy of austerity and the bailouts. This is most visible in rising rates of food poverty, over 90,000 on waiting lists for social housing, 1,500 homeless children, patients on hospital trolleys, families torn apart by emigration and, most shamefully, child poverty has doubled to almost 12% – that's 138,000 children. All this while 40% of all children, 63% of lone parents and 20% of all workers are living in deprivation.
Meanwhile, the wealthiest 20% in Ireland own about 70% of the total wealth and their wealth has increased significantly in recent years. Government policy as set out for the coming years will worsen things further as they cut taxes on higher incomes and corporations and restrict spending on public services and infrastructure.
Our democracy has also been severely undermined. 
The Irish people were excluded from all the major decisions taken during austerity such as the bank bailouts, paying back the bondholders, the IMF/EU/ECB bailout, NAMA, and Irish Water, and annual Budgetary decisions of what should be cut and who should be taxed. 
Promises of political reform that would ensure government was more accountable were never fulfilled.
The challenge is how that change of values and institutions can be brought about. Most important is involving the majority of Irish people in a broad inclusive movement to bring about a real Republic based on the values of social justice, co-operation, solidarity and equality. 
Sinn Féin, Left political parties, NGOs, trade unions, community groups and ordinary people across the country have an equally important role to play in this.
A fundamental shift is underway as the right-wing parties of Fianna Fáil and Fine Gael no longer have majority support. This presents the possibility for a fundamental transformation of Ireland towards equality and social justice as people look for alternative politics.
However, with an approaching general election, the broad anti-austerity Left parties and Independents have only around 35% of the support in opinion polls (with Sinn Féin around 18% to 23%) as some of the anti-Establishment vote is going to Centre Right and ambiguous Independents such as the Independent Alliance. In the general election this would result in around 50 seats, which is well short of a majority necessary to form a government. 
There is clearly some serious thinking, analysis and new approaches required by the broad Left if it is to fulfil the potential of the current period for transformative change and achieve the support of the majority of the population.
To win a majority, Sinn Féin and the smaller Left parties and Independents will have to show that they can work together, would support each other in government and that there is a coherent and (as much as possible) unified alternative policy programme for government and a common vision and narrative for changing Ireland.
In the Right2Water and Right2Change movements, the Left parties, trade unions and independents have shown they can work together and there is broad agreement around key principles. It needs to be developed and communicated clearly that there is a coherent potential alternative government.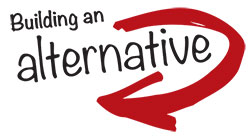 Much can be learned from new citizens-led political movements across Europe and Latin America.  The likes of Podemos in Spain argue for the creation of a populist movement around key policies and concerns that can link all the groups that oppose the current establishment to achieve the values of democracy, equality and social justice. 
If we are to convince a majority then the Left must speak the language of the majority and communicate our ideas in ways they can identify with. 
Rather than stating we want a "Government of the Left" it might be more inclusive and successful if we state that we are for a "Citizens' Government" of equality and social justice. Furthermore, it might be strategic for Sinn Féin and Right2Change to achieve a social majority by creating an even broader "Changing Ireland" alliance that could also include civil society groups, NGOs, academics, local community groups, and social enterprises and small business groups interested in this agenda.   
Processes of deepening citizen empowerment and democracy could be helped further in the run-up to the election by organising  "Citizens' Constituency Forums" in cities, towns and villages where ordinary citizens, the Left parties and Independents, trade unions, communities and NGOs come together to outline their priorities for the election. Any Programme for Government could then go back to these Citizens' Constituency Forums before being agreed upon. 
After the election, Sinn Féin, the Social Democrats and other Left Independents must avoid the repeated fundamental mistake made by the Labour Party – to go into government as a minority partner with a majority right-wing partner like Fianna Fáil or Fine Gael.
It is no longer the case for the Left that there is no alternative but to form a government with the Establishment parties. There is a clear potential for the broadly-defined Left and progressives to have a majority and form a government. 
It might not be in the coming election but such is the depth of change in the views of a large section of the Irish people this is a realistic possibility in the near future. It is what the Left and all progressives should be aiming for.