2 November 2015 Edition
South-East needs Sinn Féin voice
Senator David Cullinane Q&A with Mark Moloney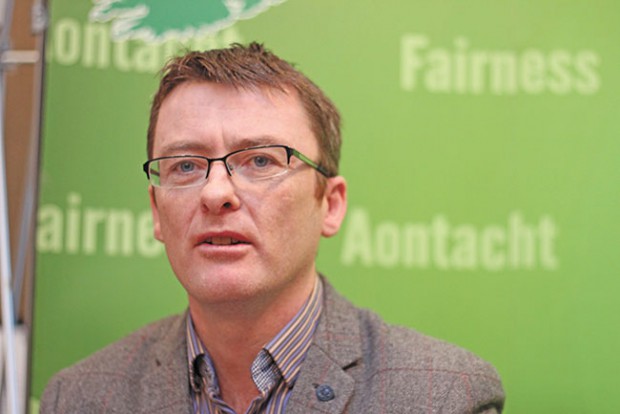 Sinn Féin wants a progressive alternative to this Government – a fair economy which creates wealth but uses that wealth to provide citizens with the services, supports and income they need
There's been a big increase in support for Sinn Féin in the South-East – what are the main issues people are talking about in the region?
Like a lot of regions, the South-East has been left-behind and abandoned by this Fine Gael and Labour Government. There's a two-tier recovery and the South-East still has the highest unemployment rate in the state – it's 13.5% here, whereas in the rest of the state it's 9%. Youth unemployment is at its highest in places like Waterford City. There's been very few new start-ups across the South-East as a whole – we haven't seen the type of investment and development that's necessary if we want to see a fair recovery. 
It doesn't have to be this way. Things will only be fairer if we elect strong Sinn Féin TDs across the region and that's why we need to see Johnny Mythen in Wexford, Kathleen Funchion in Carlow/Kilkenny, myself in Waterford, and others so we have a team of Sinn Féin TDs representing the region and for the betterment of all of the people here.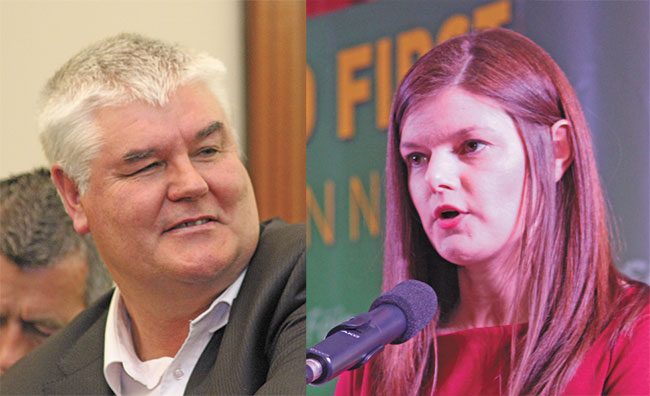 • Sinn Féin candidates – Johnny Mythen,Wexford and Kathleen Funchion, Carlow/Kilkenny
There's been incredibly strong opposition to the introduction of Water Charges in Waterford. What do you think is contributing to that?
If you look at the Water Charges movement, it's a grassroots movement against what people see as an unfair charge. But the movement is about more than just that. 
Look at Waterford City where the hospital has been stripped of capacity, beds gone, surgical theatres gone – we have a Director of Emergency Services saying we have "chaotic scenes" in the A&E. We even had ambulances being turned away because of overcrowding. That's the reality of austerity here. People in this area really are feeling the effects of austerity and cuts – from elderly people, particularly in rural areas, who have lost their telephone allowance, to carers who lost their allowances. It's those cruel cuts and high levels of unemployment and a lack of real investment which is obviously making people angry. 
Austerity and its impacts can be seen in much clearer terms in places like here. That's why you're seeing it manifested on the streets, whether that is in the thousands who marched in Waterford calling for our health services to be protected or in opposition to Water Charges in local communities across the region. And I must say that the Garda response in some of these areas has been totally disproprtionate. In all of these communities, Sinn Féin has been on the ground, giving leadership and clearly articulating a better way forward.
In recent weeks there has been mixed messages from various other parties on the Left. Some saying they are happy to work with Sinn Féin, others attacking the party. What is your take on this?
Whatever other people on the Left say is up to them. I've always taken the view that my priority is to challenge the policies of Fianna Fáil and Fine Gael. They are the people who have been in Government, along with Labour. They are the people who have presided over decades of unfairness, bad governance and corruption in our political system, and who have represented the privileged class and the elite. 
I appeal to all of those who claim to represent the interests of ordinary people in this state to work together in a much more cohesive way. That is what the Right2Water and Right2Change movement has been about. 
I'm not going to get into a tit-for-tat exchange with some of those criticising us on the Left. What Sinn Féin is focused on is leading an alternative Government. And let's be clear, there will be no alternative progressive, Left Government without Sinn Féin. So I would say to all those who claim to be on the Left: if you want to see a real alternative, an end to the housing crisis, universal healthcare, decent work for decent pay and a fairer society then you have to work with people who want the same. You cannot exclude Sinn Féin or engage in sectarian politics. You have to be part of building an alternative. And if you do not want to do that then that's your own decision but Sinn Féin will work with all those who want to provide a progressive alternative to this Government.
We don't want to be here in 12 months' or five years' time begging a Fine Gael or Fianna Fáil government to deliver the rights and services that people need. That's not what we're about. We want to be leading a Left government and one that does what, in my view, the vast majority of people want: providing a decent standard of living and running a fair economy which creates wealth but uses that wealth to provide citizens with the services, supports and income they need.