2 November 2015 Edition
Fine Gael/Labour Budget 'straight from the Fianna Fáil playbook'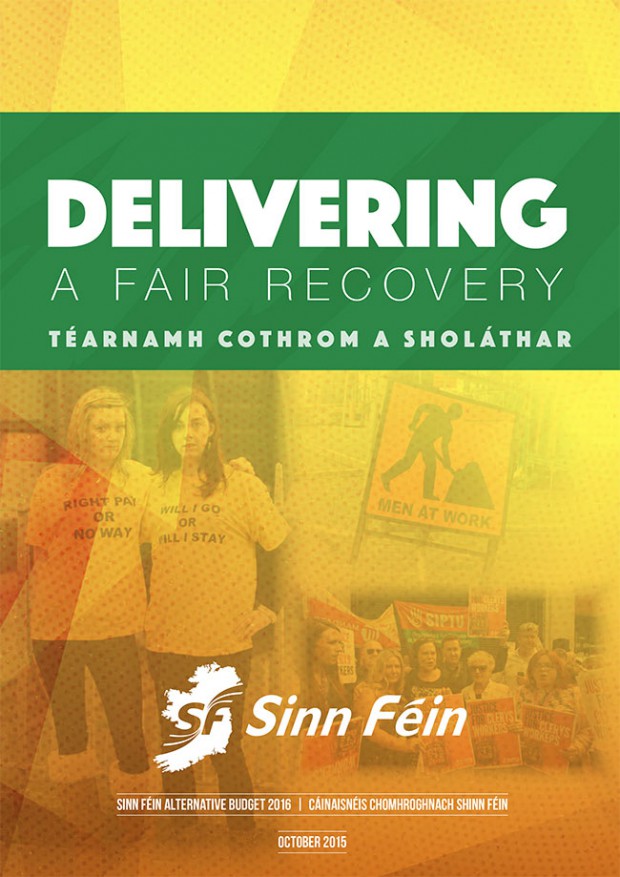 Sinn Féin has set out a detailed and ambitious political alternative that puts investment centre-stage – investment in services, in infrastructure, and in small businesses. All of this can be delivered through fair and sustainable taxation, Pearse Doherty tells the Dáil
BUDGET 2016 – unveiled by the Fine Gael/Labour Government in the Dáil on 13 October  – has been described by Sinn Féin as "straight out of the Fianna Fáil handbook – how to bribe people with their own money".
After Finance Minister Michael Noonan and Public Expenditure Minister Brendan Howlin had jointly delivered Budget 2016 on behalf of Fine Gael and Labour respectiveley, Sinn Féin deputy leader Mary Lou McDonald said it was worth taking stock of their record in power.
"The picture that emerges is one worthy of any Tory-minded administration anywhere in the world," the Dublin Central TD said.
"Those that have borne the brunt of what are euphemistically referred to as 'economic corrections', are families and workers on low and middle incomes, people relying on social protection and citizens relying on public services.  
"The big winners have been the wealthiest sections of society, those that believe in low wage or poverty wage competition, and those that wish to cannibalise public services for private gain.  
"Far from offering protection, your government has exposed families and workers to an obscene jamboree of cutbacks, waiting lists and broken promises. Living from day to day, week to week, month to month just about making ends meet. 
"You promised a democratic revolution but you have presided over a series of democratic somersaults and contradictions that leave this economy and our citizens damaged and vulnerable."
Pearse Doherty, Sinn Féin's Finance spokesperson, denounced it as a Budget "for the elites, for multinationals and for high-earners". He said it is anti-sustainable growth, it is anti-investment, and it is anti-public services.
He excoriated the Government, and in particular Labour for failing to live up to its election promises, reminding them of their "Every Little Hurt" election ads, Pearse Doherty said:
"In the closing days of the 2011 election, Labour strategists reduced their entire campaign to a single message – elect us and in government we'll soften the sharpest edges of Fine Gael.
"Far from putting manners on your coalition partners, ye have become more Fine Gael than Fine Gael themselves. 
"That is until it was your own head on the block – and lo and behold your glorious leader, Labour's very own Countess of Grantham," he said in a jibe at Joan Burton, "is throwing her weight around like there is no tomorrow.
"It appears your demands most moderate are, you only want to save your own hides."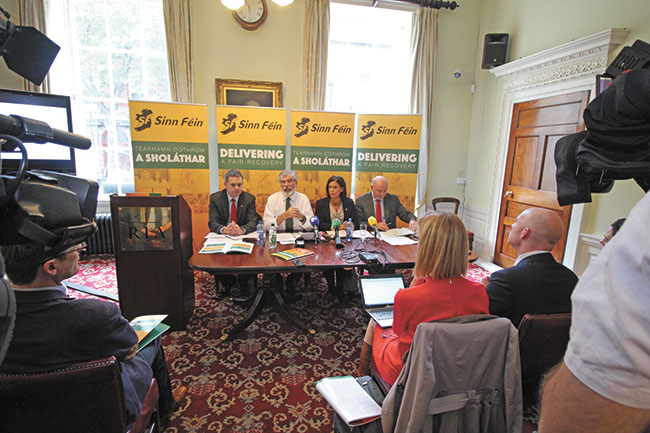 • Pearse Doherty, Gerry Adams, Mary Lou McDonald and Caoimhghín Ó Caoláin launch Sinn Féin's Alternative Budget in Dublin
Addressing the Fine Gael/Labour collective, he said: 
"Today you tell us that your ambition for frontline services is that they make do with what they have, and you stand over your policy to starve health, education and childcare of the resources necessary to deliver public services we can be proud of, and that are conducive to growth.
"Today's Budget holds no resemblance to the Proclamation or to the Democratic Programme.
"You have not delivered equal rights and equal opportunities to all Ireland's citizens. In fact, you have resolved to only pursue the happiness and prosperity of the top 14% – stuffing €181.9million into their pockets through USC reductions while throwing a few crumbs from the table to everyone else."
This is not the future that the women and men of 1916 envisioned for their country, the Donegal TD said.
"Today's Budget offered this Government a real opportunity to finally break from the failed politics of the last 20 years; instead you have copper-fastened it."
Detailing where the Government had made the wrong choices and explaining the choices that Sinn Féin would have made to benefit the majority, Pearse Doherty said:
"Let us be very clear about who benefits in the main from this Budget.  
"Fifty per cent of workers in Ireland earn €28,500.
"So when you tell us that your Budget seeks to alleviate the taxation pressure on salaries of around €70,000, what you are in fact telling the people is that this Budget is targeted towards the top 14% of earners.
"There is a deep inequity in Ireland's taxation system.
"€181.9million of tax reduction are going to the top 14% of earners.
"The bottom 10% of earners spend 30% of their income on direct and indirect taxes. The top 10% spend 29% of their income on direct and indirect taxes.
"This is the outcome of your previous Budgets where you moved taxes on income to flat indirect regressive taxes.
"It is because of this deep inequity that Sinn Féin has committed to ending the Water Charges and abolishing the Family Home Tax. 
"Tá ceann amháin de na rátaí pá is isle againn anseo in Éirinn sa domhan forbatha, agus tá tearcfhostaíochta agus neamhshláine post le feiceáil go forleathan.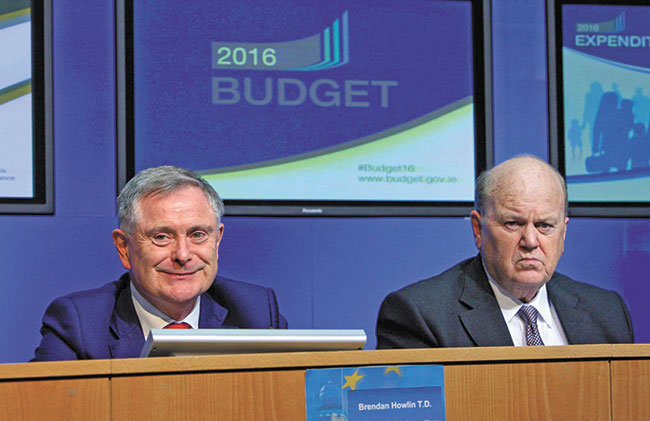 • Brendan Howlin's and Michael Noonan's Budget benefited the most-well-off in society
"The best you could rustle up for the low-paid is a meagre increase of 50 cent in the Minimum Wage and you remain mute on the need for a Living Wage
"In real terms there has been no increase in the Minimum Wage since 2007.
"Sinn Féin would increase the Minimum Wage by €1 per hour (bringing a full-time Minimum Wage up to €19,572 a year) and we would increase employee and employer PRSI bands in line with this increase. 
"We support the introduction of the Living Wage and as the largest employer the state should lead the way. We have provided for the introduction of a Living Wage across the Civil Service, and want to see this extended across the public sector as well as all commercial and non-commercial semi-state bodies.
"It is a nonsense for anyone on the Government benches to claim that this Budget is a Budget with families and small businesses in mind. 
"It is Budget for the elites, for multinationals and for high-earners. It is anti-sustainable growth, it is anti-investment, and it is anti-public services." 
He said that Sinn Féin has set out a very different vision to the Government parties and Fianna Fáil.
"We want to deliver a fair recovery – one that invests in Ireland's future for the long-term and for the benefit of all.
"We will deliver a recovery that ensures all children experience equality of opportunity, be it in their education, in their access to supports and services and in their career choices as they pass into adulthood. 
"We want to grow an economy that is rooted in fair play. Where workers earn a decent wage and small businesses can flourish and expand.
"This cannot happen by chance, and without a stable and fair tax base we cannot provide the necessary investments in education, childcare, health and infrastructure to secure stability and sustainable growth."
Pearse Doherty ended his passionate assault on the Fine Gael/Government's record and policies with the words:
"Thousands of families have no roof over their heads, homeless people are literally dying on our streets, the health system is on the verge of collapse, child poverty is on the rise and a Labour coalition government has managed to deepen inequality on a scale not seen for decades.
"Sinn Féin has set out a detailed and ambitious political alternative that puts investment centre-stage – investment in services, in infrastructure, and in small businesses. All of this can be delivered through fair and sustainable taxation. 
"We hold dear the values and aspirations of the 1916 leaders and we are committed to seeing them delivered upon in 2016."