2 November 2015 Edition
Eager for election and battle of ideas
Sinn Féin policy conference faces challenges of power
'In the battle of ideas, Sinn Féin is proposing policy choices for citizens that are rooted in our republican principles of fairness and equality and inclusiveness' – Sinn Féin leader Gerry Adams TD
IN THE WEEK that Sinn Féin TDs launched their Alternative Budget, the party's hard-working Policy Unit hosted one of the most interesting conferences on developing national policy on housing, healthcare, childcare and the way back from austerity.
As Gerry Adams left Sinn Féin Head Office to walk across O'Connell Street to the conference venue at the Gresham Hotel, news was unfolding of the Carrickmines fire tragedy in which ten people perished. It was an event he insisted on focusing on in RTÉ and TG4 morning interviews about the Sinn Féin event.
Headings for the conference sessions on Saturday 10 October focused on four key policy areas for Sinn Féin:
»Ending austerity and delivering a fair recovery
»Housing Ireland
»Policy Priorities on the Road to Universal Healthcare
»Putting Children First – Sinn Féin Childcare Policy
Policy development by its nature cannot stand still and the 300-plus activists and policy makers from all over Ireland respectfuly listened to challenges by expert speakers who differed with some small elements of Sinn Féin policy but generally recognised that this was a progressive, growing party that will play a significant role in government in Ireland, in the South as well as the North.
Those expert speakers included:-
»Michael Taft, Research Officer with Unite the Union, and Aidan Gough, Strategy and Policy Director of InterTradeIreland;
»Simon Brooke from the Clúid Housing Association;
»Sara Burke, health policy analyst, Irish Independent columnist, RTÉ commentator, and author of Irish Apartheid: Healthcare Inequality in Ireland;
»Siobhán Fitzpatrick, head of the Early Years organisation, and Eimear Carron who sits on the Longford County Childcare Committee.
Each section was opened by and heard from Sinn Féin Policy Unit specialists Sinéad Ní Bhroin (Fair Recovery), Joanne Spain (Housing), Miriam Murphy (Health), and Áine McCabe (Childcare).
Opening the day-long discussions amidst ongoing speculation about the date of the Dáil general election, Sinn Féin President Gerry Adams said that it wasn't surprising that the Taoiseach wasn't being straight with his Labour Party partners because "he wasn't straight with the electorate and has broken every commitment he made after his government was formed".
He continued:
"Michael McGrath of Fianna Fáil was right when he said that the Government had adopted Fianna Fáil policy on the economy. What he failed to say was they also adopted Fianna Fáil policy on health and have sustained the chaos in our health services, as well as in housing, emigration and education.
"Sinn Féin is presenting thoughtful, costed and effective alternative policies to tackle the issues this Fine Gael/Labour Government has failed to resolve and in many instances has made worse.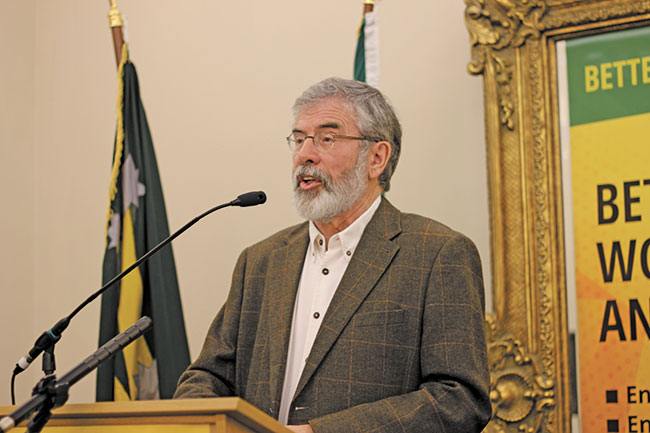 • Sinn Féin leader Gerry Adams TD
"In the battle of ideas, Sinn Féin is proposing policy choices for citizens that are rooted in our republican principles of fairness and equality and inclusiveness and which are drawn from the Proclamation – the mission statement of modern Irish republicanism.
"In this election republicans should be outlining what kind of society we wish to build and what a real recovery should look like.
"Tá muintir na tíre seo ag iarraidh díospóireacht ceart faoin pholaitíocht.
"That is what this conference is really all about.
"At its core, politics is about choices and the interests that you seek to represent.
"Fine Gael, Fianna Fáil and, to their shame, the Irish Labour Party are representing the interests of the privileged few in Irish society.
"Their policies reflect this. 
"Sinn Féin, on the other hand, stands with families, with workers and indeed with those who may be better off but who believe Ireland can and should do better as a society.
"Creideann muid go smior go gcaithfidh an geilleagar freastal ar na daoine agus ní a mhalairt.
"We believe that citizens are entitled to secure jobs with decent pay and conditions; adequate housing and quality public services.
"That belief and that vision is what must guide the important task of policy development."
Sinn Féin believes that cronyism and greed can be replaced with fairness and hope, Gerry Adams said.
"Sinn Fein wants to be in government to improve the quality of life for families.
"We want to deliver progress on jobs, housing and health. 
"Sinn Féin is not a debating society. We are very, very serious about achieving these objectives. To do that means being in government with a programme for government which advances this agenda. Before we get to that point however, we must have a coherent, realistic and robust policy platform."
And laying down the gauntlet to the Taoiseach to "stop the game playing", Gerry Adams said he should call an election now.
"Sinn Féin is ready.
"We are confident that our policies will stand up to scrutiny.
"We are eager for a genuine battle of ideas."