2 November 2015 Edition
Declare a housing emergency now
A government which gave billions to rescue profligate banks and save the whole European banking system should start giving priority to its own citizens in need of housing
OVER A YEAR AGO, the veteran housing campaigner Fr Peter McVerry stated that he had never seen the situation as bad as it was then. "We are even, at this stage, beyond crisis," he said.
Since then, of course, the situation has got markedly worse and the "tsunami of homelessness" that he predicted then has come to pass as family after family find their homes repossessed or are forced out as rents go up while rent support stays below the amount needed.
By any standards, this is a crisis – a virulent social crisis which truly calls into question the whole basis of the state. After all, a state which cannot provide decent, affordable housing for its citizens cannot be called democratic, no matter how many elections it holds.
But, faced with the crisis, what has the Government done?
Various spokespersons, particularly Environment Minister Alan Kelly, have made eloquent speeches about it but very little tangible has actually happened.
The simple fact is that people need housing, social housing, and there is just not enough to meet that demand. But instead of building the houses needed, the Government is content to produce plans which, they hope, will incentivise the private sector to build them instead.
But the private sector builds houses for profit, not to meet social needs.
And the provision of social housing directly built by local authorities has all but disappeared, down from 67% of houses built in the 1960s to less than 3% now.
And the numbers on the social housing waiting lists continue to escalate, with over 130,000 families or individuals needing housing now.
In the meantime, recognising that building the homes needed would, with the best intentions, take many years, action is urgently needed to defend tenants' rights, and to protect renters from spiralling rent increases and unfair evictions.
While Alan Kelly again plucks the strings of his heart, he does nothing to bring in new protections for those renting.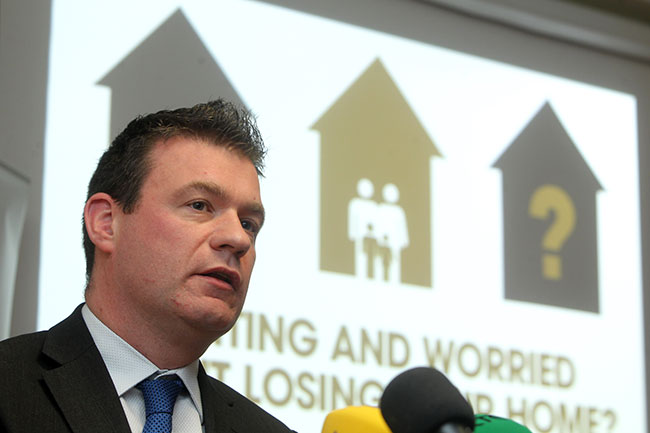 • Environment Minister Alan Kelly
The Government argues that rent controls would drive private providers of rented accommodation out of the market and so would make things worse.
There are two points to be made about this.  
Firstly, what are they going to do with the houses they currently put out for rent? Those who invested in buy-to-let units need to rent them to cover their costs.
Secondly, even if such measures acted as a disincentive to new providers or rented accommodation coming into the market, it would be two or three years before it could have a marked effect on supply, and by that time a progressive programme of social house building would have created a situation in which private renting was not needed on a mass scale.
Back in the 1960s, the Dublin Housing Action Committee forced the Government of the day to declare a housing emergency and release the funds for a mass building programme.
The present housing crisis demands the declaration of another such emergency, and a government which gave billions to rescue profligate banks and save the whole European banking system should start giving priority to its own citizens, providing financial support for those faced with losing their homes, introducing rent controls and tenants rights, and building social housing on a scale of 25,000 a year.
This figure, incidentally, would still mean it would take five years to end the housing crisis but it would radically alter the hopes and aspirations of those whose lives are being wrecked by the fear and uncertainty of threatened homelessness.
In this context, it is more than ironic that over €43million has been collected in housing levies for social purposes but remains unused.
The failure to use these funds or make the local authorities use them shows the shallow hypocrisy of a government that talks about homelessness but does nothing to resolve it.
While the Government does its best to spin Budget 2016 to trick voters into believing that some miraculous recovery has been created, the reality of the housing scandal – and the health scandal, and the disability scandal, and the failure to provide Traveller accommodation scandal, and all the other scandals – belie their claims.
The next election provides the opportunity to campaign for the declaration of a housing emergency and concrete action to put the needs of the people in front of the greed of the speculators and prosperous.