2 November 2015 Edition
Denis O'Brien media laps up MI5 spy stories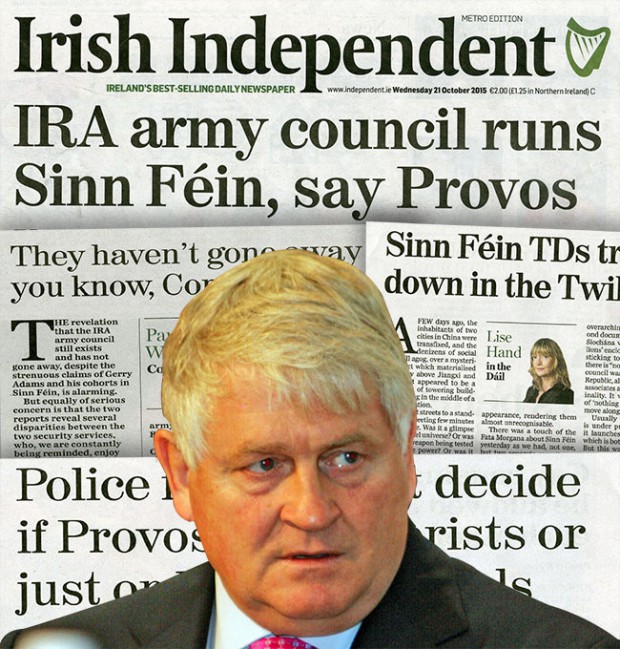 'We have found no evidence that in this jurisdiction the Provisional Army Council continue to meet or to exist in the form that was once assumed' – Garda Commissioner Nóirín O'Sullivan
THE PUBLICATION of two reports, one by MI5 and the other by An Garda Síochána, into allegations that the IRA Army Council continues to exist were greeted by howls of outrage from Fianna Fáil, Fine Gael, Labour and their allies in Denis O'Brien's Irish Independent and Newstalk radio who cherry-picked and distorted the claims contained within and swallowed – hook, line and sinker – unsubstantiated claims by a shadowy intelligence agency that was part of the conflict in Ireland.
Faux indignation across the Establishment at the allegations by MI5, the group which colluded with loyalist death squads in the wholesale slaughter of Irish citizens, also meant contradictory comments by Garda Commissioner Nóirín O'Sullivan were dismissed or relegated as they did not mesh with the prevailing narrative.
Garda Commissioner O'Sullivan said: 
"We have found no evidence that in this jurisdiction the Provisional Army Council continue to meet or to exist in the form that was once assumed."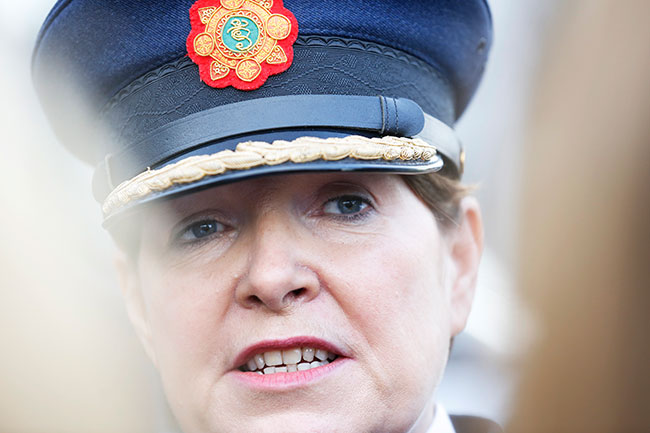 • Garda Commissioner Nóirín O'Sullivan
The hysterical outrage focused on allegations that former leading members of the IRA have now become involved in purely peaceful political activities as Sinn Féin members. Apparently, journalists and other political parties had been under the impression that, upon the signing of the Good Friday Agreement, former IRA members had simply disappeared off the face of the planet. Suggestions that such people may now be delivering leaflets and erecting Sinn Féin posters is apparently unacceptable.
The media commentary reached new heights of ridiculousness with 12 articles criticising republicans appearing in the first eight pages of the Irish Independent on Thursday 22 October. The OTT coverage even prompted Irish Independent journalist Colette Browne to break with the cult-like group-think which prevails at that publication and ask during an appearance on TV3:
"Why the focus on Sinn Féin? The report is quite explicit that the biggest threat the country faces is from dissident republicans and nobody is talking about that."
She went on to note that loyalist groups continue to recruit and engage in criminality, and she accused other political parties of "hyping this for party political advantage".
Fianna Fáil leader Mícheál Martin, in his latest persona as an echo chamber for shadowy British Intelligence agencies, continued to parrot claims that the Army Council (which according to the Garda Commissioner is no longer functioning) oversees Sinn Féin strategy.
Responding to Fianna Fáil, Sinn Féin leader Gerry Adams TD said: 
"Our leadership, the Ard Chomhairle, is democratically elected annually at our Ard Fheis. We are not accountable to any other group or organisation. Sinn Féin is the only organisation involved in the republican struggle and in republican activism. We are wedded to democratic and peaceful means. After all, we secured a peaceful and democratic way to secure republican objectives."
Despite this, Fianna Fáil leader Mícheál Martin repeatedly argued that proceeds from criminal activity was being used to fund Sinn Féin. He made these allegations despite British Secretary of State Theresa Villiers conceding in the House of Commons that there is zero evidence to suggest any money from criminal proceeds is being used to fund any political party. 
Martin's former fellow party TD and junior minister, Martin Mansergh, even criticised the failure of politicians or media outlets to take note of the Secretary of State's commons. "It's as if she never said it," he pointed out.
• Fianna Fáil's Mícheál Martin and Renua leader Lucinda Creighton
Speaking on TV3's Tonight with Vincent Browne, Sinn Féin MEP and member of Monaghan Joint Policing Committee Matt Carthy challenged Renua leader Lucinda Creighton TD to 'put up or shut up' over her repeated attempts to link Sinn Féin activists to criminality:
"Listen, Lucinda, don't start lecturing me," Matt Carthy told her. "If you are accusing Sinn Féin in the Border counties of criminality then you are accusing me of being involved in criminality. Is that what you are saying?"
A floundering Creighton refused to answer the question directly and also refused four times to outline evidence or divulge the names of a single Sinn Féin activist she claimed was involved in criminality.
As the mainstream media, British Intelligence, hardline unionists and Establisment parties line up to once again attack Sinn Féin en masse, it is very clear that the real fear within these groups is not the no-longer existent IRA Army Council but the possibility that, in the next few months, Sinn Féin could be in power North and South.
It's the elections, stupid, and all but the most naive can see it.