1 October 2015 Edition
Tory war on the welfare state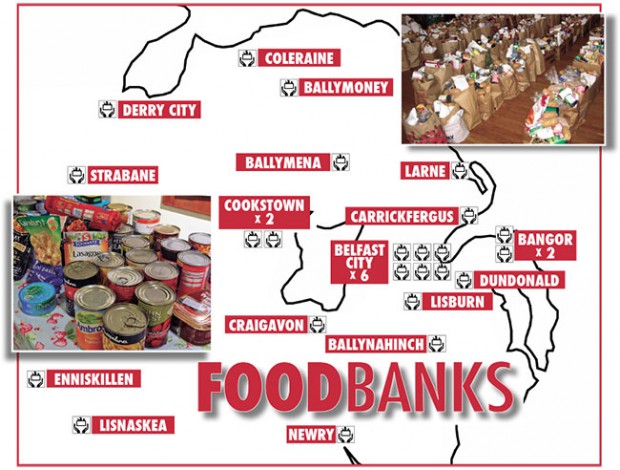 'The Tories are intent on creating a spiral of poverty that is slowly dragging people and communities down' – Sinn Féin MLA, Jennifer McCann
Question: What do Ballymena, Bangor, Belfast, Carrickfergus, Derry, Dundonald, Enniskillen, Lisnaskea, Lisburn and Strabane have in common?
Answer: They are among over 25 locations across the North where food banks are now supplying food parcels to people in distress as a result of austerity but what in reality amounts to the Tory war on the welfare state 
WITH A THIRD (33%) of those using the food banks working in low-paid jobs and dependent on family tax credit, Tory claims that only 'the feckless' and those who don't want to work need these charities is exposed for the anti-working-class rhetoric that it is.
Almost one in five (18%) of those who use food banks are forced to do so due to delays in receiving social security payments.
One woman, Lynda Clements, diagnosed with bone cancer, had to wait months for her Disability Living Allowance to come through and was forced "as literally a last resort or starve" situation to go to a food bank.
Figures from last Christmas compiled by Christian charity The Trussell Trust reveal that 11,000 people see themselves as having no alternative but go to their food banks "to seek three-day emergency food parcels for both themselves and their families" – an increase over the previous financial year of 489%!
The Trussell Trust blames the spiralling cost of living, static incomes and changes to benefits for the dramatic rise in the number of people in need of emergency food.
The British Government's Department for Work and Pensions, (whose minister Iain Duncan Smith is worth £1.7million and lives rent free in a £2million mansion) has previously argued that there is "no robust evidence to suggest that welfare reforms or benefit administration are linked to increased food banks".
This Tory cynicism is underscored by arch-Thatcherite Norman Tebbit, who criticises those setting up food banks as offering free food which only creates more demand. 
Tebbit maintains "there is always a near-infinite demand for valuable goods that are given away free".
During a debate in the British House of Lords in March 2014, Tebbit also implied that those relying for their basic foods on food banks were spending their money on junk food.
In the same debate, the then Tory Environment Minister, Lord de Mauley, asserted that food banks are not a scandal but a sign of Britain's charity and ministers should not seek to "interfere" in their use.
Those opening up new food banks, however, say they are responding to a need that has always existed but that welfare cuts have exacerbated.
With the Tory Government led by multimillionaire and right-wing ideologue Prime Minister David Cameron set on a course to destroy the British welfare system, it has largely been left to Sinn Féin in the North to politically challenge and confront the Tory cuts agenda.
The current crisis at Stormont stems largely from the unwillingness of both main unionist parties, the Democratic Unionist Party and the Ulster Unionist Party, to face down the Tories. It's an unwillingness that comes from the fact that both parties share the Conservatives' right-wing ideology. Their faux outrage over the killing of east Belfast man Kevin McGuigan is just a smokescreen behind which they have retreated rather than "do business", as Martin McGuinness has urged.
The map accompanying this article illustrates the areas where food banks exist and shows that many are in unionist areas yet the DUP and UUP refuse to defend their electorate against a cuts regime that will impact more brutally on the North than throughout Britain.
• West Belfast Sinn Féin MLA Jennifer McCann
According to west Belfast Sinn Féin MLA  Jennifer McCann:
"We have lower wages here compared to Britain, we pay more for food, and energy costs are a lot higher than in Britain.
"Poverty, especially child poverty, is at higher levels in the North than in Britain and it has risen by 3% in the past year.
"And, needless to say, the rates of unemployment here are also higher. 
"Also, one in four young people are classed as NEET (Not in Education, Employment or Training)."
Jennifer, who is also a Junior Minister at the Office of the First Minister and Deputy First Minister, took time out of her heavy schedule (not least the on-off talks process) to talk to An Phoblacht.
Sitting in the party's Mairéad Farrell House in Twinbrook, one of the most disadvantaged areas of the North, she outlined the party's strategy for opposing the Tories, including "mobilising as broad a section of civil society", including politics, the churches, the community sector, academia, the trade union movement and the business sector.
"There are two myths we, as a party need to dispel," Jennifer McCann said. 
"One is the fallacy that Stormont cannot function because 'the parties can't get on with each other'. Notwithstanding the political difficulties that do exist, the real stumbling block to the Executive's and the Assembly's ability to function is the constant raids on the block grant that the Tories have made.
"We have already seen £1.5billion taken out of the budget with more to come given that George Osborne is set on cutting welfare by a further £12billion added to £13billion cuts to public services.
"And in his July statement Osborne has taken a further £38million directly out of departmental budgets which will make it more difficult for the delivery of services.
"The Tories are intent on creating a spiral of poverty that is slowly dragging people and communities down. 
"Only last night [15 September]," said McCann, "the Tories voted through cuts to tax credits. This is a further assault on the living standards of low-paid workers and as tax credits are one of the benefits that the Executive does not control, the effect will hit thousands of local workers, forcing women in particular to give up work and push many more children into poverty.
"The other nonsense that we need to challenge is the notion that 'there is no money left in the pot'.
"Barry McElduff exposed this fallacy when he put it up to the Tories over their pledge to spend £500million to update the Royal Navy Trident nuclear submarine base at Faslane in Scotland rather than invest in health or education.
"More importantly, those commentators who ridicule people like new British Labour Party leader Jeremy Corbyn when they raise the issue of unpaid tax across Britain, ignore the research by Richard Murphy for the Public and Commercial Services Union which found that the gap between taxes raised and what could be taken in is £119.4billion". (Murphy maintains that only £20billion of this is now recoverable.)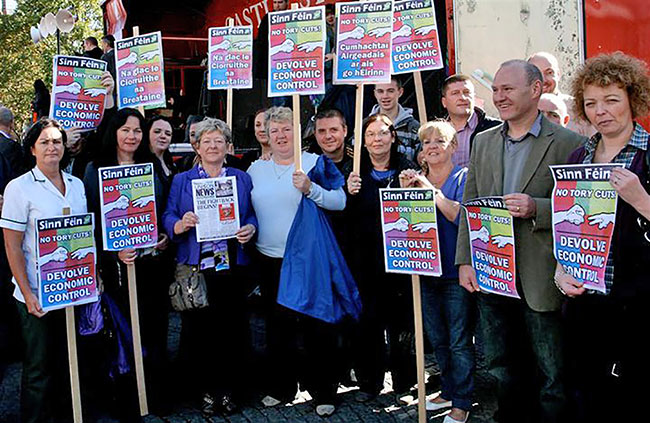 • Sinn Féin has politically challenged and confronted the Tory cuts agenda
Quoting Murphy's findings where he says "the [British] Government claims there is no alternative to the austerity agenda. Jobs and pay are being cut, benefits slashed and public services closed. A simple part of the alternative is to close the tax gap, which involves two things: making those most able pay their fair share of taxes and beating tax cheats."
Jennifer McCann adds:
"Sinn Féin has always argued for a progressive tax system that ensures the wealthy and those corporations that don't pay their taxes are made to do so.
"Our objective is to get a workable budget that allows us to protect the vulnerable and ensure that frontline services are safeguarded. 
"We want the other parties, including the unionists, to work with us, not pull against us, especially as the Tory austerity agenda cuts across all sectors of the community."
Prime Minister David Cameron, in his first speech to the Conservative Party Conference in October 2010, uttered his now infamous "We're all in this together" slogan.
Now, after almost five years of savage cuts and with more to come, it is clear that the less-well-off in society are paying the price of the 'Tory Dream' – the systematic dismantling of the welfare state.
Those right-wing ideologues behind the austerity agenda are most certainly not "in it together" with the rest of us.
The Tory millionaires demanding welfare cuts
Prime Minister David Cameron
His father ran a network of offshore investment funds to help build the family fortune that paid for the Tory leader's inheritance. He and his wife are estimated by the wealth watchdog and compiler of The Sunday Times Rich List to be worth £30million.
Chancellor George Osborne
The "conspiculously privileged" heir to the Anglo-Irish baronetcy of Ballintaylor and Ballylemon holds a 15% stake in the upmarket wallpaper family firm Osborne & Little, a company worth up to £30million. He is the son-in-law of Tory peer Lord Howell.
Work and Pensions Secretary Iain Duncan Smith
The man behind the controversial Bedroom Tax lives rent-free in a £2million aristocratic country house . . . with at least FOUR spare bedrooms. His personal fortune is estimated at £1.7million.
Northern Secretary of State Theresa Villiers
Descended from the Dukes of Clarendon, her personal wealth is rumoured to be over €31million and she owns two houses worth almost £700,000.
Health Secretary Jeremy Hunt
In line for a £17million windfall from the imminent sale of his own company, Hotcourses.
Defence Secretary Michael Fallon
Will spend approximately £38billion on Britain's armed forces per annum, keeping Britain as fifth in the list of top military spenders in the world.