1 October 2015 Edition
Another Europe is possible – Treo eile don Eoraip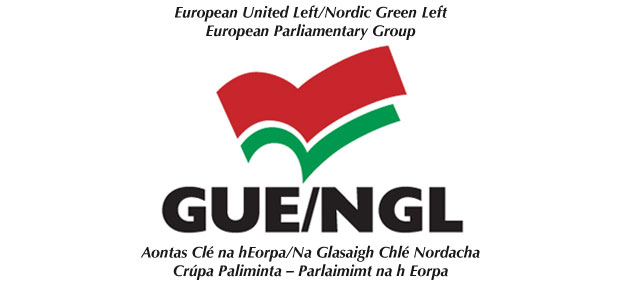 Funded by the European United Left / Nordic Green Left (GUE/NGL). Aontas Clé na hEorpa / Na Glasaigh Chlé Nordacha Crúpa Paliminta – Parlaimimt na h Eorpa
MEP Martina Anderson visits Syrian refugees in Jordan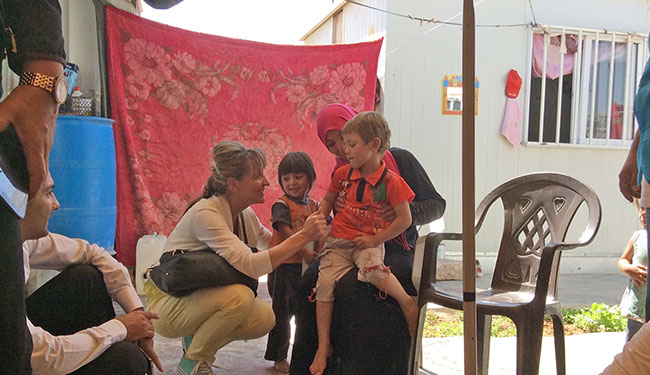 • Martina Anderson MEP meets Syrian refugees in the Zaatari  refugee camp in Jordan
THE European United Left/Nordic Green Left (GUE/NGL) group in the European Parliament has sent a delegation of MEPs, including Sinn Féin's Martina Anderson, to Jordan to visit refugees fleeing the war in Syria as An Phoblacht goes to press.
The fact-finding mission in September visited some of the United Nations camps in Jordan where more than 600,000 Syrian refugees have sought shelter. Anderson, MEP for Ireland North, joined MEPs from the Basque Country, Catalonia and Germany.
The MEPs visited the Zaatari refugee camp, which close to half a million Syrian refugees have passed through. It currently holds more than 80,000 refugees. Martina Anderson was to speak with refugees as well as the UN representatives and agencies responsible for providing vital services to the residents.
Martina Anderson said: 
"The scale of the refugee crisis across Europe and the Mediterranean is unprecedented in modern times, with millions of people displaced from their homes as a result of wars. 
"The harrowing images of suffering and death we have seen have sparked emotion across the world with people asking what they can do to help alleviate the humanitarian crisis. 
"The international community and the EU in particular have a responsibility to address the growing humanitarian crisis but closer to home we can also help."
The Ireland North MEP met with deputy First Minister Martin McGuinness and the Sinn Féin ministerial team in Stormont on 17 September to discuss ways to boost the Irish response to the refugee crisis.
Passage of Right2Water report a blow to Irish Government
• Dublin MEP Lynn Boylan
THE Right2Water report authored by Dublin MEP Lynn Boylan (Sinn Féin) was passed by the European Parliament in Strasbourg on 8 September in a major victory for water campaigners. Fine Gael MEPs voted against the report, the only Irish MEPs to do so.
Addressing the European Parliament on 8 September, Lynn Boylan said:
"Ownership and management of water services are clearly key concerns for citizens and cannot be ignored. In my home country, Ireland, the introduction of flat-rate regressive charges has resulted in some of the largest protests the country has ever seen.
"My report  has recognised that the provision of water services is a natural monopoly where competition amongst private operators hasn't worked, doesn't work, and will never work. Water is a public good and should never be commodified."
Lynn Boylan thanked the Right2Water campaign for its support for her report and slammed Fine Gael MEPs who, along with other conservatives, produced an alternative resolution which undermined the progressive aspects in her report.
Speaking after her report was passed, Lynn Boylan said: 
"This report is a significant achievement and amounts to a huge victory for the citizens and a major wake-up call for the Commission and certain member states.
"This report calls on the Commission to come forward with a legislative proposal to enshrine the human right to water, to not promote the privatisation of water services, and to exclude water services from the internal market and any trade agreements, including TTIP.
"I am extremely happy that water is finally recognised as a public good in an EU document and not a commodity."
ECB dialogue no substitute for failure to engage with Oireachtas Banking Inquiry
• Midland North West MEP Matt Carthy
PRESIDENT of the European Central Bank (ECB) Mario Draghi, will appear before the European Parliament's Economic and Monetary Affairs Committee in November.  Sinn Féin MEP for Midland North West Matt Carthy, a member of the Committee, has said he will engage with the ECB President during his appearance and aim to ensure the dialogue is useful for the Irish people.
But he said that the planned talks were no substitue for the failure of the ECB to engage with the Oireachtas Banking Inquiry.
"I will, of course, participate in the proposed dialogue with Mario Draghi and attempt to ensure that all relevant ECB information regarding its role in the Irish banking crisis is forthcoming. Since my election to the European Parliament last year, I have engaged with the ECB through dialogues and written correspondence in this vein.
"I do fear that the proposed exchange will be minimalistic with a prepared statement by the ECB President to be followed by an extremely limited opportunity for MEPs to actually put questions and receive responses. I will be working with the Economic & Monetary Affairs Committee secretariat and members to ensure that the engagement is more substantive that this.
"Regardless of the outcomes of the November dialogue, which I do hope will prove worthwhile, it cannot mask the absolute scandalous failure of the ECB to formally engage with the Oireachtas Banking Inquiry."
'Super-trawlers should be banned from Irish waters'
• Ireland South MEP Liadh Ní Riada
LIADH NÍ RIADA, Sinn Féin MEP for Ireland South, has called for international super-trawlers and factory ships to be banned from Irish waters. Earlier this year, the 143-metre long Margiris super-trawler, which had been banned from Australian waters, was involved in fishing along the Irish coast off Mayo, processing as much as 250 tonnes of fish per day.
Speaking from Strasbourg on 9 September, Liadh Ní Riada said: 
"Irish fishermen and small-scale fisheries cannot cope with, compete with or sustain operators of foreign industrial super-trawlers and factory ships who have no concern for sustainable fisheries and over-exploited stocks. Anywhere these gigantic vessels go, stocks go into significant decline, the marine environment is devastated and local fishermen and communities are left to pick up the pieces.
"Recently we have seen some of the largest trawlers in the world enter Irish waters, trawlers that have been banned elsewhere. This year, for example, the second largest trawler in the world was allowed to enter and commercially fish in Irish waters.
"The capacity of these trawlers is more than dozens of small trawlers combined. They have consistently flaunted regulation, as seen last year when a super-trawler's skipper was charged with violating regulations for failing to record discards, along with having illegal equipment on-board to maximise catch – and profit.
"To put this further into perspective, these vessels can process tens of tonnes of fish per day, some as much as 250 tonnes per day. Super-trawlers and factory ships need to be banned from Irish waters."
In brief
Farmers need more support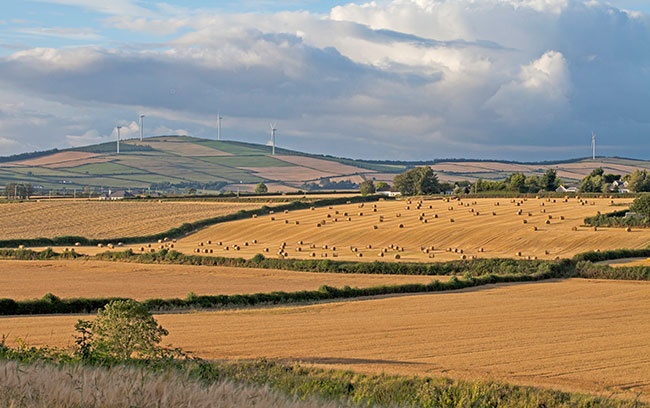 MATT CARTHY MEP, a member of the Committee on Agriculture and Rural Development, has called on EU Agriculture Commissioner Phil Hogan to do more for Irish farmers suffering as a result of the fall in milk prices. Sinn Féin MEPs and Stormont Agriculture Minister Michelle O'Neill met with the Commissioner in Brussels on 1 September.  
The Commissioner then announced a support package on 8 September following a Council of Agriculture Ministers meeting in Brussels. Matt Carthy expressed his disappointment at the package, saying:
"While I am relieved that the Commissioner has finally intervened in the ongoing crisis, the package is insufficient. The dairy industry is one of Ireland's most important indigenous industries and is heavily reliant on export markets. Urgent action is needed at EU level, because farmers need help now before it is too late for their businesses to recover."
Waterford summit on fishing industry
LIADH NÍ RIADA MEP will host a major conference on fisheries in Dungarvan, County Waterford, on 24 October, bringing together stakeholders from across the island to discuss a comprehensive policy to rescue the Irish fishing industry. 
Amember of the European Fisheries Committee, Liadh said: 
"Earlier this year I hosted a group of fishermen in Brussels where they got to challenge the Commission on the harsh and often absurd regulations that hamper them in trying to make a living from the sea. This conference will follow up on those issues, with fishermen and policy experts having their say on the future direction of fishing in Ireland."
The conference is supported by GUE/NGL. Visit www.liadhniriada.ie for more information.
Youth unemployment rate masked
DUBLIN MEP Lynn Boylan has called on the Irish Government to 'come clean' about the rate of youth unemployment in Ireland. A member of the European Parliament's Employment and Social Affairs Committee, Lynn was speaking on 2 September.
"CSO figures clearly indicate that the level of youth unemployment has stagnated at 20.7%, holding here for the past three months," she said.
"This stagnation has been caused by several factors. Government has yet to implement many of the recommendations put forward in various reports relating to the Youth Guarantee Scheme. There has also been a dramatic fall in those taking up place on the exploitative JobBridge scheme.
"To me this is a clear indication that this Government has relied on JobBridge and similar schemes not as a method of up-skilling but as a cynical mechanism to reduce live register figures. In doing so, Minister Joan Burton has failed to address the underlying issues facing young people attempting to access the labour market."
Overwhelming support for Palestine peace process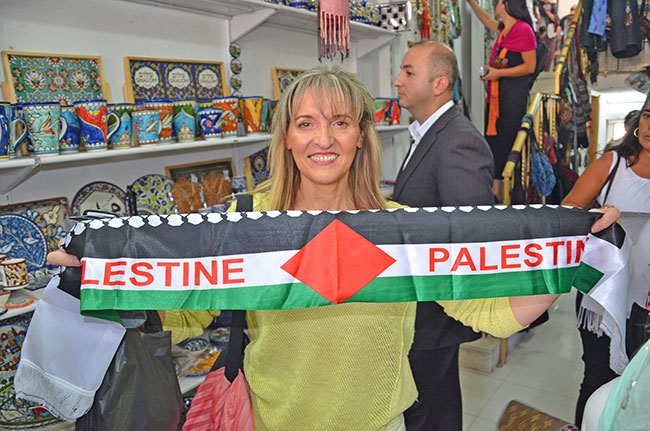 CHAIR of the European Parliament's Delegation for Relations with Palestine, Martina Anderson, has welcomed the overwhelming support for the resolution on 8 September which addresses some of the primary concerns surrounding the stalled peace process between Palestine and Israel. 
During the plenary session in Strasbourg, the European Conservatives and Reformists group proposed an amendment calling for the creation of "two states for two peoples".
Martina Anderson responded: "Sinn Féin robustly opposed this racist and odious amendment which was a naked attempt to sectarianise the conflict. We were successful in voting down this amendment."
She also welcomed a vote the following day to formally change the name of the Delegation she chairs from 'Delegation for Relations with the Palestinian Legislative Council' to 'Delegation for Relations with Palestine'.